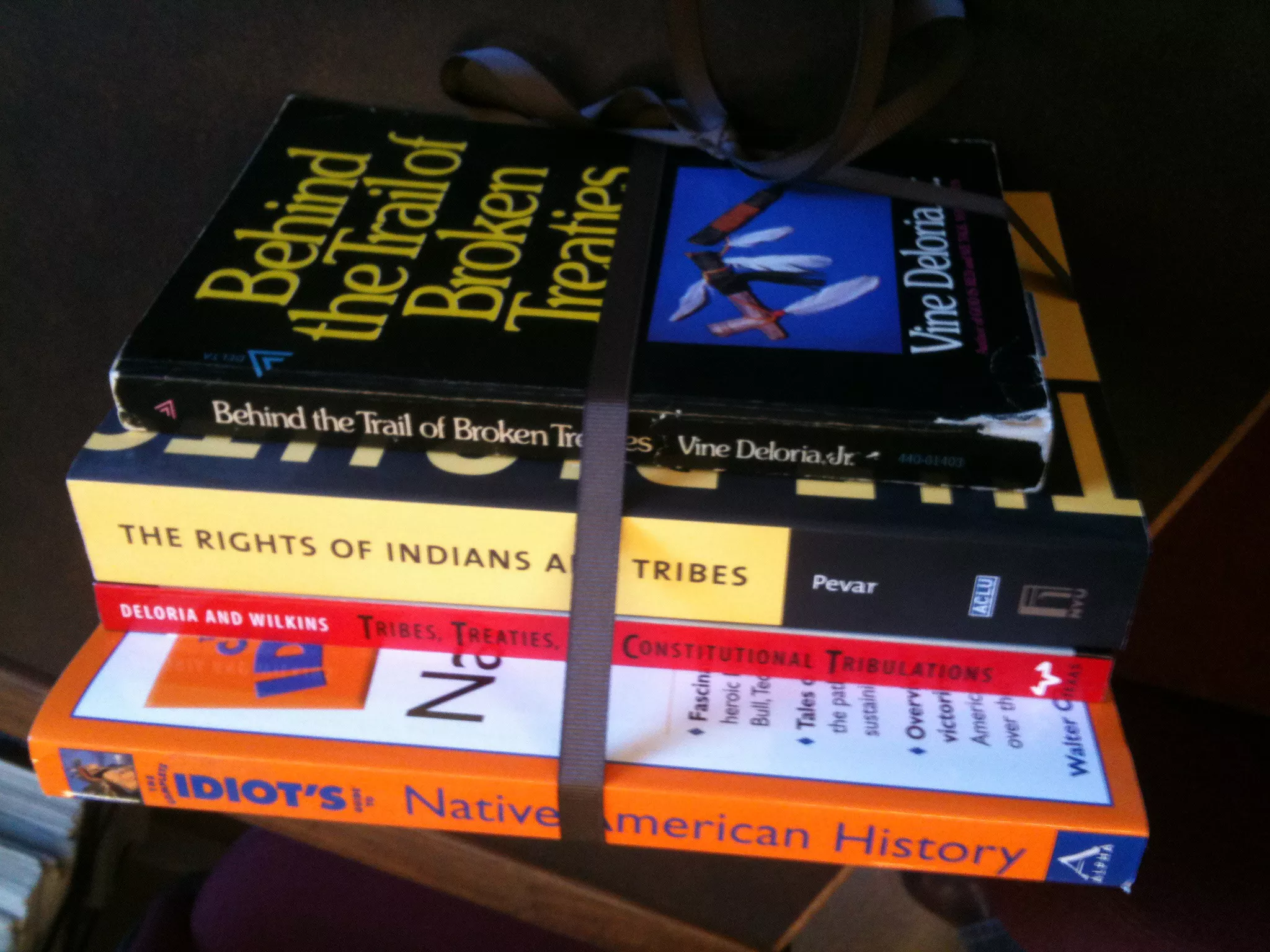 Editor:
I'd like to thank you and the rest of the North Coast Journal staff for printing Jim McVicker's "Keep Singley Safe" letter in the June 10 edition. I haven't laughed so hard while reading the NCJ in a long time.
A white person concerned about possible breaches of agreements and/or contracts with a federally recognized Native American tribe? Absolutely classic.
In reference to the Bear River Band of the Rohnerville Rancheria - of which I am a member - Mr. McVicker proclaims in his letter, "Big business has moved to our neighborhood ...." Hilarious. Imagine how we Natives felt when Europeans - really big business! - moved to our neighborhood.
If you wouldn't mind, I would greatly appreciate it if you could forward the books I've included with this letter to Mr. McVicker. Perhaps he can peruse their contents while enjoying his Bon Boniere sundae on Native land.
After reading the books, Mr. McVicker might have "a way of seeing" things from a different perspective. Maybe, in a moment of inspiration and clarity, he could paint an interpretation of the land his house is currently on, pre-European invasion.
The books are Mr. McVicker's to keep. I suggest Mr. McVicker and the Singley Hill Homeowners Association form a reading group. History can be a wonderful and enlightening endeavor.
George Anthony Watson, Eureka
Editor:
My wife and I were encouraged to see your article about the Tish Non development by the Bear River Band of Rohnerville Rancheria ("Waiting for Tish Non," June 3). As residents of Singley Hill Road since 2003, we know first-hand the effects of the casino on our neighborhood, and we were hoping for an article that would shed light as to how this extensive development was going to further impact our lives. We were grateful for the portions of the article that allowed two of our neighbors to explain how the casino has significantly altered what was once a little-used road that was inviting to bicyclists, birders and pedestrians. We also appreciate the disruption and dislocation that has affected the Bear River Band for many generations, and we hope for the best for the occupants of the new housing project.
However, I believe your writer could have provided a more complete perspective by looking at publicly available Sheriff log records that objectively show how the casino has changed the nature of life on Singley Hill. Prior to a protest hearing regarding the casino's liquor license last year, I had the opportunity to review these records for the period October 2001 through December 2008. I tallied logged items pertaining only to activities north of Bear River Drive, including the casino but not the Bear River residential area nor any activity south of Bear River Drive on Singley Hill Road.
From October 2001 to June 2005 (the casino opened in July 2005), there were 11 logged items: eight for "suspicious activity," the rest for "disturbance," "thefts/fraud" and "vandalism/prowling."
In the first six months of the casino's operation (July-December 2005), there were19 items, including two each for "narcotics" and "assault." In 2006 there were 71 logged items, including for "narcotics" (three), assault (three), "vandalism/prowling (five)," "thefts/fraud" (five), "man down" (one) and "foot pursuit" (one). In 2007 there were 68 items, including 11 "disturbances," three "assaults," seven "thefts/fraud" and five "trespass." In 2008 there were 91 items, including four "assaults," three "vandalism/prowling," three "DUIs" and one for "man down."
It's hard to argue with the figures: In the 45 months leading up to the opening of the casino, there were 11 logged items. In the 42 months afterward, there were 249.
There is a real need for a deterrent to discourage casino users from exiting the casino and traveling north on Singley Hill. It's more than a matter of the lost night sky, prevalence of litter on the road or the affected bird population -- it's a matter of protection from criminal elements that were pretty much foreign to the neighborhood before the casino came. The Bear River Band of Rohnerville agreed to erect such a deterrent when they obtained their liquor license in 2005. There is still no relief.
One more point. In the article, Marcie Jake complains about the conditions at Basayo Village. "People fightin' and drinking, drugs and the whole bit." I can only say, Welcome to the neighborhood, Marcie. Just don't expect too much of a change.
Brian Nash, Loleta
Sweet Spot: George Anthony Watson wins a Bon Boniere sundae for sending our favorite letter of the week.