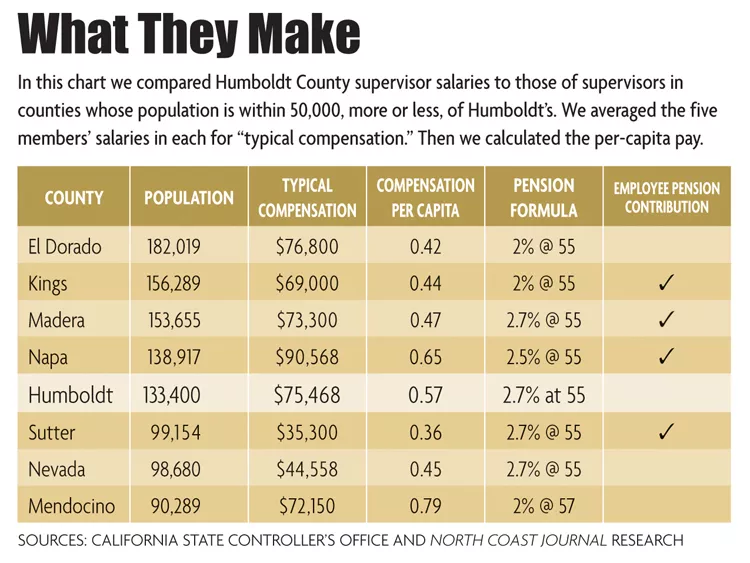 NCJ Graphics
What They Make: Sources: California State Controller's Office and North Coast Journal research
Every now and again, what our Board of Supervisors members are paid comes into question -- because they're public officials; because the pay (up to $82,000) is more than decent compared, say, to the median household wage in Humboldt County which hovers around $35,000 to $40,000.
In 2010, the Humboldt County Grand Jury recommended the board reduce its members' salaries in 2011, based on a comparison with neighboring counties. The county dismissed the Grand Jury's report, citing factual errors and invalid comparisons. Nevertheless, that same year, though the board approved pay raises for its members, a couple members objected and most ended up not taking them. Last November, again, board members decided not to take raises for the next two years.
This being an election year with seven candidates vying for three seats, we're revisiting the supervisors' pay. Using figures from the state controller's database for 2010 -- the latest available -- we compared Humboldt supervisor pay with that of supervisors in counties whose population is within 50,000 of Humboldt's 133,400, and determined pay per capita. (See chart.) In that grouping, Humboldt supervisors come out as the third highest paid per capita, with Napa's supervisors making the next highest and Mendocino's the highest.
It's worth noting, perhaps, that only two counties hired assistants for their supervisors -- El Dorado and Madera both have six. And only some counties' supervisors contributed to their pensions: Kings ($4,439), Madera ($5,924), Napa ($3,164), and Sutter ($2,297).
So what do our supervisors say about all of this? They manage a budget of around $300 million. They make between roughly $69,500 and $82,500. Are they paid too little? Too much?
All five supervisors said they think their pay is fair. They all said they put in up to 70 hours per week performing supervisor-related duties. They each serve on at least 14 other committees, including some at the state level. Some have declined raises in years past. Last November, all of the board members decided not to take pay raises for the next two years, citing solidarity with the bad economic times all around.
They each get a little defensive, and proud, when asked about their pay and what they do to earn it.
"Yes, I get a decent salary, and yes, we need to be accountable to the public," said 1st District Supervisor Jimmy Smith, who has served three terms and is retiring this year. "I think it's equally important that the public know we respect those dollars."
Don't compare him to some part-time supervisor like some counties employ, he said. "Compare me to the consultant who does the engineering for the drainage system," he said. Smith said he has spent days with that consultant, and weekends on his own, out examining ditches. He gets up at 5 a.m. to dive into supervisor business. Goes to bed at 10 p.m.
Smith makes $74,000, has taken two 10-percent salary cuts and has turned down five years-worth of 3-percent annual raises. He gets 5 percent longevity pay -- the first year he got it, he paid it back to the county by check. Subsequent years, he's used it for expenses -- supervisors don't have an expense account like they did more than a decade ago, he said.
"Right now I have on my desk 10 invitations to go places, and I pay all the way," he said. "For example, the League of Women Voters lunch is $65. I pay. I also pay a self-imposed assessment to the fire districts of Loleta, Ferndale, Honeydew and Petrolia each year -- $150 to $200 each."
Second District Supervisor Clif Clendenen, who makes $72,900 and has been on the board since 2009, likewise said he probably pays a few thousand out of pocket for expenses he incurs in the line of supervisor duty.
He, like Smith, has declined recent raises. Clendenen said it's tough to compare his sprawling district -- which includes Shelter Cove -- to that of an urban supervisor's elsewhere.
Third District Supervisor Mark Lovelace, who came on in 2008, takes home about $69,000. He, too, has rejected raises. But he thinks the workload justifies the pay he does get.
"It doesn't even begin to cover all of the meals, dinners and events that we all go to that are kind of part of the job, kind of an obligation, but not covered out of county expenses -- thousands and thousands of dollars go into just being where you need to be for this job," he said. "If I was working an hourly wage, with time and a half and double time, my salary would probably break down to $17 an hour. Because I work basically every waking hour."
In keeping with the three-year stepped pay increases an earlier board negotiated (but which many have declined), the base pay for a supervisor had already reached about $80,000 by the time 4th District Supervisor Virginia Bass and 5th District Supervisor Ryan Sundberg came on the board almost a year and a half ago. So they make more: Bass about $82,000 and Sundberg $81,000. Bass said she made a roughly $10,000 contribution back to the county recently.
She said that, after years in the restaurant business "working obscene hours" for less pay, it's nice to be better compensated. And the hours are still long, she said -- not like when her dad, O.H. Bass, was supervisor in the 1970s, and he could go to work at 6:30 a.m. and cut meat all morning, report for supervisor duties in the middle of the day, then return to his regular work that afternoon. It's full-time work now.
Aside from the assorted other duties, the board meetings themselves are time-intensive. "I go in, get my board packet, take it to the gym and exercise on the elliptical with the highlighter in my hand."
If the public wants to cut supervisor pay, she'd consider it. But in that case, she said, "the community needs to decide what it does not want the supervisors to do."
Sundberg said he took a $2,000-a-month pay cut when he closed his insurance practice and left his position on the Trinidad Rancheria Tribal Council to become a supervisor.
"I'm basically the city council for all the 5th District except for little Trinidad," he said. "So every pothole, dog barking, neighbors loud, building issue -- all those little things that come up are all mine. In larger areas, the city councils take care of things."
But he said he didn't think he'd be negotiating for a raise anytime soon.
So how did the salaries get to their current level?
According to documents provided by county staff, before 1999, the board members' salary was a set percentage of what superior court judges make. Then a law that tied board salaries to judges' salaries changed, and in July 1999 the board passed an ordinance to begin setting its members' own salaries. Salaries rose from $46,563 that year to $60,688 in 2002, plus a bonus week of pay each July. Like other county employees, they started getting longevity pay -- which today is 5 percent after 10 years and 10 percent after 20.
In April 2005 their salaries jumped to $71,755; in 2006 to $73,922; and in 2007 to $74,661. But they lost the bonus week of pay.
In 2008, the board voted 3-2 to amend the ordinance setting its salary yet again, with 3-percent raises for the next three years, bringing the supervisor salary to $81,584 by June 2010. But even the supervisors who voted for the raise declined to take it.