When dawn broke Sept. 9, Humboldt County was drowning in a sea of smoke, casting everything below in an almost glowing orange apocalyptic haze. The orange dawn turned to an orange morning, to an orange day. Street and porch lights with sensors glowed ominously throughout the day as worried Eureka residents called 911 to ask if their homes were in danger, only to be told the nearest fire was more than 60 miles away.
The same could not be said in Southern Humboldt, where, long before dawn, a complex of dozens of fires growing out of Glenn, Mendocino, Tehama and Trinity counties began rapidly spreading west, nearing the Eel River and the Humboldt County line, prompting Sheriff William Honsal to order some 600 people to evacuate their homes and warn thousands others to be ready to do the same. On the eastern side of Humboldt, fire crews worked quickly to control a massive fire that was quickly moving from U.S. Forest Service lands to threaten the Hoopa Valley Reservation and Willow Creek.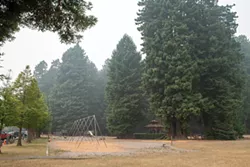 Photo by Mark McKenna
Trees at Sequoia Park appear shrouded in fog as smoke from wildfires in Oregon and California blankets the North Coast.
All of a sudden, it seemed for many on the coast, California's devastating fire season — which has already seen 3 million acres burned and 25 people killed — was at Humboldt County's doorstep, with fires blazing to the south, east and north. But there's been nothing sudden about two of the three the fire complexes currently surrounding Humboldt. The Red Salmon Complex threatening Hoopa and Willow Creek started when lightning struck in the Trinity Alps Wilderness on July 27. The August Fire Complex — now the largest fire in California history, having scorched a land mass the size of Rhode Island — that spurred evacuations in southeastern Humboldt County started Aug. 16 and Aug. 17, when lightning strikes sparked more than three dozen individual fires that have since burned together. The third fire directly impacting the North Coast — the Slater Fire straddling the Oregon-California border — started Sept. 8, its cause still under investigation.
Kathleen Zontos, a hydrologist with the National Weather Service's Eureka office, said these fires encroached upon Humboldt County so quickly because they were driven by a unique westward wind that pushed warm, dry air into the fires, causing rapid spread and carrying their smoke to the coast.
"Whenever we get strong easterly flow, we get fires," she said, adding the wind pattern was also responsible for the recent heat wave on the coast. "It also physically pushed all the smoke toward us."

And when the smoke came in heavy Sept. 9, it blanketed Humboldt County for days, only clearing to give glimpses of blue sky as the Journal went to press Sept. 15. But that wasn't just smoke from the nearby fires, Zontos said, explaining that we saw a period of northerly winds on the coast, which were bringing smoke from the Slater Fire, as well as dozens of other blazes in the state, into Humboldt County along with smoke from the east. And what smoke was blown south from our local skies, she said, was eventually blown inland, where it circled back north before being pushed east back into Humboldt.
"We just had all this smoke circling over us — we were just getting it from all directions," Zontos said.

That prompted air quality warnings throughout the region, with officials urging residents — especially those in sensitive groups like children, the elderly and those with respiratory issues — to stay indoors with windows and doors shut to avoid exposure. And, on Sept. 9, that air was so full of particulates from the fires' quick spread that it scattered light from the sun, accounting for the orange glow.
"The smoke cloud that was being pushed over us was so abundant and dense, it appeared very orange," she said. "It was something that we'd never really seen before — at least not quite as badly as that."
But the wind can only partly explain the fires' rapid growth, said Jeffrey Kane, an associate forestry professor at Humboldt State University who teaches courses in fire ecology and fuels management. Kane said it's pretty clear the bulk of escalating fire activity over the last 20 or 30 years is "directly related" to increased global temperatures from increased levels of CO2 in the atmosphere. (Gary Graham Hughes, the former executive director of the Environmental Protection Information Center in Arcata, who now works as a policy monitor for the Global Justice Ecology Project, said that's why he calls these "fossil fueled fires.")
Kane explained that climate change has created more "evaporative demand," which translates to much drier fuels in wildlands, meaning they are more prone to ignite when exposed to a spark or a lightning strike, and, when they do, they burn hotter and faster, and are harder to control. Kane said that while he believes climate change is the driving force behind these unprecedented fires — five of California's largest on record have occurred this year — he said more can be done on the management side, too. Specifically, he suggested wider use of controlled burns and selective suppression, as well as forest thinning, as ways to more effectively limit fuel loads, adding that other policies — creating more defensible space around communities and making fire safety a priority in housing codes — can reduce the impact of wildfires on people.
"I would just emphasize that I think Northern Humboldt, in particular, has been kind of buffered from these large fires that impact communities but it's only a matter of time," he said. "If it doesn't happen this year, I don't think it will be long before we see some of that."
Photo by Mark McKenna
An aerial view of the Eureka Theater looking toward the bay.
Whether flames or smoke, it seems all of Humboldt County is likely to be living for some time with at least some impacts of the blazes that surround it. As the Journal went to press Sept. 15, none of the three fires in Humboldt's immediate vicinity was even 30 percent contained. And the light winds that had begun to clear the air on the coast were also expected to help ventilate the fires, increasing their activity in a grim catch-22. There's also the fact that fire resources remain stretched incredibly thin with some 16,000 firefighters from all over the country deployed throughout California to fight 25 large fires or complexes currently burning, not to mention the dozens of fires raging throughout the rest of the West Coast.
Included in one of the recent Red Salmon Complex incident updates from the U.S. Forest Service was a sobering warning: "The fire is expected to burn until sustained wetting rain extinguishes it."
"Sooner than that, it doesn't look very promising yet," she said. "But it always can change."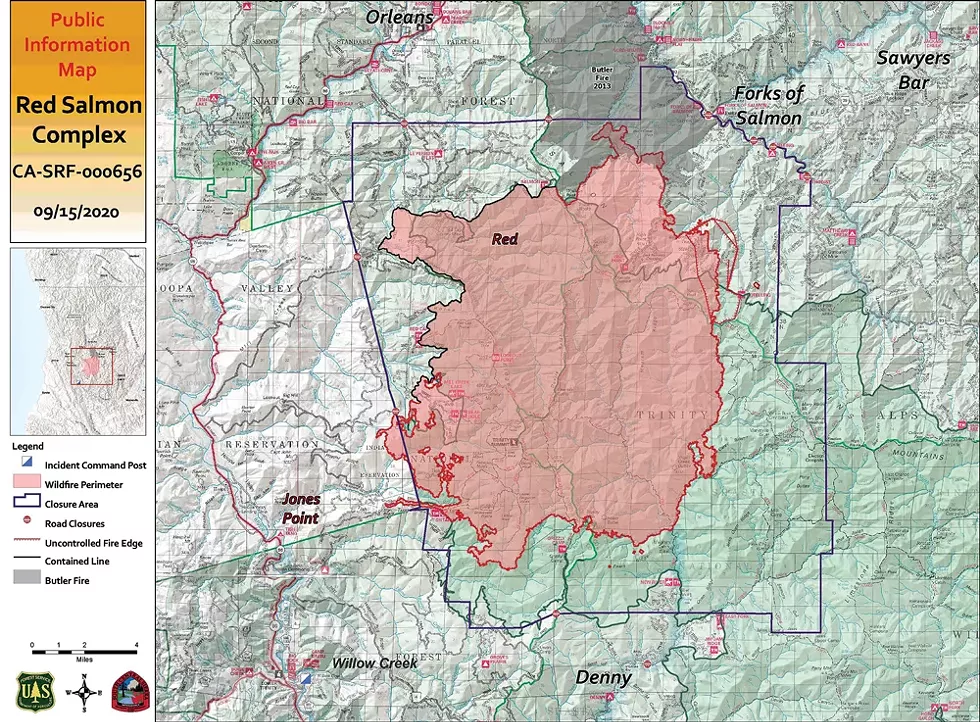 Submitted
August Complex map, Sept. 13.
The August Complex
Formed by dozens of separate fires — including the Doe, Tatham, Glad, Hull, Elkhorn and Hopkins fires — the August Complex Fire spanned nearly 800,000 acres and was 30 percent contained as the Journal went to press. The complex's West Zone had prompted an evacuation order in southeastern Humboldt and more widespread warnings.
Honsal told the board of supervisors Sept. 15 that the fire would have burnt its way into Humboldt Sept. 9 if not for an "emergency decision" by Humboldt-Del Norte CalFire Unit Chief Kurty McCray to branch off and work with local fire crews to contain the fire's northwestern edge as it encroached on the Eel River. "They worked 96-plus hours straight to essentially save our county," Honsal said. (Another crew also worked diligently to keep flames from the community of Ruth Lake.) Officials said the plan as the Journal went to press was to spend the coming days taking the current fire line that's keeping the fire out of the county and extending it from Kettenpom all the way to the Mad River, which could potentially lead to the lifting of evacuation orders in Humboldt County.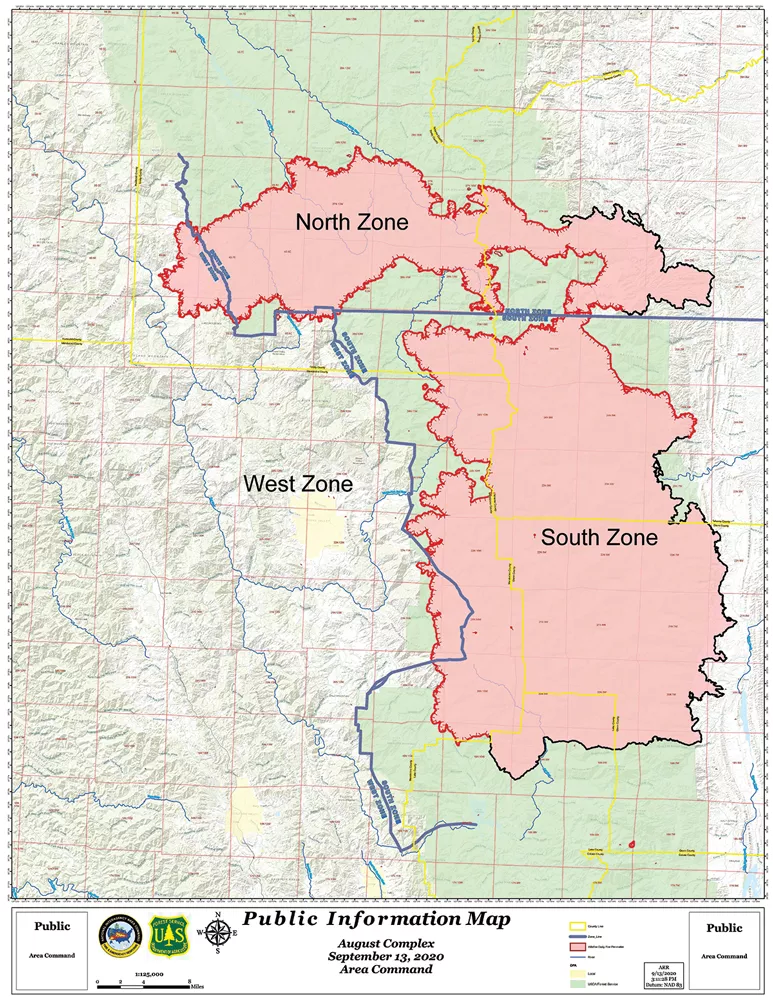 Submitted
Red Salmon Complex map, Sept. 15.
The Red Salmon Complex
Spread across 95,000 acres in the Klamath, Six Rivers and Shasta-Trinity national forests within Humboldt, Trinity and Siskiyou counties, the Red Salmon Complex was 18 percent contained as the Journal went to press. CalFire crews had worked closely with the Hoopa Fire Department to contain the fire's northeastern edge to protect the reservation, as well as the community of Willow Creek. On the fire's west side, crews were working to protect the Siskiyou County community of Forks of Salmon, while crews on the fire's southern end were working to defend the town of Denny.
On Sept. 15, officials were warning that fire activity had increased Sept. 14 as winds picked up with relatively low humidity. Gusts of 20 mph were expected the following day but the U.S. Forest Service noted hopefully in its update that the forecast held "chances for showers" later in the week.
The Slater Fire
Sparked near the Slater Butte Fire Lookout in Klamath National Forest, the Slater Fire had grown to span 136,600 acres across the California-Oregon state line as the Journal went to press, with 10 percent containment. The fire had prompted the closure of U.S. Highway 199 from Gasquet into Oregon, and evacuation warnings had been issued for Happy Camp, Gasquet, Hiouchi, Big Flat, as well as Kerby and Cave Junction in Oregon.
The fire remains fairly active in all directions, with the U.S. Forest Service reporting gusting winds were pushing its spread to the north and northwest in Oregon, while the fire's southern edge "continues to flank along State Route 95 and the Klamath River, moving east and west."
Get fire updates and see more photos and incident maps at northcoastjournal.com
Thadeus Greenson (he/him) is the Journal's news editor. Reach him at 442-1400, extension 321, or thad@northcoastjournal.com. Follow him on Twitter @thadeusgreenson.