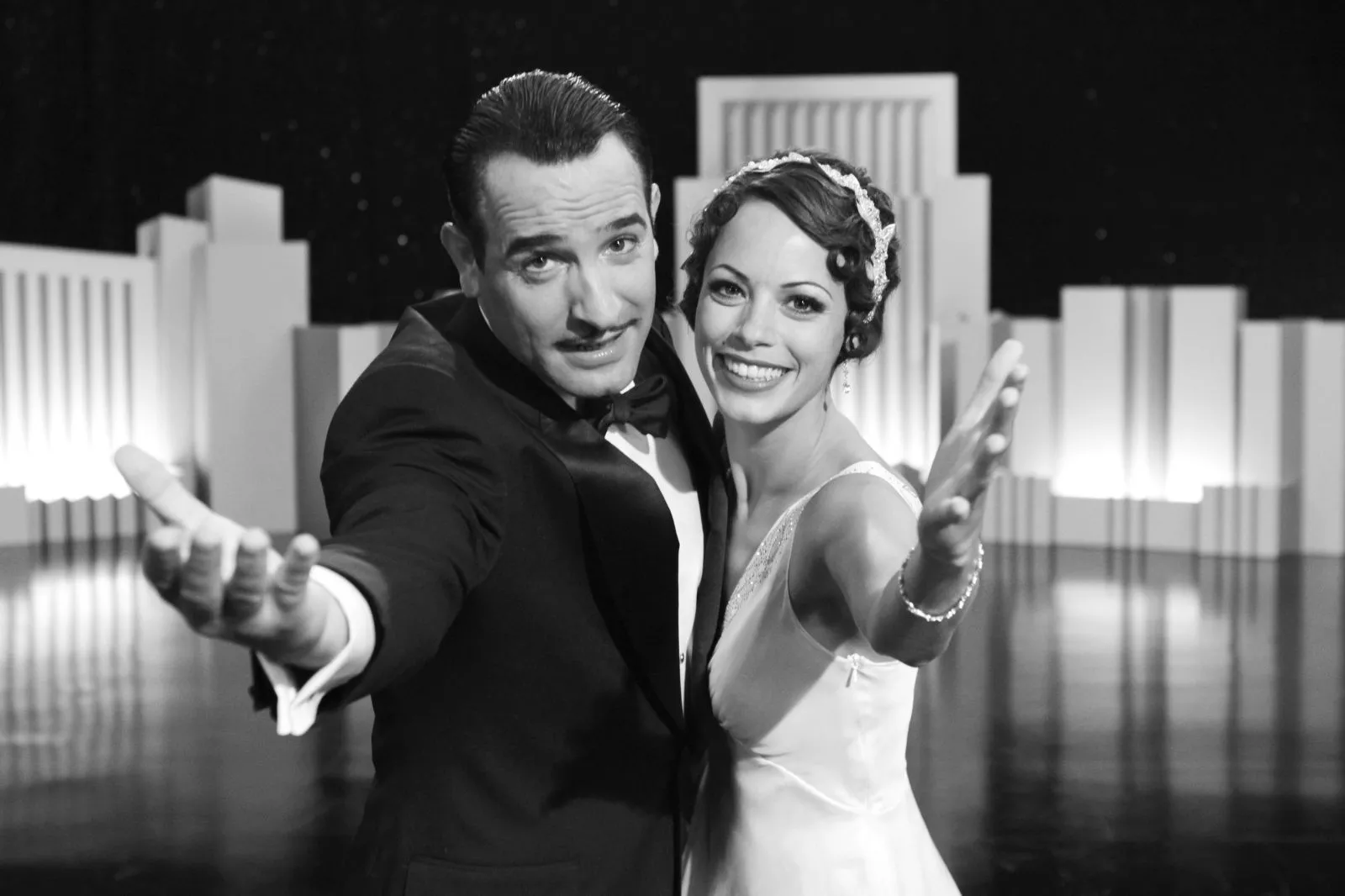 Jean DuJardin and Berenice Bejo in The Artist
Reviews
The Artist. Director Michel Hazanavicius is a peerless visual stylist. His leading man Jean DuJardin is a gifted comic actor and an unnatural showman. Together they reinvented the character Hubert Bonisseur de La Bath/OSS 117 and made two deliriously funny spy spoofs bearing his moniker: OSS 117 Cairo, Nest of Spies (2006) and OSS 117 Lost in Rio (2009). In addition to being hilarious, they are noteworthy for their amazing evocation of the 1960s. Every detail, down to the technical aspects of the look and sound, is perfect.
With The Artist, Hazanavicius and DuJardin have pulled off another, even more ambitious trick: They've turned a silent movie about silent movies into a commercial and critical hit. (It's nominated for 10 Oscars including "Best Picture.") This time around, the movie is fashioned to look and feel like the pictures from the time period in which it's set. Except for the lack of degradation to the film-print, one could easily believe The Artist was made in 1930.
It has been out long enough in other quarters for almost everything to have been said already, so I'll leave it at this: The Artist is sweet, serious, smart, funny, and a grand celebration of movies that rivals Hugo in craft and exuberance. PG-13. 103m. At the Minor.
Haywire. The last time director Steven Soderbergh and screenwriter Lem Dobbs collaborated, it resulted in The Limey (1999), arguably a high-water mark for both of them. This time they've made Haywire, and it is the best thing I've seen this year.
Star Gina Carano may not be a very good actress. But she may well be the baaaadest. And the movie in which she stars is cooler than cool. From the (perhaps overly) complex international espionage plot, to the '70s jazz-funk score, to the artfully brutal fights, to the smirking humor of the whole thing, Haywire hits all the marks and makes me a happy lad. R. 93m. At the Broadway, Fortuna and Mill Creek.
Red Tails opens with a spectacular air combat sequence that is, within moments, deflated by expository dialogue, inappropriate music and a sloppily assembled title sequence. The movie gets back on its feet before too long, but the damage has been done.
In retelling the oft-told story of the Tuskegee airmen, Red Tails gets a lot of things right: The historical detail is spot-on, the characters are well-played and generally believable, and the dogfights are pretty incredible to watch. There are elements of a great movie here, but some fundamental problems with script and direction keep it from getting there.
The narrative slips early on, when it becomes clear that the German pilots will only be depicted as ruthless killer robots without any glimmer of humanity. Then the movie loses focus bringing in jailbreak, alcoholism and love story subplots without fully servicing any of them. And the racism these pilots must have faced, both social and political, is only touched on cursorily.
But at the end of the day, I have to return to the exhilaration I felt in the action scenes. I don't think I've ever seen airplane action choreographed and shot so well. And for that, I'll forgive Red Tails its shortcomings. PG-13. 125m. At the Broadway and Mill Creek.
Extremely Loud and Incredibly Close. It is all too tempting to start swapping out adjectives when describing this film, but I'll spare you that. I will say it is overlong, unapologetically sentimental and generally annoying.
The notion at the movie's core is a profound and timeless one: A peculiar individual attempts to make sense of the senseless. In this case the individual is a young boy with autistic tendencies, and he's trying to maintain a connection with his dead father, who was killed in the World Trade Center on Sept. 11. In so doing he alienates his heartbroken mother, meets his mute grandfather for the first time, injures himself out of frustration, wanders all over New York City and shakes a tambourine a lot.
There is no shortage of noteworthy actors in the cast, and on paper I can really get behind the story. But somehow the whole is much less than the sum of its parts. The narrative is so scattered that the idea of loss, which should be its center, is obscure and incidental. Strong performances are glossed over, and only once did I feel anything near the heartbreak I think I was meant to. PG-13. 129m. At the Broadway, the Minor, Fortuna and Mill Creek.
Underworld Awakening. You might think a movie about vampires fighting werewolves sounds pretty promising, especially if it stars Kate Beckinsdale as a stone-cold killer in a cat-suit. Apparently enough people agree on that point for three such movies to have been made earlier. To be honest, I have only seen the fourth installment, Underworld Awakening. It doesn't have a whole lot going for it beyond the aforementioned cat-suit.
The plot has something to do with humans discovering the existence of vampires and werewolves and attempting to wipe them out. There are some nasty science experiments in a sinister laboratory and the creatures of the night have been driven under ... world, I guess. There's more, but I won't go into it.
For an effects-driven action movie, the werewolves are disappointing and fake-looking. The action sequences mostly take place in concealing darkness, and gore stands in for excitement. Scenes that might have helped make sense of the storyline appear to have been left out. The movie is noisy and violent, but without the grit and competence that allow those words to be compliments. R. 88m. At the Broadway, the Minor, Fortuna and Mill Creek.
-- John J. Bennett
Previews
The Descendants. It's nominated for five Oscars including Best Picture, Director and Actor, and it's finally here. The dramedy from writer/director Alexander Payne (Sideways, Election) stars George Clooney as Matt King, a Hawaiian lawyer dealing with a comatose wife, a couple of kids (Amara Miller and Shailene Woodley) and the disposition of a family trust that includes a huge tract on Kaua'i. 110m. Rated R for language including some sexual references. Opens Friday at the Minor and Fortuna.
The Grey. Snowy action/survival flick stars Liam Neeson as a professional sharpshooter stranded with a group of pipeline workers after an Alaskan plane crash. Can they fight off a pack of threatening wolves? 117m. Rated R for violence, disturbing content including bloody images, and for language. Opening at the Broadway, Mill Creek and the Fortuna.
Man on a Ledge. Sam Worthington (Avatar) is an ex-cop turned fugitive standing on the ledge of an NYC high-rise threatening to jump. Elizabeth Banks (Miri in Zack and Miri Make a Porno) is an NYPD hostage negotiator trying to save him and figure out if he has an ulterior motive. 102m. Rated PG-13 for violence and brief strong language. Opening at the Broadway and Mill Creek.
One for the Money. Comedy/actioner starring Katherine Heigl as bounty hunter Stephanie Plum, heroine of author Janet Evanovich's 18-book mystery series. When Stephanie goes after ex-cop/murder suspect Joe Morelli (Jason O'Mara) who's also her ex-boyfriend, as they say on Facebook, "It's complicated." 106m. Rated PG-13 for violence, sexual references and language, some drug material and partial nudity. Opening at the Broadway, Mill Creek and the Fortuna.
A Dangerous Method. Director David Cronenberg takes us back to the early days of psychoanalysis with Viggo Mortensen as Sigmund Freud, Michael Fassbender as his colleague Carl Jung and Keira Knightley as Jung's patient Sabina Spielrein, who becomes a psychoanalyst herself. 99m. Rated R for sexual content and brief language. Opening at the Broadway.
The month's Fourth Friday Flick at Westhaven Center for the Arts is the Italian crime film I soliti ignoti (Big Deal on Madonna Street) with the Journal's own Simona Carini as host. (See story in Calendar section for more details.)
Friday is also Local Filmmakers Night at the Access Humboldt Community Media Center at Eureka High. Fisheries geo-videologist Thomas Dunklin screens his work on Klamath River/Smith River watershed restoration and local salmon culture including some awesome underwater footage of fish in the rivers. Q&A follows.
The Humboldt County Library's January Based on the Book film series concludes with one more romance, I Know Where I'm Going! British filmmakers Michael Powell and Emeric Pressburger, aka The Archers, directed the story about an Englishwoman caught in a storm and sidetracked on her way to get married. Michael Logan serves as host.
Return to high school Friday at the Arcata Theatre Lounge with Fast Times at Ridgemont High, Cameron Crowe's 1982 teen comedy with a young cast including Jennifer Jason Leigh, Nicolas Cage, Forest Whitaker and, of course, Sean Penn as laid-back surfer dude Jeff Spicoli. Sunday at ATL it's Don Bluth's cartoon feature The Secret of NIMH about a secret society of super-intelligent lab rats.
Next Wednesday's Sci-Fi Pint 'n' Pizza Night at the ATL goes futuristic: The British 1936 classic Things to Come, a story by H. G. Wells, has pacifist Raymond Massey trying to stop the business of war; the post-Apocalyptic crime tale Slipstream has Mark Hamill as a future cop out to bring in a fugitive in a world laid waste by environmental destruction.
Continuing
BEAUTY AND THE BEAST 3D. Remember the animated Disney version from 1991? Yeah, this is that movie. Only now it's in 3D so you need glasses and more dollars. 90m. At the Broadway and Mill Creek.
CONTRABAND. Mark Wahlberg was a good drug smuggler. But he quit. His brother-in-law is a lousy drug smuggler in trouble. Cue relapse. R. 110m. At the Broadway, Fortuna and Mill Creek.
THE GIRL WITH THE DRAGON TATTOO. Director David Fincher adapts Stieg Larsson's brutal literary blockbuster, which follows a reporter (Daniel Craig in this film version) and a mysterious, Gothic waif (Rooney Mara) as they uncover the dark secrets of a wealthy Swedish family. R. 158m. At the Broadway.
JOYFUL NOISE. Country superstar-turned-freaky-marionette Dolly Parton costars with Queen Latifah as catty choir members with different opinions on how to win a national competition. PG13. 118m. At the Broadway.
SHERLOCK HOLMES: A GAME OF SHADOWS. When the powers of deduction fail, my dear Watson, we shall punch these chaps square in their gobs. Pip pip! Cheerio! PG13. 129m. At the Broadway.
WAR HORSE. Steven Spielberg shows restraint and masterful filmmaking in this story of friendship between a boy and horse during World War I. PG13. 146m. At the Broadway.