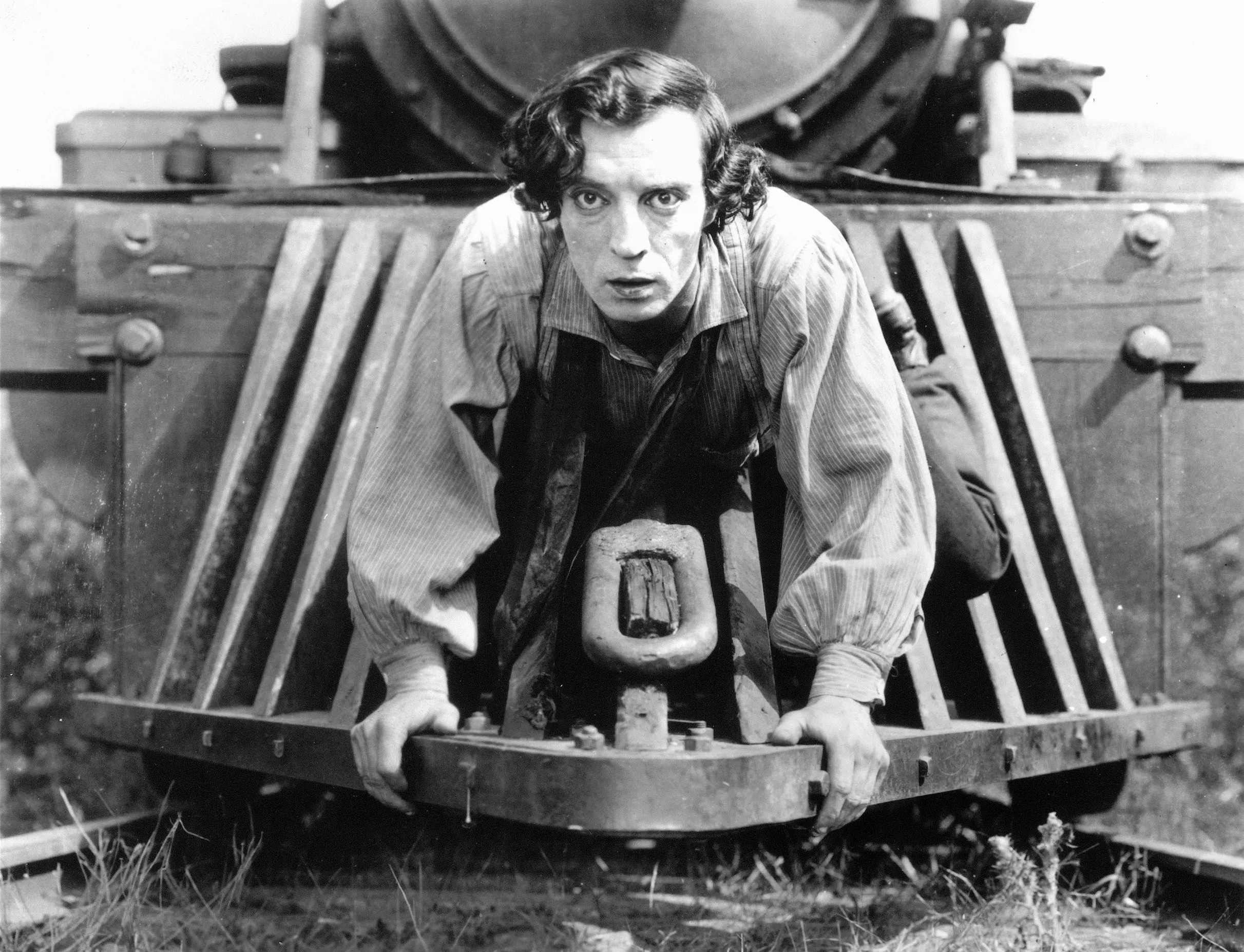 in The General
Buster Keaton
Any student of silent movies knows The General. Buster Keaton's highly refined slackstick tale of a runaway Civil War train is a classic of early cinema deemed "culturally, historically, or aesthetically significant" by the Library of Congress. Back in the '20s, moviegoers may have seen it with piano accompaniment or, if they lived in a big city, a full orchestra helping to drive the action. In the coming weeks those who live in outlying towns in Humboldt County will be able to see The General with an original score performed by a six-piece band, thanks to some shady doings in the music business.
It started with an antitrust case at the end of the 20th century. Five of the country's biggest music CD distributors, among them EMI, Sony and Universal, were accused of conspiring with the then-dominant music retail chains Tower Records, Musicland and Trans World Entertainment to fix a minimum price for CDs between 1995 and 2000. They settled and agreed to a big payout including distribution of 5.5 million CDs valued at $75.7 million to public schools, colleges and libraries around the U.S., a cash payout to abused CD consumers who applied (in California that amounted to $13.86 apiece) with additional money going to state arts and music programs.
The California Arts Council got a little more than a half million dollars to dole out to applicants around the state for music-related activities. The California Autoharp Gathering of Dunlap got $15K, same with the Hmong Cultural Heritage Center of Fresno. The Red Scarf Society of Yreka got money to bring Western vocal music to the Siskiyou County Fair. Taiko drummers around the state got a piece of the action and concerts from opera to jazz and blues were funded, as noted in a press release from the Calif. State Dept. of Justice who helped administer the payouts.
In Humboldt County, Ink People Center for the Arts head Libby Maynard heard about the grant opportunity and told Gregg Moore, who leads the brass band Bandemonium. He applied and $10,875 was awarded for "free performances of theatrical and experimental music." A Humboldt native, Moore spent decades working as a musician in Europe. He wrote and performed a score for the Keaton film in 2002 while living in Portugal. "The original commission came from Cine Clube de Covilhã in rural Portugal," said Moore. "We toured it with Os Macacos das Ruas de Évora -- The Everest Street Monkeys -- the band I was working with at the time."
Moore figured the film music project was a good fit for the grant, offering an opportunity to work with a group of local players -- and pay them. "It's a complicated thing," he said. "There's a lot of music to learn and it all needs to line up with the action of the film. We're having paid rehearsals and the gigs actually pay well -- it's a pretty unique thing in Humboldt in that it pays decent money."
The Keaton combo includes Bill Allison on trumpet and keyboards, clarinetist Virginia Ryder, Randy Carrico and Julie Froblom on saxophones and Tim Gray on drums and percussion, with Gregg Moore switching between tuba, trombone, mandolin and banjo.
"Music has a universal appeal, bringing people together and creating a community spirit," said Attorney General Jerry Brown in the press release announcing the price fixing grants. "Through these concerts, we hope to bring a small measure of joy into local communities and encourage cultural development." At least a small measure of joy will be had by all who attend, perhaps even more.
Performances scheduled so far include screenings Friday, Oct. 1, in the Margaret Keating School Cafeteria in Klamath ("as close as we could get to Orick" said Moore); Friday, Oct. 8, in the Orleans Elementary School Cafeteria in Orleans; Friday, Oct. 22, at the Mattole Valley Community Center in Petrolia; Oct. 29 in Hoopa or Willow Creek (location TBA); and Nov. 6, at the Blocksburg Community Center in Blocksburg. Show time in all cases is 7:30 p.m. All shows are free of charge thanks to the offending price fixers. There are plans afoot for a screening at the Arcata Playhouse later in November, but no firm date yet. For more information go to www.relevantmusic.org/Keaton.