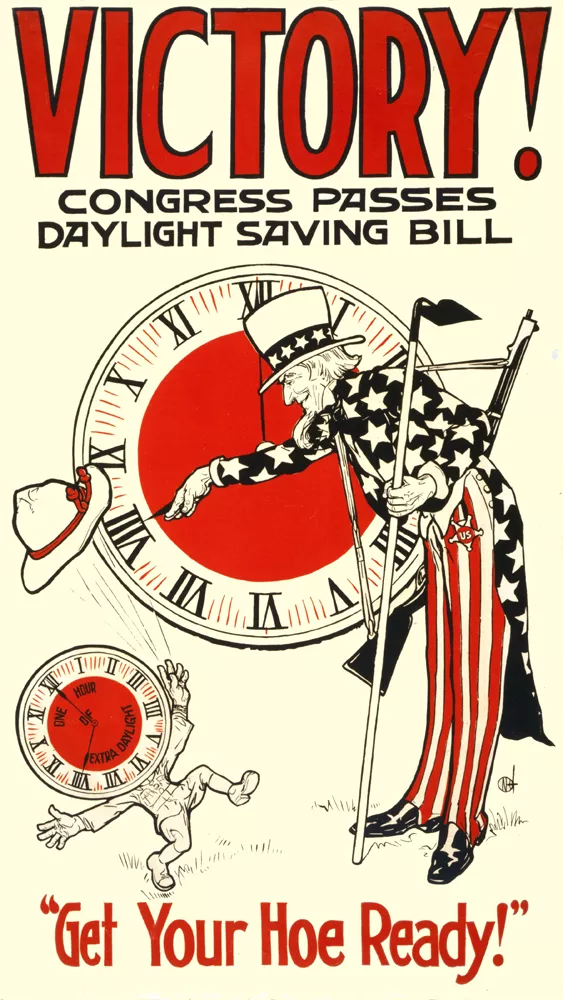 Library of Congress/Wikimedia Commons.
World War One poster sponsored by the United Cigar Stores Company.
The sign on the counter of a local sports equipment store read, "Kayak classes Fridays 9-12 p.m." "Isn't that rather late for a class?" I asked. The clerk did a double take, then assured me that the class ran for three hours in the morning, ending at noon. "But 11:59 p.m. is a minute before midnight, so wouldn't 12:00 p.m. be midnight?" I persisted. We agreed to differ, victims of the time trap that claims countless air and bus travelers every year -- which is why you'll often see flights leaving at 11:59 a.m. or 11:59 p.m., to avoid the ambiguity.
All of which sent me into my biannual Daylight Savings Time funk. Consider what happens next Sunday morning, Nov. 7 ("Fall back") for an international flight leaving LAX at 1:30 a.m. Does it leave at 1:30 a.m. PDT -- or one hour later, at 1:30 a.m. PST? Who knows? Who cares? Well, everyone involved in scheduling: flight planners, air traffic controllers, passengers and crew. Meanwhile if the flight is to the UK, nominally 8 hours ahead of Pacific Time, can we figure out when it will arrive in London? Only if we remember that "summertime" for those crazy limeys ended last Sunday, a week ahead of us.
Given all the confusion that can and does happen around daylight savings, wouldn't we be better off without it? Countless studies have tried to answer that question, with mixed results. For instance, a University of California researcher analyzed electrical usage in Indiana pre-2006, when Hoosiers enjoyed not one, not two, but three separate time systems (until the State legislature unsportingly mandated a single system). Turned out that the parts of the State that had adopted DST used more power than those that didn't -- blame it on people using fans and air conditioners during extended summer evenings. Other studies have found the opposite, that DST actually saves electricity. Same with traffic accidents -- for every study pointing to fewer accidents during long summer evenings, another finds more accidents in the pre-dawn summer mornings, especially right after the "Spring forward" change.
Here's another way of looking at it. If we all take 10 minutes changing our clocks and watches twice a year, at the current average hourly wage of $22.45, that's costing the country nearly $2 billion a year. No wonder we can't balance the budget!
So here's a modest, unoriginal suggestion. The problem isn't whether or not we're an hour ahead of some imaginary "standard time," it's the changing that causes the frustration and missed flights and upset biorhythms. So pick one -- either the time we're on now or the time we'll be on next week -- and then leave it alone. No biannual changes, no nothing. Isn't it time we fixed time?
Barry Evans (barryevans9@yahoo.com) plans to avoid next Sunday's time change by sleeping through it.