On a night that was defined by a historic national upset, Humboldt County saw a few surprises of its own.
In Eureka, Austin Allison — a virtual unknown when he announced his candidacy at the 11th hour just two months ago — toppled community fixture John Fullerton to win a seat representing the 4th Ward on the Eureka City Council, taking 54 percent of the vote to Fullerton's 45 percent. The shock of the moment was evident when the Journal contacted both candidates and a giddy Allison thanked his supporters, while Fullerton, for his part, said the 25-year-old healthcare worker "had a lot to learn," and offered to help Allison get "up to speed if he wants" the help.
Meanwhile, Measure V — the grassroots effort to bring rent stabilization to mobile home parks in Humboldt County's unincorporated areas — faced an opposition with deep coffers filled with five-figure donations from out of the area that fueled an aggressive ad campaign, but the measure sailed to victory with 55 percent of the vote.
Down in Fortuna, a city long known for a Tea Party-esque aversion to taxes, voters swallowed hard and overwhelmingly passed a .75-percent sales tax hike that city officials warned is desperately needed to bridge a structural budget deficit that has depleted the Friendly City's reserves in recent years.
And Proposition 64 — the statewide initiative to legalize recreational marijuana that some growers and law enforcement officials warned was a bad law — drew stronger support from Humboldt County than the rest of the state on its road to victory. Garnering 59 percent of the vote in Humboldt — and 56 percent throughout California — the Adult Use of Marijuana Act succeeded where past efforts have fallen flat.
Of course, there were some less surprising outcomes, too: Arcata's three popular incumbent council members coasted to re-election, as did the North Coast's state and federal representatives — Congressman Jared Huffman and Assemblyman Jim Wood. Voters also agreed to support a host of local school bonds, impose a tax on marijuana growers and bring a true ward electoral system to Eureka, while rejecting a county plan to consolidate the offices of the Auditor-Controller and Treasurer Tax Collector.
While the eyes of history will no doubt fixate on Donald J. Trump — a candidate with no experience in the military or public service who ascended to the nation's highest office on Nov. 8, 2016 — this election will also shape Humboldt County, and California, for years to come.
Source: Humboldt County Elections Office
Results of local races as of 5:30 a.m., Wed. Nov. 9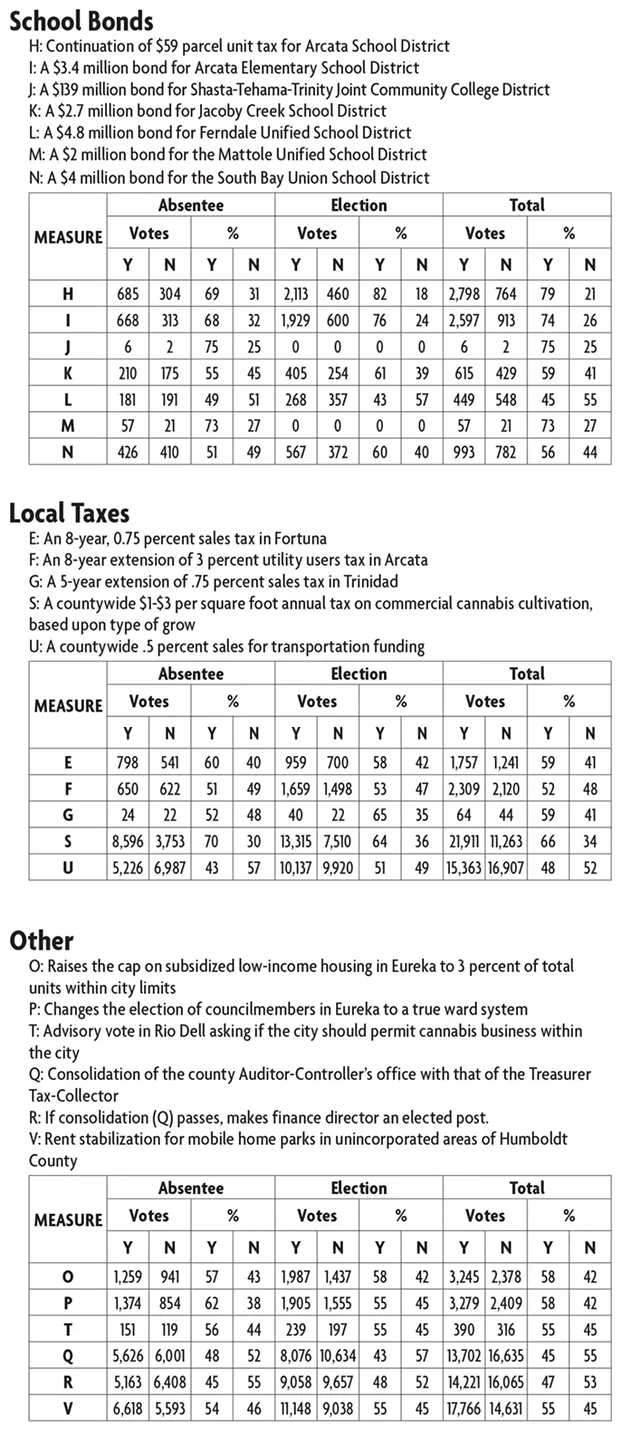 Source: Humboldt County Elections Office
Results of local measures as of 5:30 a.m., Wed. Nov. 9
Source: California Secretary of State
Results of national and state races as of 5:30 a.m., Wed. Nov. 9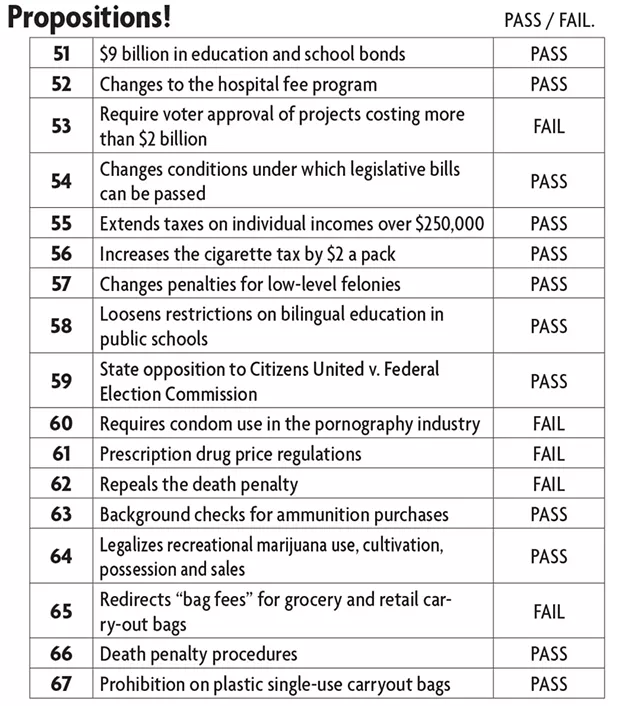 Sources: Humboldt County Elections Office and the California Secretary of State
Results of propositions as of 5:30 a.m., Wed. Nov. 9