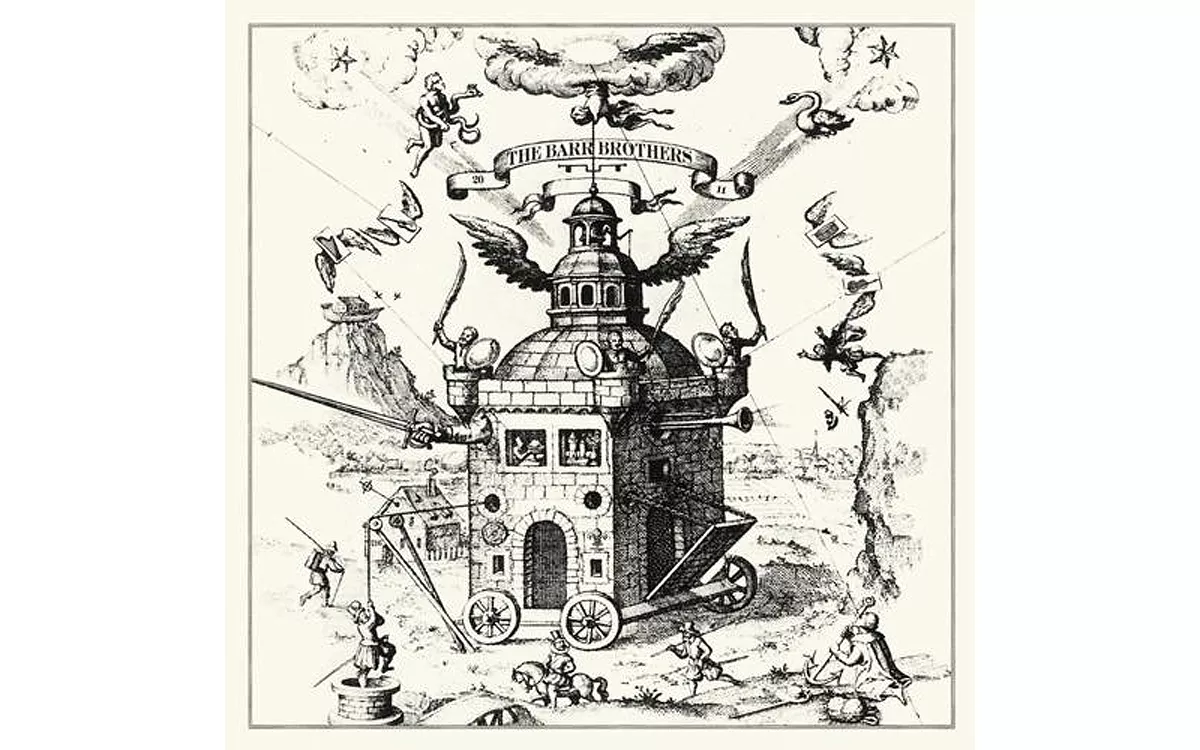 The Barr Brothers - Secret City Records
The Bar Brothers
What started as a side project from a happenstance meeting with a next-door neighbor has become more of a full-time gig for Brad and Andrew Barr. The brothers, once core members of The Slip, a consistently changing band built on improvisational jazz and indie rock, also played in side projects, among them Surprise Me Mr. Davis, which included keyboardist Marco Benevento and singer-songwriter Nathan Moore. Brad and Andrew formed The Barr Brothers after moving to Montreal in 2005.
Shortly thereafter, guitarist/vocalist Brad heard harpist Sarah Pagé practicing in the apartment next door. They began collaborating with Andrew on drums and percussion. The resulting self-titled debut is a wide, and often stellar, exploration of folk and blues-based contemporary music.
The subtle opening cut, "Beggar in the Morning," mixes the strumming and ringing of an acoustic guitar with looped and manipulated field recordings to introduce Brad's tenor vocal, reminiscent of the way Tim Rutili (of Califone) or Justin Vernon (better known as Bon Iver) lead into their songs.
The elegant "Ooh Belle," with its circular harp figures by Pagé offering counterpoint to Andrew's fingerpicking, sets a mostly folk-based tone to the record, allowing for space to accentuate Andrew's harmonies accompanied by a number of guest vocalists (Elizabeth Powell in this song).
After dropping out of Boston's famed Berklee School of Music in '96, Brad and Andrew toured relentlessly as The Slip and/or offshoots and collaborations, and their musical chops show. However, the vocals provide the root of each song, an emotional yin to the precise instrumentation's yang.
The record's highlights: "Old Mythologies" and the closing song "Let There Be Horses" definitely ride in the shadow of the folkier side of Jeff Tweedy and Wilco. The melodies have a melancholic pop edge, with intricate breaks in the sparse arrangement.
The Barrs lean toward a Leonard Cohen approach, both in vocal phrasing and arrangement, in "Held My Head" and the gorgeous "Cloud (For Lhasa)," a song written for the late Canadian-based, Mexican American singer-songwriter, before she succumbed to cancer in 2009.
The Barr Brothers also venture into a more Dirty Projectors-like or "prog" side, as in "Give the Devil Back His Heart." A Black Keys-style electric blues version of Blind Willie Johnson's "Lord, I Just Can't Keep From Crying" and an African-meets-Asian influence on "Deacon's Son" round out the wide-ranging folk palette.
It's evident that The Barr Brothers are exploring their parameters. It will be interesting to see how they further develop as a unit and settle into a more solidified identity. Judging from the superb foundation on this debut, the band may just find the wide attention and audience that have eluded the brothers over the years.