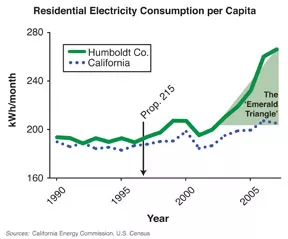 Residential Electricity Consumption per Capita
The grow house scene in Humboldt County has made us famous, like it or not. What goes along with growing pot indoors, and what is often overlooked, is the enormous amount of electricity that grows consume.
We like to think of ourselves as an environmentally aware community, and in many ways we are. Humboldt County has twice as many solar panels per household as any place in California. But with pot grows, we're using our precious energy resources to grow a plant indoors, a plant that grows like a weed outdoors. It's expensive, it's bad for the environment and it's wasteful.
Electricity is a wonderful form of energy. It's quiet and clean. It powers our lights, electric motors, refrigerators and all the other electric appliances that make our lives so much healthier and richer. Electricity is so valuable that we go through a lot of trouble to generate enough of it. We build power plants that burn fuel, make steam and turn turbine-generators. We build dams to block rivers and generate hydropower. We build transmission lines to carry valuable electric cargo to almost every corner of America.
California households use less electricity than almost anywhere else in America, and this despite the fact that much of California has a large air conditioning load in the summer. Our state has strict building standards, and Californians are particularly frugal in their use of power. In 2008, the average California household used only 64 percent as much electricity as the average American household. Good for us.
But look what's happening in Humboldt County. The graph above shows per capita residential electricity use for California and Humboldt County beginning in 1990. In the early '90s, use of electricity in our county more or less tracks the use in the state as a whole.
That was then. In November 1996, Proposition 215 passed and things changed -- gradually, at first, and then dramatically in the last few years, Humboldt County's residential electricity use has soared. Why's that? Our lifestyle hasn't changed much, but the number of indoor pot grows has. The graph shows the "Emerald Triangle," which represents the increase in electricity consumption that we believe is due to indoor grows. By 2007, the last year we have data for, that extra consumption amounted to an average of 61 kilowatt-hours (kWh) per month for each Humboldt County resident or 145 kWh for each household.
That's the average for all households in the county and only a few of them contain grows. To bring the average up that high, grow houses use much more electricity than the rest of us. In a case prosecuted by Maggie Fleming in the DA's office, one grow house used almost 10,000 kWh a month, or almost 20 times as much as an average household. It's probably not the highest.
There's more. Many growers have no reportable income so they qualify for subsidized electricity under PG&E's "CARE" program, which is intended to help low income households keep the lights on. That means we all pay higher electricity rates and underwrite lower rates for growers who use this assistance program.
There are environmental consequences of what we're doing. Generating electricity kills fish, emits carbon dioxide (CO2) into the atmosphere and contributes to climate change. The extra electricity used by grows in Humboldt County totals an astounding 90 million kWhs a year -- about 70 times the total output of all the solar panels in the county, or enough to power 13,000 typical homes. Generating that electricity, even with PG&E's relatively low-carbon grid, puts 20,000 metric tons of CO2 into the atmosphere. And that's without considering the energy and environmental costs of using chemical fertilizers, which are significant.
Grows on the grid are only part of the story. Many of the largest indoor grows are off-grid in the more remote areas of the county. These operations use diesel generators to provide the electricity and have even worse environmental consequences, since there are fuel spills as well as CO2 emissions. Setting aside the issue of spills, we used estimates from Jack Nelson of the Humboldt County Drug Task Force of the number and size of off-grid grows to estimate the amount of CO2 they emit -- another 20,000 metric tons a year.
On-grid and off-grid, indoor pot growing in the county adds about 40,000 metric tons of CO2 to the atmosphere each year. To put that into perspective, consider that the City of Arcata just sold carbon credits to PG&E in a landmark deal. The contract calls for the city to sequester 10,000 metric tons of CO2 a year by not cutting trees in city forests. Unfortunately, this effort is being swamped 4 to 1 by grow lights.
There's no question that indoor grows are a huge benefit to our local economy. There's also no question why people grow indoors. They get more crops, make more money and their valuable crop is more secure. But the energy and environmental costs are high.
There's an obvious solution to this situation -- grow marijuana in the sunshine, where it is meant to be grown. Grow organic pot with no pesticides, fungicides or artificial fertilizers. Grow in greenhouses if security is an issue. Plants are the original solar collectors, and they're really good at it. Solar-powered pot can provide all the medicine we need, just as it has for centuries. And we can be kind to the earth in the bargain.
Peter Lehman is the director and Peter Johnstone is a research engineer at the Schatz Energy Research Center at Humboldt State University. Views expressed in this article are those of the authors and not those of the Schatz Center or HSU.