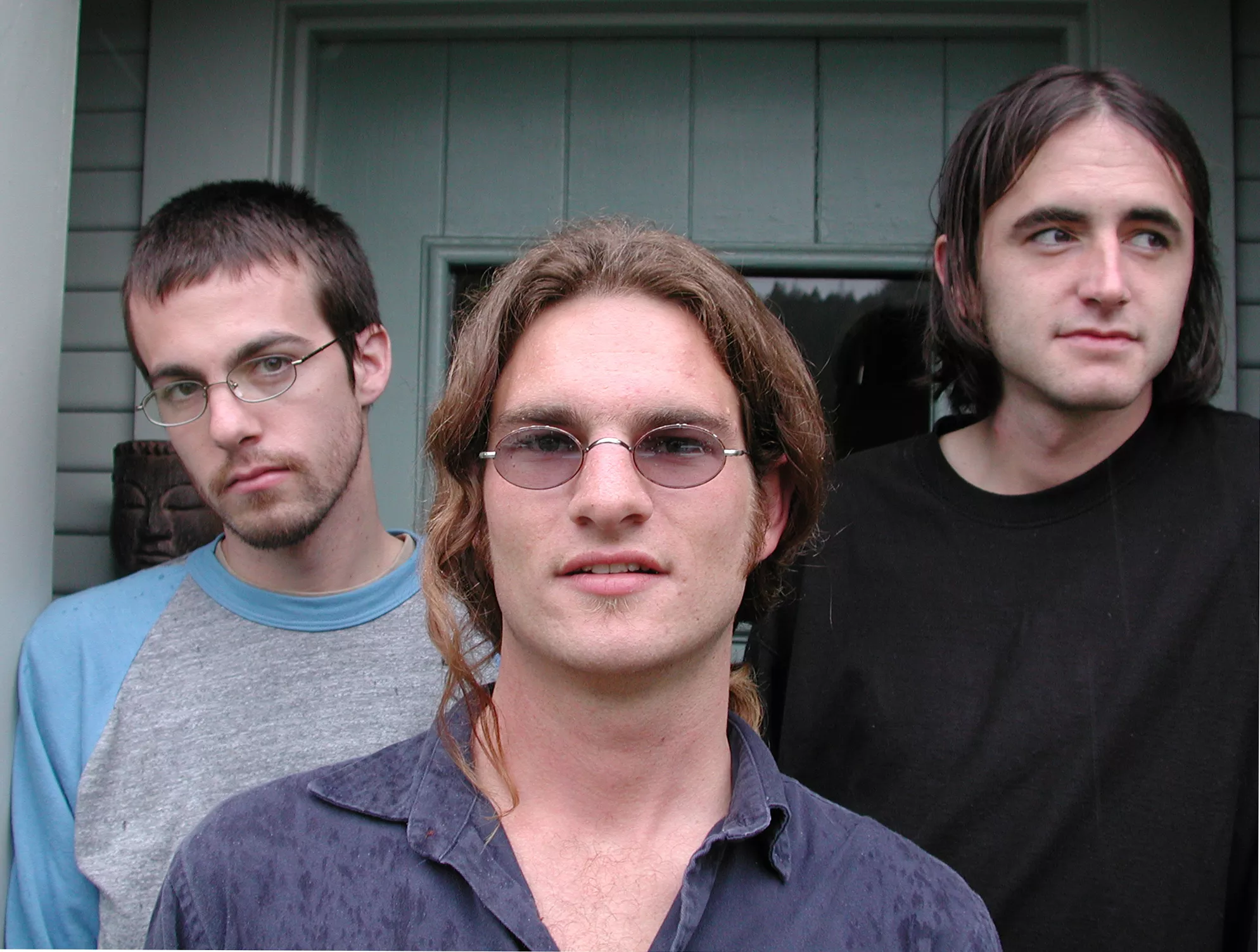 photo by Bob Doran
The Nucleus
In physics, the protons and neutrons at the core of an atom form the nucleus. In cellular biology, the nucleus is where you find DNA, the cell's genetic material. In Humboldt, The Nucleus is a long-lived rock/funk/psychedelic jamband with guitarist Piet Dalmolen, bassist Steve Webb and drummer Pete Ciotti at the core. As noted on the band's Facebook and Bandcamp pages, The Nucleus counts "over 500 shows, 11 years, seven national tours, seven CDs" and "still counting" on the CDs.
The three musicians all grew up in small towns around Ithaca, NY. Ciotti related the trio's history 10 years ago when the band released its first CD. "We were all like best friends since we were in high school," he told me. "Back in New York we just jammed together -- we never had a band -- we just played in the basement."
When Dalmolen came west to study music at HSU, Webb and Ciotti followed and they ended up living together in a house in Arcata. There was a spare room for their instruments -- jamming recommenced. That resulted in a band called All in the Family, which eventually evolved into Nucleus. (The name was eventually changed to The Nucleus to avoid confusion with the British jazz-rock band.)
Back in the day Dalmolen described the Nucleus sound as "a hybrid going down the middle of rock and groove jazz. We pump it up, and we play a lot of three or four chord songs and sing our asses off; that feels totally like rock 'n' roll to me." And that's pretty much been the story all along. They've gone through a few fourth members, worked with various saxophonists and keyboard players, some for longer than others, but the rock trio core has remained the same.
The band hasn't played out much of late. There are now wives and kids in the picture, other work, and distance: Webb is living and working in Ventura, Dalmolen runs Universal Balance Recording Studio, Ciotti runs a couple of pizza parlors and the Jambalaya, and Piet and Pete both play in the Petty tribute band Full Moon Fever. But to me, they've always been Arcata's top jamband, and this weekend The Nuke is back -- full force -- for a two-night run Friday and Saturday at the Jambalaya (of course) with old friends Brian Swizlo and Lenny Pettinelli adding a dual keyboard component.
"Steve flies in tomorrow," said Dalmolen, calling from his studio on Tuesday. "We're excited to be together again playing a lot of songs from different periods. It will be fun to mix it all together, spread the music over two nights and add the two keyboards for flavor."
Opening for them on successive nights: bluesy jammers Children of the Sun (Friday) and the indescribable Strix Vega (Saturday), who, after reading about Wu Tang's many aliases last week, tell me they feel like they need some nick names. Any suggestions?
Now established as a monthly "event," Missing Link's Got Soul returns to Humboldt Brews Thursday, this time with six, count 'em, six DJs spinning soulful vinyl. In between pulling espresso shots at Café Brio, M.L. Matt explained that this one's a "birthday fandango" since his DJ/record store partner Adam and King Maxwell both have birthiversaries coming up. Cake? Maybe. But mostly variations on sweet soul vinyl: I'm told DJ Mantease just got a new shipment of Peruvian cumbia discs to share (yes, they are soul, says Matt emphatically) and DJ Jaymorg will be back. When Matt noted that the latest soul spinner added to the mix will be none other than DJ Red, a woman at the end of the coffee bar expressed delight. Like many (myself included) she's been dancing to Red's records for years.
Passion Presents has a pair of jammish shows coming to the Arcata Theatre Lounge: Thursday it's an unnamed trio with guitarist Ray White, who played with Zappa, then later KVHW, bassist Bobby Vega, the "V" in KVHW and a member of Zero, and infamous Tubes drummer Prairie Prince. I hearby dub them "Prince White Vega." Naive Melodies opens with some Talking Heads tunes. Saturday it's the Jerry Garcia Band's Hammond-B3 organ player Melvin Seals with the latest edition of JGB.
The first Humboldt Folklife Barn Dance of the year is Friday at Arcata Veterans Memorial Building, with Striped Pig Stringband (as usual) and Michael Ismerio calling the do-si-dos. Proceeds go to Coastal Grove Charter School.
The Country Pretenders make a rare appearance Saturday at Arcata Playhouse. The self-described "deep country" combo includes some of my favorite local musicians: vocalist Joyce Hough, her guitarist husband Fred Neighbor, Brooks Otis on crying pedal steel, bassist Gary Davidson and drummer extraordinaire Tim Gray. Great music for a good cause: supporting the recent Playhouse makeover. To add to the pot, there's an auction where "audience members will have the chance to bid on their own makeovers" with landscaping, painting, kitchen organizing and "even a creativity makeover" offered.
HumBrews twangs Saturday night with Bay Area jamgrass band Poor Man's Whiskey known for, among other things, a bluegrassish version of the classic P-Floyd album, renamed Dark Side of the Moonshine.
Splinter Cell, Eureka rockers "with a sense of humor," celebrate the release of a new CD, Will You Be My Friend?, via the obligatory CD release party Saturday at the Alibi. The record finds the band cranking through 16 short, sharp songs in under 35 minutes. (Some, like "Robo," a paean to Robitussin, are less than a minute long.) The lyrics hit various targets, including the religious right on "Vampires," with its chorus, "Intelligent design's got a mind of its own, leaving my soul with no place to go." The music rocks, relentlessly. Don't miss the hidden dub reggae track, a shout-out to "Rusty Far-Eye." Sharing the bill at the Alibi, local punks A.M. Beers with "members of Smashed Glass and Real DTs." (Do you see a pattern there?)
A.M. Beers also open the Bad Kitty show Wednesday, Feb. 1, at the Red Fox featuring American third wave ska godfathers The Toasters, formed in NYC 30 years ago by Robert "Bucket" Hingley, who is still toasting. DJ Gabe Pressure spins before and between.
Saturday night at the Mateel, Diamondback presents Shinerfest, which could be described as a black eye, white trash rock/country/hip hop tour, aside from the fact that it includes the local rappers Potluck, who don't exactly fit the stereotype. Headliner "outlawz" The Moonshine Bandits mix southern rock with hip hop, same with Rehab ("The Bartender Song"), and you have longhaired rockers Jackyl, best known for the chainsaw solo in its Zeppelin-ish song, "The Lumberjack." DB-Ollie also promises a mechanical bull. Your hostess and MC is Maria Kanellis, a former WWE (World Wrestling Entertainment) Diva who once graced the cover of Playboy.
Also keepin' it real down in SoHum, Lukas Nelson and Promise of the Real (you know, that rock band led by Willie's super talented son), who return to the Mateel next Wednesday, Feb. 1, with Aloha Radio, a SoCal surf rock band fronted by Lauren Mulderrig, a blonde surfer who looks like she stepped off the cover of a Beach Boys album (and she can sing too).
Blue Lake Casino has double shows this weekend: Friday it's tribute time again with San Diego's 40oz to Freedom playing music by Sublime in the Sapphire Palace, while Portland-based "soulgrass/Americana" band Fruition String Band strums in the Wave. Saturday the Wave has Chico ska band The Melodramatics, with DJ MuziqLement of Accurate Productions playing tunes in the Sapphire for an All Night Dance Party benefiting the Humboldt County Breast Health Project. They say they'll go until 5 a.m. Will anyone really dance all night?