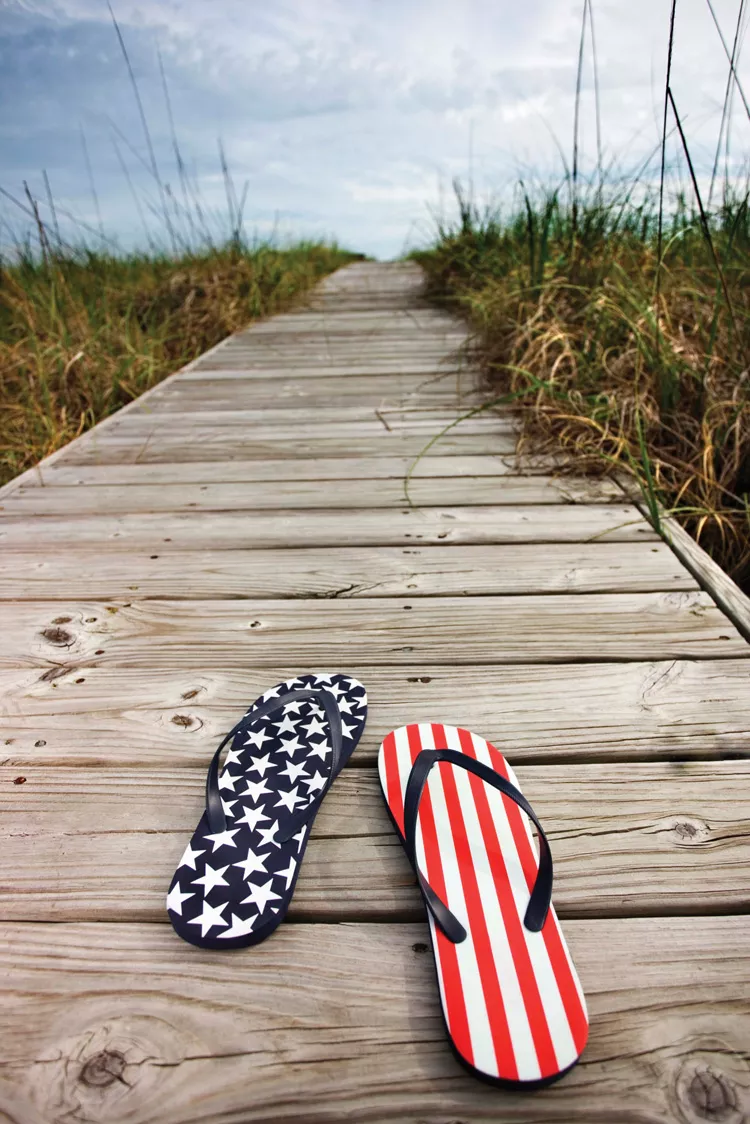 On a scrap of hempen paper, by flickering candlelight, occasionally sneezing from the talcum drifting off his wig, John Adams penned a letter to his dearest Abigail. "The Second Day of July 1776, will be the most memorable Epocha, in the History of America," he wrote, the feather-end of his quill tickling his nose. "I am apt to believe that it will be celebrated, by succeeding Generations, as the great anniversary Festival. It ought to be commemorated, as the Day of Deliverance by solemn Acts of Devotion to God Almighty. It ought to be solemnized with Pomp and Parade, with Shews, Games, Sports, Guns, Bells, Bonfires and Illuminations from one End of this Continent to the other from this Time forward forever more."
Almost makes me choke up -- wait ... did he say the Second? Shoot. Let's check ye olde Wikipedia. … Ah. Sort of a tomato-tomato deal. Anyway, Mr. Adams, we're doing it like you said. Thanks to you, good sir, we shall lounge long in our beds next Wednesday morn. When we awaken, likely between the hours of 10 and 2, we will gorge on cobs of corn and dogs that are hot. We will hop in sacks, and cue our barbs. And when it gets dark, we will illuminate.
Festivities begin on Independence Eve (July 3), with the Third Annual Fortuna Fireworks Festival in Newburg Park. Things get rolling at 5:30 p.m., with picnicking, barbecuing, clowns and a mighty tug-of-war. Patriotic locals will try to tame Bucking Butch the Steel Steer, and will likely be tossed spectacularly. Kids will don potato sacks and awkwardly hop-step as fast as they can. Some will inevitably faceplant. For those of you who like too much of a good thing, there will be an apple-pie-eating contest. Bring money if you want tri-tip or corn on the cob, because that stuff costs dollars, but the live music is free. The fireworks start after dark.
The next day, wake up, shake it off, and head to the Arcata Plaza for round two. Bring blankets and picnic food, because that grass is for sitting on. Your kid is antsy, you say? He doesn't appreciate the full day of live music? Make things right and take that sucker to the kids' corner, where he'll be at home with people of similar age and disposition -- sometimes 300 or 400 of them, said Brenda Bishop of the Arcata Chamber of Commerce. Each kid will be assigned to a giant hamster wheel, which they will use to power the lights in Everett's. Actually, not. The truth is, there will be plenty of ethical ways for them to burn off that crazy energy, including a free circus.
Arcata isn't doing the whole firework thing this year, mmkay, so if you want fireworks you're gonna have to hop on your recumbent bicycle and schmob to Old Town in Eureka. There, you will almost certainly find fireworks, said Charlotte McDonald of Eureka Mainstreet. A week prior, the show was short $3,000, but McDonald said that she fully expected patriotic fireworks fans to open their wallets. Make it happen, citizens.
If you like your fireworks without the clouds, then Benbow State Park, in Humboldt's Garberville sector, might be a better bet."There's never a chance of fog during our show," said Dee Way of the Garberville Chamber of Commerce."That's our selling point." Admission is $8 per car, truck or campervan, and the show starts at 10 p.m. Way said that the sound of the fireworks will echo off of the cliffs across the park, and is sure to blow your funky mind.
Humboldt, now you know. Get out there and be independent.