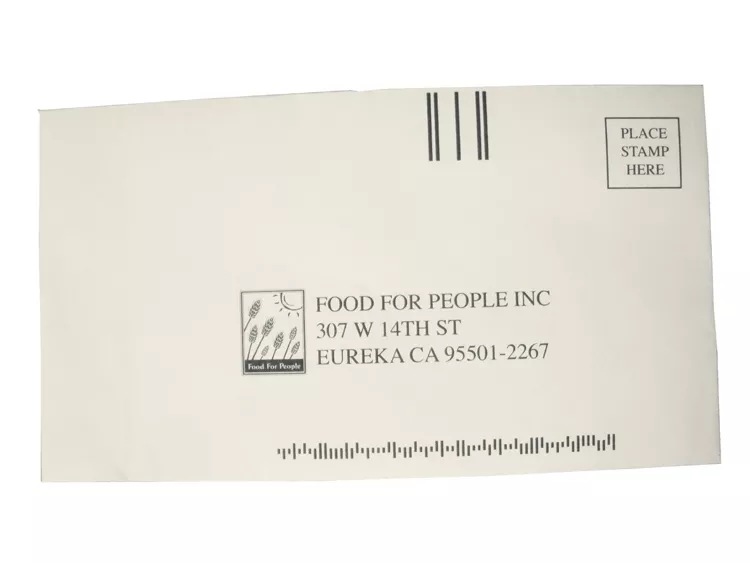 Two weeks ago, I mentioned that the Journal was teaming up with KHUM radio (104.3, 104.7 FM) to raise money and collect food to benefit Food for People, the umbrella agency for all hunger-relief efforts in Humboldt County.
This week KHUM folks are broadcasting live from a different grocery store each day as they do every holiday season. Watch for them when you shop. Drop off some food in the collection barrel -- especially canned food like meat and fish, stews, soups, beans, peanut butter, fruits in 100-percent juice, or whole grain pasta and cereal. There is a particular need this time of year for food that will keep well on a pantry shelf. KHUM is also distributing information and collecting money, so bring your checkbook. (Many thanks to Wildberries Marketplace, North Coast Co-op in Eureka, Ray's in SoHum and McKinleyville, and Grocery Outlet in Eureka.)
Or -- Journal readers -- if you don't happen to be in the right grocery store on the right day, there is an envelope in this week's Journal just for you. Either write a check or follow the instructions on the envelope flap to put it on your plastic. Don't forget the stamp. Stick it in the mail. Easy.
Inside this week's Journal you will also find a four-page report to the community, Food Notes. Learn how the Food Bank got started, how donations are used, and why the need is so much greater this year than last. And you will meet a few of the individuals and families helped by Food for People programs.
Think about the math. Humboldt County has 52,000 households. KHUM has a lot of listeners. The Journal has a circulation of almost 21,000. All donations, big and small, are welcome.
Don't waste your envelope.