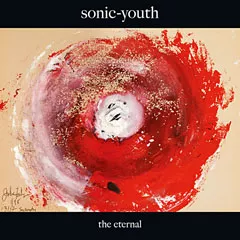 Sonic Youth provides the bridge between 1970s post-punk experimentations (and noise) and the contemporary noise-core and Black Metal movements, while including an eclectic variety of musical genres flowing beneath its span. So it's no great surprise to discover that Sonic Youth drew on some of those contemporary influences, within the band's own evolution, for their 16th band offering, The Eternal. What's surprising is that it may also be one of their strongest efforts.
It's difficult to assess the prolific output of Sonic Youth. Over two decades of work, one might split their discography into different time periods. Formed in 1984, Sonic Youth created the core of their identity when guitarists Thurston Moore and Lee Renaldo teamed up with bassist Kim Gordon (and original drummer and actor Richard Edson). The band began a blueprint integrating punk and avant-garde aesthetics, heavily linked with the NYC "No Wave" underground of the middle- to late-'70s, led by Arto Lindsay, Lydia Lunch, James Chance/White and, most importantly, guitarist Glenn Branca. When Crucifucks drummer Steve Shelley joined the band in late 1985, the core was solidified and has remained intact, surviving to its present day.
The Eternal follows the heels of the band's "latter" period of releases, starting with 2002's Murray Street, where they seemed to have found a clearer, strong voice, forced to approach their instruments with more conventional tunings (largely due to the theft of the band's equipment in 1999). Aided by producer and musician Jim O'Rourke, Sonic Youth showed confidence and maturity in the craft of their songs, extending them into more melodic arcs rather than allowing them to disintegrate into a musical chaos (and indulgence), as they had often opted for in their "early" years. With the addition of former Pavement bassist Mark Ibold (who replaces O'Rourke, musically), The Eternal has a very heavy sound, starting off with the opening cut, "Sacred Trickster," then ripping right into the powerful "Anti-Orgasm," featuring a Moore/Gordon "duet." Not since 1987's Sister has Sonic Youth featured multiple vocalists on individual songs, and this record includes a delicate lead vocal by Lee Renaldo on "Walkin Blue."
Bassist Ibold not only adds beef to the record's sound, he also lends subtle bass hooks, as in the driving, Renaldo-led "What We Know." It's also worth noting that The Eternal truly rocks without production tricks and over-compression. Working with Rather Ripped producer/engineer John Agnello (producer for The Hold Steady etc.), the sound is dry, oddly organic, with distortion parts running underneath the mix of the songs, blending with fluid guitar lines, while Shelley's frenetic drumming punches through the center. Sonic Youth's execution is vibrant, energetic and confident, delving into various musical directions within an individual cut, best exemplified in the complex and pummeling "Malibu Gas Station." The Eternal is a new plateau for a band with an impressive, long history.