Balance has got a couple of meanings," Steven Vander Meer remarked, regarding the drawings he had made. "Bodies balance. Stones balance. And there's another kind of balance in these compositions."
Vander Meer's new show at Piante Gallery explores balance from multiple angles. A polygonal sandbox hosts precarious looking stacks of vertically balanced stones. Figure drawings printed on sleek aluminum plates balance observations from life with hard-edged graphic effects created on an iPad. Nude models do the balancing in a suite of 41 drawings done with graphite and India ink on paper. Each model's body is rendered in personalized detail. Line conveys not just peripherals like tattoos and curls, but also fundamentals of carriage and posture, so the suite captures 41 different ways of holding the body in the world.
Vander Meer has been honing his draughtsman's skills designing rubber stamps under the name Meer Image since the early '90s. He co-founded the Arcata Life Drawing Circle and currently directs the group's weekly Thursday sessions. Since 1988, he's been transforming his drawings into animated films.
The models in these drawings are all women, set apart from context and centered on the page. The figures have no companions other than the viewer, whose presence they are evidently aware of at all times. The abstract sets that Vander Meer uses to situate his figures often take their compositional cues from the model's pose. Line records each model's bulges and concavities with energy and zest, breathing enthusiasm for the contours that make subjects physically unique. The traditionally gendered, stylized encounter between artist and model is presented here in all its glory and quasi-latent eroticism, as a primal scene of looking that can be revisited.
Courtesy of the artist
Steven Vander Meer's "The Girl on the Stones," graphite and India ink on paper, 2018.
This dynamic benefits from contextualization in the era of #MeToo, and the artist emphasizes the models' role in the creative process in his statement, writing: "The models who have contributed their energy to this project are powerful, confident women to whom I owe a debt of gratitude. The sharing of one's body for artists to study and learn from — and be inspired by — is an invaluable gift."
Figures are given titles that make them sound like Stieg Larsson novels and inserted into a black-and-white universe full of hard edges, abstract shapes and smoothly arcing curves. Titles, rendered in all caps, are collaged onto the drawing surface like words in a vintage-edition kidnapper's note. Each introduces the model as contemporary heroine: "The Girl in the Bubble," "The Girl Who Farmed Rabbits," "The Girl Who Thought Too Much," "The Girl In Between," "The Girl on the Stones," and so on. In each instance, text plus imagery is more than enough to suggest the kernel of narrative. As for the models themselves, "even when their faces are turned away, their overall presence is there," the artist told me. "I can recognize it in every one (of the finished drawings)."
As each figure balances herself in a pose, she is counterbalanced on the page by a vertical arrangement of balanced stones. Why stones? "The figure floating by itself on the page didn't seem 'done' to me," Vander Meer said. "So I started to balance it out with other things, like stones, because that provided a parallel."
Three animated "moving drawings" presented on flat screens balance differently. They represent posing figures who vibrate as though animated by white noise. The stop-motion animation cycles through a sequence of five drawings made from the same model and pose. The drawings are similar, but no two are exactly alike. When they are rapidly cycled the eye perceives a jittery visual static, like Brownian motion writ large. "It's like taking five different photographs of the same person," Vander Meer said. "Common characteristics emerge. A certain spirit or manner of posing is revealed."
Courtesy of the artist
Steven Vander Meer's 2018 "Moving Drawing #1," digital animation.
Courtesy of the artist
Steven Vander Meer's "The Girl with Seven Stones," graphite and India ink on paper, 2018.
Things get weird when the flickering static at the figures' edges resolves into a pattern. Models articulate a series of almost identical poses, cycling smoothly through the sequence in a way that is completely uninflected with expression, as though emulating the deadpan affect of a blinking neon sign. This pantomime motion carries a chilly, machined erotic charge — especially in "Moving Drawing #2," where the model, seated astride a cairn of suggestively shaped stones, twitches back and forth in a low-definition, slo-mo grind that pays comic homage to "The Bride Stripped Bare by Her Bachelors, Even," Marcel Duchamp's major machine-sex statement of 1915-23.
These drawings' quest for balance is also a search for essence. The ancient Greeks thought about balance this way. When the Greek painter Zeuxis could not find a model he thought beautiful enough to pose as Helen of Troy, he supposedly painted a diverse selection of 100 beautiful women instead — hoping that this opportunity for comparison would enable him to perceive a clarified essence that would represent ideal beauty. As art historian Kenneth Clark described, the history of the nude in Western art is profoundly shaped by this approach to the ideal.
While our culture celebrates all things "extreme," the Greeks inscribed the motto "nothing in excess" on Apollo's shrine at Delphi. Quirky, thoughtful and a pleasure to peruse because of the ingenuity with which it explores its theme, "The Figure in Balance" makes the case that Apollonian virtues like balance, order and reason are due for a return.
Steven Vander Meer's The Figure in Balance will be at Piante Gallery through September. More of the artist's work can be seen at www.stevenvandermeer.com.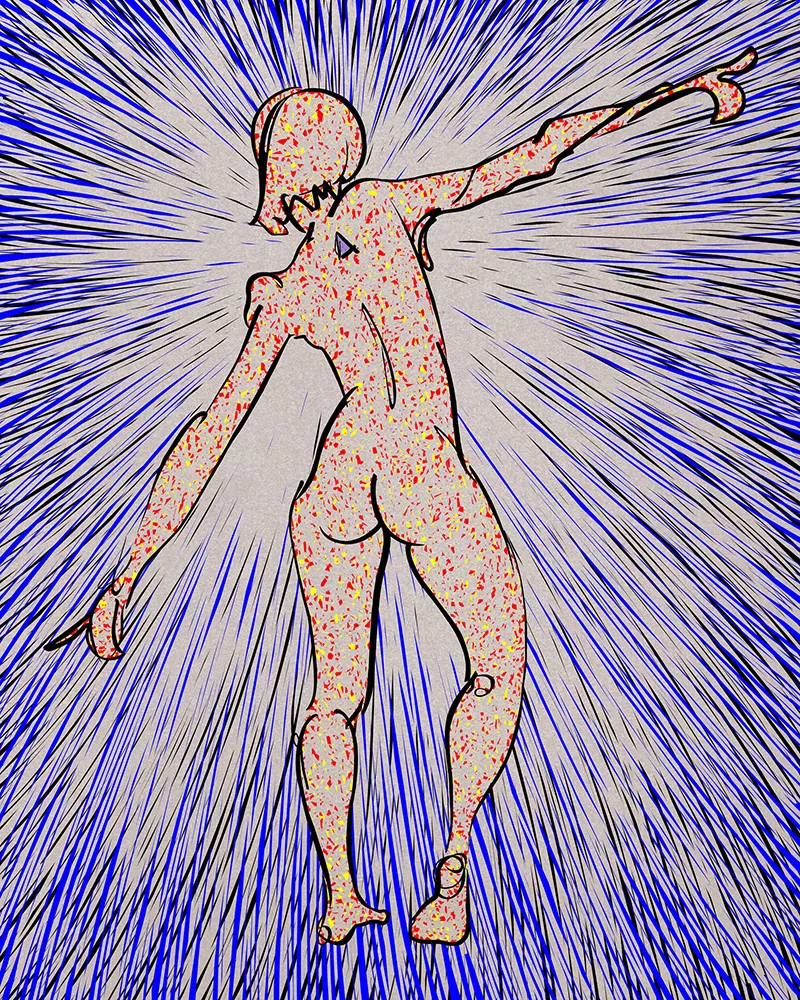 Courtesy of the artist
Steven Vander Meer's "The Girl with the Triangle Tattoo," digital print on aluminum, 2018.
Courtesy of the artist
Steven Vander Meer's "The Girl Without a Shadow," are graphite and India ink on paper, 2018.