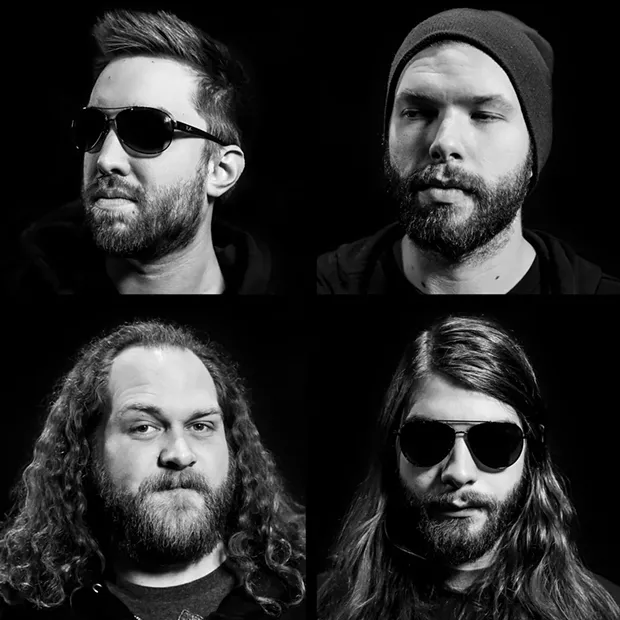 Photo by Jared Rigsby
The Werks play Humboldt Brews on Tuesday, April 4 at 9 p.m.
Just like many of you, I can remember exactly where I was when I first heard James Brown. I was a kid riding along in my mother's car in the morning with the radio on. Her favorite station would play what they called "golden oldies," which didn't mean much to me as an 8-year old. It was, however, the same place I had my axis similarly tilted by hearing The Beatles, The Beach Boys and Creedence Clearwater Revival.
There was something different about this man singing, screaming, pleading and shouting over the airwaves. It was melodic, sure, and the rhythms were tighter and grooved a bit harder than I was used to, but it was the powerful range of the singer that got me. Whether it was "Papa's Got a Brand New Bag," "I Got You," "Please Please Please," "Get on the Good Foot" — or later "Say It Loud - I'm Black and I'm Proud," "Sex Machine" or "The Payback" — there was something that demanded I pay attention. I would remember the name James Brown but didn't have a larger context to put him in until I got older, and saw concert footage of "The Godfather of Soul" (see the G.F.O.S. stamped on his belt in Zaire, '74). He was moving, dancing, doing the splits and conjuring up a power from some unknown place to us mere mortals. He had a force which was mysterious and unbelievable, and even watching live performances of him today makes me feel exhausted and out of shape.
It still haunts me that I passed up seeing him live when he was at the Van Duzer back in 2006 — I can only hope my excuse was being too broke for a ticket — only four months before he left us. The music always lives on. Keep reading below to find a celebration of the Godfather of Soul happening this weekend.
Thursday
Some swing jazz is on the menu this evening at the Mad River Brewery Tasting Room at 6 p.m. for free with regulars Fred & Jr. Don't bother asking if they're related (they're not). For something a bit more rockin', head down to the Redwood Curtain Brewery in Arcata for some rock/blues from locals The Movers and The Shakers who are also playing for free and starting things up around 8 p.m.
Friday
Not to be confused with another local band with a similar name — no cease and desist letters have been sent out from what I know — Orick's Redwood Ramblers are coming down south to the Mad River Brewery at 6 p.m. to play their classic country tunes for you. Again, this one's free, but you could always help them out with some gas money. Squeezebug returns to Cafe Mokka tonight at 8 p.m., doing its according + guitar thing for free. It's all ages so bring the kiddos along. The Detours (the artists formerly known as The Honky Tonk Detours) are at the Palm Lounge in the Eureka Inn at 9 p.m. for a free show. Sure, they'll play some honk and some tonk for you, but they dip into many different genres, which is why I'm guessing the name change. So slap some duct tape over the "Honky Tonk" on your band shirt and go groove it up on the dance floor. Around the same time at the Siren's Song Tavern is Everyone is Dirty, which is not only a spot-on moral observation of humanity, but also a good band name. A blending of "electric-violin sorcery" with "pawn shop guitar crunch" melded with powerful bass and explosive drumming will take over the tavern. Locals The Monster Women and newish band Melrose Place open up this free show. For you James Brown fans — which, honestly, is everyone right? — head on down to The Jam tonight for Soul Power: A Tribute to James Brown. At the moment I'm not exactly clear which musicians will be paying tribute to the Godfather but it doesn't really matter does it? At 9:30 p.m. get on your good foot and celebrate the man and his music (and don't forget his hard working band behind him). No word yet on the ticket price but don't let that stop you from going.
Saturday
The Yokels are providing the rockabilly soul soundtrack to your beer drinking this evening at 6 p.m. at the Mad River Brewery in Blue Lake for free. If you're not too tipsy after this one, you can catch locals Diggin' Dirt wrapping up their album release tour at The Jam around 9 p.m. They've been touring up and down the West Coast and are home now to party it up with their home crew, so welcome them back. The Apiary will be opening up this $10 show.
Sunday
An "acoustic power trio" comprised of mandolinist John Reischman, guitarist Scott Nygaard and bassist Sharon Gilchrist steeped in the bluegrass and folk genres plays tonight. Two of these three are Grammy winners but I won't mention which as to not embarrass the third on the off chance they read this column. But now you know this is some serious talent on the Arcata Playhouse stage tonight. They'll be on around 8 p.m. and for just $15. Humboldt Brews hosts The Infamous Stringdusters doing their bluegrass thing for $20 joined by openers the Ghosts of Paul Revere.
Monday
Sticking with Humboldt Brews for a bit, That 1 Guy returns to the stage tonight. You may remember him stopping by a few months back playing that one thing. It looks like a sort of fancy plumbing diagnostic device which can actually generate a whole host of cool sounds. His press release states that he can be somewhat comprehended if you "imagine the brainchild of Dr. Seuss, Captain Beefheart, Frank Zappa, Stanley Kubrick and Rube Goldberg." That's actually not a bad description (and a clever one at that). Have your plumbing/mind blown at 9:30 p.m. and bring $10 for the service.
Tuesday
I guess I'll just stay with Humboldt Brews now as no one else sent me word about shows tonight. "Melodic visionaries" and beloved Ohio jam rockers The Werks are in town tonight supporting their new record Magic. Expect some rock with a dash of improvisation and small touches of soul while they play some of their songs off this new release. This 9 p.m. show has a $15 ticket price and is supported by openers Brothers Gow.
Wednesday
It's Pints for Nonprofits/Not-for-profits tonight/afternoon at the Mad River Brewery Tap Room benefiting the Northcoast Environmental Center and they're bringing the music starting at 4 p.m. with Caveman Dave followed by "members of Thursday Night Bluegrass" and then the Mad River Rounders. It's all free, but as you know, a buck from every pint sold goes to this local nonprofit. Also free tonight is some gut bucket blues courtesy of our own Buddy Reed joined by Big Leg Rai who will be at Blondie's right there on the corner of LK Wood Blvd. and California in Arcata.
Full show listings in the Journal's Music and More grid, the Calendar and online. Bands and promoters, send your gig info, preferably with a high-res photo or two, to music@northcoastjournal.com.
Andy Powell is a congenital music lover and hosts The Album of the Week Show on KWPT 100.3 FM Tuesdays at 6 p.m. He's got a sore good foot.