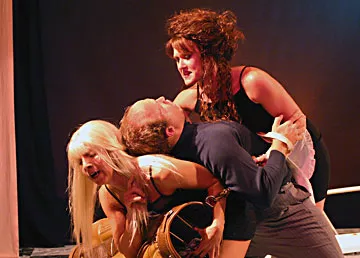 Bernadette Sabath, Tyler Olsen and Keight Gleason in the Dell'Arte Company's 'The Golden State'. Photo By Carol Eckstein.
"It was a performance in Los Angeles in 1981 that kind of put Dell'Arte on the map," Michael Fields, the Dell'Arte Company's producing artistic director, recalled last week. "We were doing Intrigue at Ah-Pah at the Odyssey Theatre." After the first weekend, when Fields was sleeping on a borrowed floor, someone handed him a copy of the Los Angeles Times. Dell'Arte was on the cover of the calendar section with a rave. After that, "The show sold out six weekends of performances — in three hours."
"So we developed a relationship with Los Angeles," Fields said. "We used to go there every year or two, and we had a following down there. But due to a lot of factors, like economics and relations with theaters that changed hands, we stopped going, except for an occasional university one night stand."
But last week the romance was reignited. After warming up with performances in Blue Lake and at Occidental College, the Dell'Arte Company began a three week run of The Golden State at the 24th Street Theatre in Los Angeles.
New to L.A., this contemporary adaptation of Moliere's The Miser was first seen on the North Coast in 2004, and local audiences got a recent one-weekend preview of the new production at the Carlo Theatre. Right after a sold-out Saturday performance, the show was packed up to hit the road the next day.
The new production reprised the performers in the roles of an affluent southern California family: Joan Schirle as the miserly mother, Barbara Geary as her despondently randy daughter and Tyler Rich as her generously confused son. Keight Gleason also returns as Ursula, the Russian émigré executive maid.
New additions include Adrian Meija as the fabulously fey Federico, Laurabeth Greenwald as the sassy, sexy Latina maid and John Achorn as the matron-ex-machina, Bunny Schimpf. The role of Luis, the Latino gardener (the closest this show has to a hero), was originally written for Guillermo Calderon, but this is the first time he has been available to perform it. A 1999 Dell'Arte graduate, he teaches and acts primarily in Chile. Michael Fields directed, with set, costume and design by Guillo Cesare Perrone.
But most notable about The Golden State is the script by Lauren Wilson, a Dell'Arte graduate who was a member of the company when she was commissioned to write it.Her comic tragedy (in which everyone dies happily ever after) provides dimensional characters, an ironic, absorbing narrative and witty dialog which support and inspire the physical performances. Wilson now lives in New York, where, according to Fields, she's doing well.
"She's been published in an anthology of short plays with Steve Martin, among others," said Fields. "She's kind of an emerging playwright in this country, so we were lucky to get her when she was part of our group."
"The Golden State is perfect for Los Angeles," Fields added, "because it's funny, it's something in the physical style you don't often see there, and it happens to be about a number of hot topics in southern California, like the wildfires and the immigration issue. Part of our impetus for commissioning this was because of what we saw then of the growing disparity between the rich and the poor. And that's only gotten worse."
But why the return to L.A. now? It started this summer with the Occidental College booking. "That was a pretty good anchor gig, so we thought, why not run again? We talked with the people at the 24th Street Theatre, and we just really hit it off."
The theatre is a former carriage house located near USC and the convergence of Highway 110 with "the 10." "It's a gorgeous space in a beautiful neighborhood," Fields said. "Not big — about 100 seats — but a big stage area, especially for L.A. These small houses there are often tiny all around. That was a big problem in the old days — we couldn't fit our sets in half the houses."
Dell'Arte was able to return partly because of changes in technology that make it more affordable, and partly because it's the shared risk of a co-production with a real partner who knows the terrain. "They were great about promotion. In L.A. the preponderance of promotion is done by radio, because everybody sits in their cars. It's a whole different way of looking at how you get audience there."
"The nature of touring has changed so much. Now it's really about establishing ongoing relationships with theatres, especially in big cities. We've started doing that in San Francisco and now L.A. We're already talking with the 24th Street Theatre about another production in 2009."
Dell'Arte also needs to return to the road. "We are touring more," Fields confirmed. "It's also about keeping the profile of the company up. The students we get for our school, the funding bases of the company — they don't all exist here in Humboldt County. So we have to put our work into the theatrical marketplace."
"And it also helps us," Fields added. "It's a reality check on our own work — to put it into a critical environment like a big city."
Shakespeare's Twelfth Night probably premiered in wintry London exactly 406 years before North Coast Prep presented their shorter version, when on the North Coast, too, "... the rain it raineth everyday." One characteristic of this somewhat bitter comedy is the number of roles that allow the actors to shine, and several talented students did. Though the words were not always intelligible, the direction was so clear and the actors so prepared that the audience was able to follow the action. Special credit therefore goes to director Jeanne Bazemore, who may have set a North Coast record with three shows in three weeks, and to assistant director Gretha Omey.