Photo by León Villagómez
Trompe l'oeil and architectural flights on fancy above and left of the altar.
Franz Bernau was 37 years old when he first set foot in the United States, arriving Sept. 1, 1888, on the steamer Amsterdam, which sailed from Rotterdam in the Netherlands and docked at the Castle Garden immigration center on Manhattan's Battery Park waterfront. Three years later the painter traveled to faraway Humboldt County. His head was full of architectural fantasia, Baroque structures he created in Humboldt County in a pair of mural cycles he designed and painted for Catholic churches and the since destroyed residence he built for himself, locally notorious as Eureka's "Dutch Castle."
Bernau's tumultuous life was shaped by migration, mental illness and violence, not to mention the implacable demands of a creative muse. His prime, decline and eventual disappearance played out against the colorful backdrop of frontier Eureka at the outset of the 20th century. Archive documents outline the life of an evasive man who pulled off multiple disappearing acts and may have deliberately sown confusion about his origins, but who also, for better and worse, left more of a trace in public record than most of his now-forgotten contemporaries.
Now, after a seven-month restoration project, Bernau's 1896 mural in Ferndale's Church of the Assumption — hidden under whitewash for close to a century — once again transforms the interior with the artist's optical illusions, colorful embellishments, architectural whimsy and mystery.
Bernau envisioned dazzling, uninhabited palaces of white bricks, rising sky-high. More was more; he piled on domes, arches, spires, cupolas, galleries, alcoves, blind passageways and fan-shaped moldings. Mind-bending surfaces look concave and convex at the same time, thanks to his inconsistent use of linear perspective, calling to mind the optical illusions of later Dutch absurdist M.C. Escher.
Photo by León Villagómez
The mural surrounding the Church of the Assumption's altar, with the painted window frame bending onto the ceiling.
Until recently, the Church of the Assumption's interior was nearly monochrome, the walls covered by white acoustical tiling and all the woodwork painted white, but for select elements in cherry red. Bernau's murals had been invisible since the 1920s, when they were obscured beneath several layers of whitewash and forgotten. It was not until 2015 that parishioner John Richards scraped a patch of whitewash and realized that the late 19th-century painting underneath was in relatively good repair. Now restored to view, the paintings at the Church of the Assumption provide an intriguing counterpoint to the related murals Bernau had previously completed at St. Bernard's Catholic Church in Eureka.
Reverend Mario Laguros, pastor at Church of the Assumption, engaged Eureka-based historical preservation expert Peter Santino and Richard Cutler of True-Line Construction to remove layers of wall covering put in place during the near-century since the murals were initially covered. The work involved removing tiles, replastering some areas and repairing old earthquake damage, using solvents to remove glue residue, lime-based overpainting and oil-based glazes, and using acrylic to touch up areas where original pigments flaked away.
When you enter the Church of the Assumption today, the effect is dazzling. It can be hard to tell where architecture ends and painting begins. This impression intensifies as you approach the rear of the church, where floor-to-ceiling murals frame the altar, reaching some 50 feet above the ground. Below the chancel window, the mural depicts a sanctuary curtain hanging along four bays separated by painted columns and topped by fan ornaments, all rendered in starchy trompe l'oeil. As the mural wraps from the back wall of the sanctuary into the choir and onto the walls flanking the altar, the painting style becomes looser. Bernau flanked the altar with symmetrically arranged curtains painted in silvery blue and burnt orange, swagged around luminous central voids. These painted draperies were originally designed to frame massive Gothic revival altarpieces, locally built and fabricated from milled redwood, which have since been moved.
Above the painted sanctuary curtain, an ornamental band separates the illusionistic areas below from a wide belt of stenciled decoration that wraps around three walls of the sanctuary. The flat, decorative rendering imparts a homespun vibe at odds with mural's palatial structure rising above it. Perspective and vanishing points shift and it feels like we're at once inside and outside the painted buildings.
To the viewer's left, fussy decorative stenciling gives way to a massive barrel vault built, impossibly, from bricks that radiate in courses from the central arch, and leading to blue sky. Above, more stenciled gingerbread; then comes a crenellated wall, like a 2D rendering of a Lego castle and twin domes surmounted with small crosses and a gracefully proportioned Gothic spire. By that point Bernau, who was working on scaffolding 50 feet above the apse, had run out of wall — so these structures give way to a loosely painted blue sky, agitated by streaks of cloud.
To the other side of the chancel window, the lay of the land is no less complicated. In defiance of optics, a pointed Gothic arch contains a space that curves — the better to show off another tunnel and blue-sky vista. Still higher, another crenellated wall gives way to a curving brick rotunda, punctuated by divided arched windows and an elegant copper dome. Beyond that recedes a painted shadow, a weathervane and another spire. The adjacent walls feature similarly dense jumbles of Baroque architectural features and flat stencilling.
The total absence of figures in Bernau's design is striking. We do not see almighty God, his son Jesus Christ, the Holy Spirit or the Virgin Mary, after whose bodily assumption into heaven the Ferndale church is named. There are no saints, martyrs, angels or allegorical figures personifying virtues on hand. A large, dark niche high on one wall is shaped to hold a figure, but it remains empty.
Photo by León Villagómez
Ferndale's Church of the Assumption.
This grand, depopulated construction has no obvious connection to Christian doctrine, though it may be the mystical City of God — a citadel whose unknowable complexity and magnificence mirrors God's, a concept familiar to Catholics through its use as the title of St. Augustine's most famous work (though not one commonly depicted in art). Complex architectural forms can also represent devotion to Mary, whose metaphorical titles include "seat of wisdom," "tower of David," "tower of ivory" and "house of gold," as extravagantly expressed in Gothic cathedrals of northern France.
In 1896, when Bernau's paintings were completed, contemporary reviewers employed the same phrasing, as if cribbing from the same turn-of-the-century press release, except on the thorny question of style. "The designs and colors used are of those which were in vogue some 1,400 years ago in Rome, and are most appropriate," a reviewer for the Ferndale Enterprise gushed on Aug. 16, 1896 — pegging Bernau's historical source of inspiration a mere 20 years after the Roman Empire's fall. The author of a church document from that same year found the murals Baroque, stating: "Designs and colors were those of the style used in Rome in the 1600s."
But Bernau's work in Humboldt is unlike anything else — both in southern Germany, where the artist probably began life, and in the United States, where he disappeared from record in 1912. Census records and voting registers offer details of an individual's appearance ("Height: 5'5. Light complexion. Brown hair. Occupation: painter") and no details at all regarding the questions that are central to his work.
Little is known about Bernau's training but he seems to have had previous experience as a painter of decorative interiors. In October of 1891 he advertised his services in the Ferndale Enterprise: "Francis Bernau! Frescoing, Graining, Glass Staining, Fancy Painting, etc." When the Ferndale murals were unveiled, an article in the Humboldt Standard stated: "Mr. Bernau is an artist of ability who has spent 35 years of his life in the work. He learned his trade in Europe and has worked at it there and in New York City." This meant he would have started as an apprentice at the age of 10. One source called him a "fine mechanic." "He was an artist and decorator," a neighbor later told the press, adding that "Bernau's 'Castle' revealed without question that he was a man skilled in all the building trades." Bernau made no attempt to hide his background in "the lesser arts," as they were known at the time. This was the frontier, after all, and genre hierarchies were not pressing concerns.
Santino, a Eureka-based multimedia artist and historical restoration expert, came to this project having previously worked on the restoration of Bernau's other major work, the mural cycle he painted for St. Bernard Catholic Church. Those paintings had undergone similar defacement, having been "sprayed over" in the 1920s. "After the war," Santino commented, "everything was painted white." Whether this was because Bernau's cramped symbolism appeared dated or his iconography unconventional no one saw fit to record.
20 slides
Santino acquired his skills in the arts of historic preservation organically. In the 1970s, he said, "I moved to New York, met my wife, and we had a baby. In New York, I got more serious about historical materials. I needed a job, so I answered an ad in the newspaper for a guy who wanted to be the high-end painter on the Upper East Side. I learned about graining, strié, sponging, rosin and paper. Started getting into some fancy places."
Santino later moved to Italy, where he lived with his family "in a little remote valley north of Florence, up in the hills." In 1992 he returned to Ferndale, where commissions followed: He has renovated the interiors of many of the region's most notable buildings, including Eureka's Carson Block, the Carson Mansion, the Eureka Theater, the Arkley Center for the Performing Arts and the Morris Graves Museum.
Restoration efforts at the Church of the Assumption were aided by the discovery of an 1896 photograph in the Ferndale Museum confirming that the church interior had once been extensively embellished. "Once we loosened up the tiles behind the altar, we found nothing but beige paint," Santino said. "But you could see images bleeding through the clay-based beige ground. It was clay-based paint with a lime wash. It came off pretty easily." Bernau had used artists' colors — raw umber, burnt umber, raw sienna — not industrial paint.
"He had used a glaze on some areas and it failed, turned into a brownish mud color," Santino said. "It was incredibly hard to get through that stuff but I was able to get it transparent. I used benzene lighter fluid and worked in small amounts, carefully." What viewers see now, he estimates, "is about 50/50 original painting and reconstruction."
After viewing the murals in their entirety at 7- to 8- inch range, Santino is confident that they are the product of a single hand. He remains fascinated by Bernau's uses of trompe l'oeil. He pointed up to where the church's grand stained-glass chancel window, commissioned by a parishioner and shipped from Germany, had obviously turned out bigger than the architects anticipated; it fits the space with less than an inch of room to spare. Bernau had painted a border of decorative rickrack reminiscent of fancy metalwork around the rest of the window frame. Rather than abandon his plan when he ran out of room, Bernau painted a fake border, bending it around the 90-degree angle between wall and vaulted ceiling at the very top of the interior. "The trompe l'oeil is meant to hide the fact that the windows don't quite fit," Santino said, chuckling. He noted that this adaptation to necessity was perfectly in keeping with Bernau's other moves.
Illusion, Santino said, was important to the artists, architects and patrons of the Italian Renaissance, when enlightened princes who had the money to commission the most luxurious materials imaginable oftentimes paid painters to produce illusionistic copies instead. "Fooling the eye was such a wonderful deception." Early 20th century Eureka was far from Renaissance Rome in every aspect. But the Ferndale paintings' compelling quirkiness is rooted in the way they seem to traffic in illusion for its own sake — which is also the most classical thing about them.
Santino's intimate acquaintance with the region's most important architectural landmarks has given him a unique perspective. Bernau's penchant for faux finishes and perspectival sleight-of-hand might have been particularly appealing in Humboldt, he suggested, because these qualities reprised an approach that was already well-established in regional cabinetmaking. In Bernau's day the clear-cutting of the ancient redwood groves was in full swing, making very wealthy men out of a few timber company executives, some of whom transformed a portion of their profits into the grand, whimsically trimmed mansions that cluster near Eureka's waterfront. Redwood, cheap and abundant at the turn of the century, was not necessarily cherished by builders. In fact, Santino remarked, it was commonly considered "trash wood" that had to be disguised before it could become part of a luxurious decor. When creating the lavishly appointed interiors of the Carson Mansion and stately homes of its ilk, woodworkers veneered the milled redwood — out of which almost everything was built — to mimic the look of expensive hardwoods.
Bernau channeled some of the profits from his church commissions into building a house at 2310 Union St. in Eureka, where he purchased property in 1901, at the age of 49. Construction began shortly thereafter. Bernau lived on-site with his wife, Hedwig, also a German immigrant some 13 years younger than himself, and their two teenage children. (A third child, Hardweg, had died of cholera at 3 months; like her mother, she is buried in Eureka's Oceanview Cemetery.) One observer wrote that Bernau "raised his family in the wings of the edifice," adding that "the castle was frequently visited by the people of the city, who watched it grow until it was nearly finished." In this house, the complex architectural fantasy Bernau had only painted through trompe l'oeil would come to life.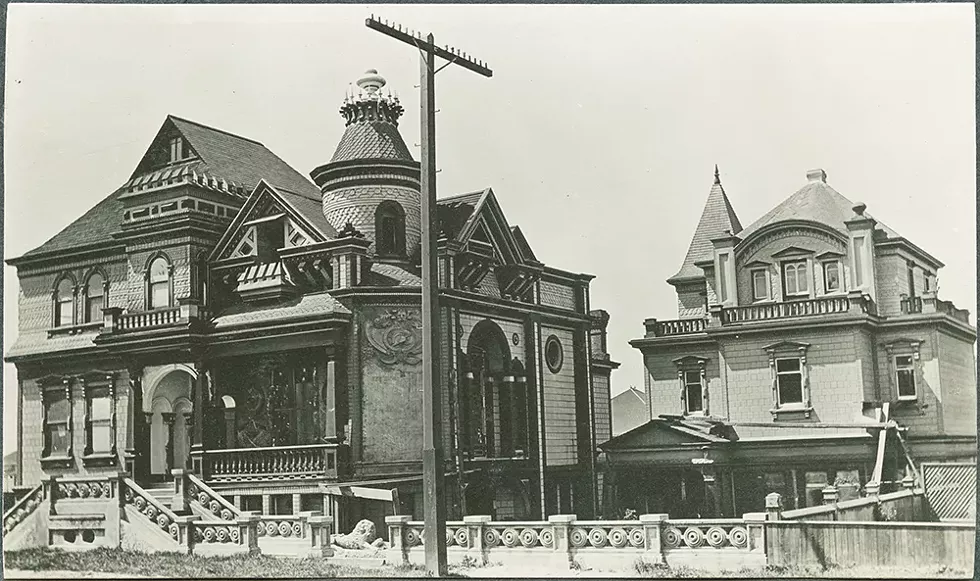 The "castle" passed as German, Dutch and Russian during its 60-year existence. Likewise, its architect was "Francis" for business purposes in his early Eureka years but later resumed professional use of his legal name "Franz," as well as "Frank." Bernau's older son Ferdinand, who had immigrated from Germany with his father at the age of 9, told a reporter decades later that his father had been Russian, rebranding the house his father built as a Russian Castle. The one photograph in existence shows a large, blocky three-story house and its almost equally large outbuilding, both crowded with architectural features that had previously appeared in Bernau's paintings: double windows in arching casements, recessed galleries, a turret, a rotunda, an oculus, a spire, a recessed portal flanked by paired colonnettes, an exterior placard bearing decorative painting and sculptured lions guarding the doorway.
Construction of the house dragged on — it was never completely finished. Sources for an article in the Humboldt Times, most of them fascinated neighbors, concur that Bernau did nearly all of the construction work himself, marveling at the skill he brought to the project. But within a few years the painter had fallen on dark times. He was briefly committed to the Napa State Asylum for the Insane in 1904 after threatening the lives of his wife and teenage children. "Franz Bernau, who for years past has been building what he calls a German castle in Eureka, was arrested the other day on the charge of insanity," the Ferndale Enterprise reported. "It is alleged that he has frequently of late threatened to kill his family if they don't obey his orders."
Six years later in 1910, Hedwig contracted typhoid fever and pneumonia in spring; she would die in August at the age of 43. "The death of his wife was apparently a severe blow to Franz Bernau," according to the 1960s-era recollections of his former neighbor. "His neighbors saw less and less of him. Eventually he became a recluse." Bernau struggled financially and in 1912 sold his German castle back to the previous mortgage holder for $10. This is the last time his name appears in public record. Afterward, city directories no longer list a Franz Bernau as resident at 2310 Union St. This, coupled with the absence of a death certificate, may indicate that Bernau left Humboldt for parts unknown — possibly in the company of his 19-year-old daughter Hedwig, who also disappears from public record at this time.
As for the castle, it endured a long, colorful decline, changing hands twice by the end of the decade. The last owner, restauranteur and bootlegger J.C. Pape, converted it into flophouse apartments and used part of it to hide liquor during prohibition. In 1923 the vice squad raided the Union Street property, making front-page news in the Humboldt Standard. "The place where the seizure was made is a 'freak' dwelling house," the reporter wrote, "constructed years ago in imitation of an old German castle, and in carrying out the effect many miniature rooms, secret passages and trap doors leading to blind closets were built into the place. It was in one of the secret rooms entered through a trap door in the stairway that the liquor was found."
Soon after this, the castle was "sawed in half" — one portion of it was moved "to a location south of Harris Street, where it stood for many years," according to the Humboldt Times reporter Wallace E. Martin. The remaining half stood vacant for long periods, and multiple sources would later attest that it was haunted. In 1961, when the castle was scheduled for demolition, Martin toured the building and wrote: "When the wreckers removed the plaster and falsework, the old construction could be seen. It had been solidly built, designed and put together by a master craftsman. The arched doorways, the intricately-decorated stairways to the upper floors and basement, the masonry, all told of the skill that went into its construction." The only remnants of Bernau's castle that can be seen today are fragments of the fanciful, vaguely Minoan-looking cast-concrete wall and balustrade that once surrounded the property's perimeter.
Our inclination toward permanence makes us want to believe in the Latin tag ars longa, vita brevis (life is short, art is long). But more often than we would like to admit, art also turns out to be disconcertingly brief. Bernau left a significant artistic legacy when he receded from our view — only to suffer the postmortem indignity of having all three of the major projects to which he devoted his prime obscured or senselessly destroyed. The restoration of his mural commissions not only redresses this imbalance; it does us the great favor of reacquainting us with one of Humboldt's true originals — a maverick journeyman whose grand visions, do-it-yourself resourcefulness and dramatic life fit the spirit of the place.
Thanks to Reverend Mario Laguros and Church of the Assumption parishioner and researcher Ann Roberts for sharing archival materials.
Gabrielle Gopinath is an Arcata-based art writer and curator.,/i.