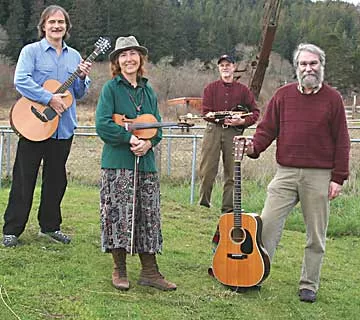 Monday is St. Patrick's Day, which makes this St. Paddy's weekend — a time when Celtic bands are sure to find work. In oh-so-green Humboldt County that pretty much boils down to two bands: the quartet Good Company, who play Saturday at Muddy's Hot Cup, and Scatter the Mud, a somewhat wilder band that leads traditional Irish sessions in various pubs and cafes locally.
Seabury Gould plays guitar and sings for Scatter the Mud. And no, he is not Irish. "Most of my ancestors are English," he explained, "but some long ago were Scottish. I have been to Ireland three times and definitely feel a connection."
Gould's entry into Celtic music was almost accidental. While attending college back East, a woman he knew needed someone to play Irish music for a theater performance. Despite the fact that he knew little about the genre, he agreed. He learned to play a few traditional tunes and drew further inspiration from bands like Planxty and The Bothy Band, who spurred a Celtic revival in the '70s.
Scatter the Mud came together when he moved to Humboldt a few years ago. "I was eager to connect with people who played Irish music. After living here a few months I got a call from Mike Pearce, who was one of the people who played with The Primal Drone Society. He said let's get together and play."
The rest, as they say, is history. A couple of line-up changes later, the band consists of Pearce on fiddle, uilleann pipes and penny whistle; Gould on bouzouki, guitar and bamboo flute; Alan Morden (another original member) on mandolin and guitar; and Folklifer Judy Hageman on fiddle.
As noted above, the band leads sessions. What, you might ask, is a session? "It's an informal gathering of musicians playing Irish/Celtic tunes," said Gould. "You'll find them in most pubs in Ireland, often with a fixed group leading. There are so many tunes — jigs and hornpipes — that everyone knows, so at a session some will play the melody ... while others play accompaniment." In short, it's a jam.
The Mud leads a session the second Sunday of each month at Gallagher's Irish Pub, which will often draw a dozen or more musicians. They'll lead another Monday, St. Pat's Day, bringing a close to a long weekend. Friday, March 14, StM plays at Muddy's Hot Cup along with storyteller Carpathian, who offers a program called "Ghosts of the Green Isle." Saturday. March 15, they're part of the big Irish Gold show at the Mateel with Tempest and the Druid Sisters Tea Party. (See calendar section for details.)
Monday it's the Fourth Annual St. Patrick's Day Celebration at Gallagher's. Things get underway in the Eagle House Inn ballroom (through the bar) at 5:30 p.m. After a Scatter set, the Emerald Coast Irish Dancers stepdance to the live band. The open Celtic session follows at 7:45 p.m. Musicians are invited to bring instruments to join the fun. No cover, but bring some green for food and drink.
The Blind Boys of Alabama return to Humboldt Friday to sing gospel, blues, soul etc. at the Van Duzer. Those who caught the band's rousing set at Blues by the Bay a few years back will recall band founder and lead singer Clarence Fountain making his way out into a thrilled crowd. Unfortunately, according to a note on the B. Boys' website, Fountain is no longer with the band due to ongoing complications from diabetes. Veteran gospel/soul singer Ben Moore has stepped in to fill Clarence's shoes. Moore put out a few gospel records under his own name, but is probably better know as Bobby Purify, one half of James and Bobby Purify. Not to confuse things too much, but Moore was recruited for the soul duo a few years after their 1966 hit, "I'm Your Puppet," when the first Bobby Purify fell ill. And in case you were wondering, Moore went blind from glaucoma 10 years ago.
(Note: You can also hear the Blind Boys Friday afternoon on KHUM when deejay Larry Trask does his show live from the HSU campus.)
The Daedalus String Quartet, having completed a two season residency at the Lincoln Center, is ready to return to the studio for a new album. The plan is to record Joseph Haydn's "Sun" Quartets Op. 20, a set of six pieces. So, that's what they're playing on their West Coast tour, which hits Eureka Friday for a Eureka Chamber Music Series concert at Calvary Lutheran Church.
In a jazz vein, you can hear Bill Allisondoing hisvocalese thing Friday at HSU's Fulkerson Hall with pianist Darius Brotman. Also on Friday, jazz pianist Ryan Bridwell and company return to the Pearl, and yes, they've found a name: The Four Bardos.
EPIC's 5th annual Pisces Party Friday at the Beginnings Octagon is one of those classic SoHum events, this one celebrating Pisces birthdays in general and in particular the life work of river activist Richard Gienger. It starts with dinner prepared by Sue Moloney and company, then they fill you in on recent eco-activist happenings before moving on to dancing to country tunes by Falling Rocks, followed by the topical antics of Darryl Cherney and the Patriot Act.
Meanwhile, at the Bayside Grange the same evening, Klamath Riverkeeper, the Karuk Tribe Dept. of Natural Resources, Northcoast Environmental Center and Humboldt Baykeeper host the Un-dam the Klamath Benefit, with a gourmet dinner, silent auction and speakers from local tribes and the fishing community, plus "a reggae-funk jam down" with the Humboldt Funk and Blue's All Stars and Woven Root.
Friday at the Jambalaya, the funky Bump Foundation celebrates the release of a new CD, which according to Bump guitarist/founder Greg Camphuisdoes not find the band in full funk mode. "It's a little jammy, sort of experimental," he explained.
Fans of the Celtic rock band Tempest who can't make it to the Mateel Saturday for Irish Gold can catch them at Blue Lake Casino's Wave lounge Friday — for free.
The Delta Nationals have a rare club date Saturday at Six Rivers Brewing sharing a bill with honky tonk country rockers Rooster McClintock. Seems like a good match since both bands fill the dancefloor. Rooster McC also plays Friday at the Ocean Grove. Things were on fire when the Rooster boys hit the Riverwood Inn last weekend and the local VFDs were called in. According to reports, once the smoke cleared, the band returned to the stage. Expect hotness of a different sort on Friday as buxom blueswoman Candye Kane returns to the Riverwood.
Variations on reggae at the Red Fox: Thursday it's "dub-funk-reggae-trance" by High Ceiling, a jamband out of Shelton, Wash. Friday, Senegalese reggae chanter Elhadji (now living in Humboldt) joins forces with Jah Tory, Ishi Dube and DJ Chronic in a benefit for something called the Jamaican Youth Foundation. Also worth noting on the reggae front: Brooklyn-born Rasta Rocker-T pays a visit to High Voltage Reggae next Wednesday at the Wave.
Deadhead alert: Workingman's Ed with Stu Allen from JGB is at Humboldt Brews Saturday with your favorite covers.
If I can kick this damn cold, I'm planning on finally catching "post-post-modern" rockers Arrogant Hare Saturday at the Jam, where they share the bill with The Common Vice.
Folk/pop icon Judy Collins is back in town for a show at the Arkley Center Sunday, March 16. Starting in the '60s, Collins made her name as an interpreter of songs, at first traditionals from the folk canon, then drawing from contemporary songwriters, most notably Joni Mitchell and Leonard Cohen. She also covered Beatles songs, which is what she does on her latest album, Judy Collins Sings Lennon and McCartney. I caught her act four years ago, the last time she came to Humboldt. As I recall, she started with a Cohen number, taking me back to her glory days. She then went into a long, rambling introduction to "The City of New Orleans," then tried to get the audience to sing along Pete Seeger style. It was horrid, and things did not get better. While there were plenty of nostalgic boomers who loved the show, my wife and I skedaddled at intermission.
Monday is St. Patrick's Day proper. For Celtic biz, see above or catch Kathe Lyth playing her Celtic harp at Libation. It's just another Menstrual Monday at Muddy's Hot Cup with the usual Ladylike Open Mic. Just up the street Sick Bitch and Nipplepotamus rock Big Pete's. Mobile Chiefing Unit does the reggae rock thing at Humboldt Brews. And Six Rivers celebrates its fourth anniversary with food and drink specials all day and The Pine Box Boys singing murder ballads in the evening.
Don't expect anything remotely Irish at the Jambalaya Monday, where local eccentrics Starving Weirdos play songs from their latest album, Summon With Electronic Sorcery (not really). They're joined by two somewhat like-minded touring bands: Montana-based fuzz-doom duo Ex-Cocaine and New York neo-psyche trio Religious Knives.
Tuesday a vanload of Portland hip hoppers stop off at the Red Fox on their way south. Animal Farm is a five-man neo-old school crew drawing members from Money Shot, Soundproof and Cleveland Streamers; they're traveling with smooth MC Mic Crenshaw and turntablist DJ Wicked.
The new name for the Vista's MySpace page pretty much says it all: "The Vista Is Dead." This is a direct result of the associated fish and chips joint GoFish going out of business. Shows scheduled for last weekend and this weekend have been canceled. The March 30, Vista show with Birds of Avalon and The Fire Demons has been moved to a bar called The Little Red Lion next to N&S Liquors in Eureka, and I'm told we can look forward to more shows there in the coming weeks. The Vista may be gone, but the vibe lives on. Viva la Vista!