In China, when my grandpa would come back from the market, he'd bring a little brown cloth filled with dried Hachiya persimmons — sweet and chewy, they were our special treat. In Northern California, we have plenty of persimmons from late fall through winter. Fuyu and Hachiya are the most common — the former is firm and crisp, the latter are only ripe when they're soft and gelatinous. I like to eat them as they are and I love to cook with them, since they add a refreshing flavor to savory and sweet dishes. Here are my two favorite persimmon dishes.
Braised Pork Belly with Persimmons
Fuyu harmonizes with the taste of the pork and gives this dish a beautiful color.
Ingredients:
2 pounds pork belly, skin on, cut into cubes
1 tablespoon vegetable oil
1 tablespoon sugar, preferably Chinese rock sugar
6 slices ginger
3 cloves garlic
2 red chili peppers
2 whole star anises
2 tablespoons sake
2 tablespoons soy sauce
2 tablespoons dark soy sauce
Salt to taste
3-4 cups warm water
3 Fuyu persimmons, diced
Green onions, chopped, for garnish
Bring a large pot of water to boil. Add the cubed meat and blanch it for 5 minutes, rinse and drain.
Heat the oil in a large pan on high and add the ginger, garlic, star anise and chili. Stir fry until aromatic, about 3 minutes. Add the blanched pork belly and sautée until golden brown
Add the sugar, sake, both soy sauces, of the persimmons and enough water to just cover the meat. Cook on high heat for 10 minutes, then simmer for 45 minutes until tender, stirring at least twice.
Toss in the remaining persimmons and add salt to taste. Stir well for 2 minutes and remove from heat. Garnish with green onion, serve with rice.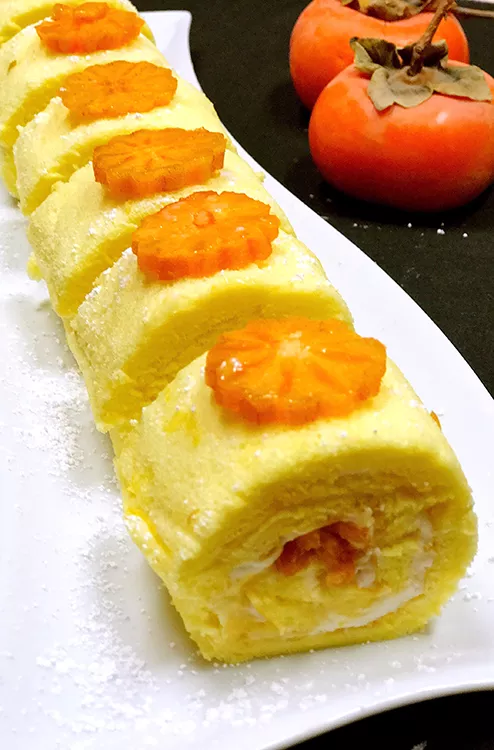 Photo by Wendy Chan
Pretty persimmon cake.
Soft Cake Roll with Persimmon
The bright fruit makes this cake a pretty choice for a celebration.
Ingredients:
4 eggs at room temperature
¼ cup sugar, divided
¼ cup vegetable oil
¼ cup milk or water
1/3 cup cake flour, sifted
1 teaspoon lemon juice
1 ripe Fuyu persimmon, finely chopped
1 cup whipped cream, sweetened to taste.
In a clean, dry bowl, beat the egg whites with lemon juice until they start to foam. Add 2 tablespoons of sugar and beat for 1 minute, then add 3 more tablespoons of sugar and beat until stiff peaks form. Set aside.
In another bowl, use a spatula to beat egg yolks with the remaining sugar. Add the oil and milk, and mix well. Fold in the flour in 3 parts, being careful not to over mix.
Gently fold in of the egg white mixture until combined. Then pour the mixture into the bowl of remaining egg whites, folding it in evenly.
Heat the oven to 350 F. Line a 9-by-13-inch baking pan with parchment paper and pour the batter onto it. Smooth the surface with a spatula and firmly tap the baking pan against the counter a few times to release any air bubbles. Bake for 18 to 20 minutes, until the cake springs back when touched.
Remove the pan from the oven and slide the cake out with the parchment paper. Let it cool for 5 minutes.
With a clean sheet of parchment paper, cover the top of the cake and carefully flip it upside down onto a work surface. Once it's completely cool, spread the sweetened whipped cream across the cake and sprinkle on the chopped persimmons. Facing the 9-inch side, gently roll the cake away from you to form a log, taking care not to break it. Wrap the cake in plastic wrap and refrigerate for 1 hour before slicing and serving.