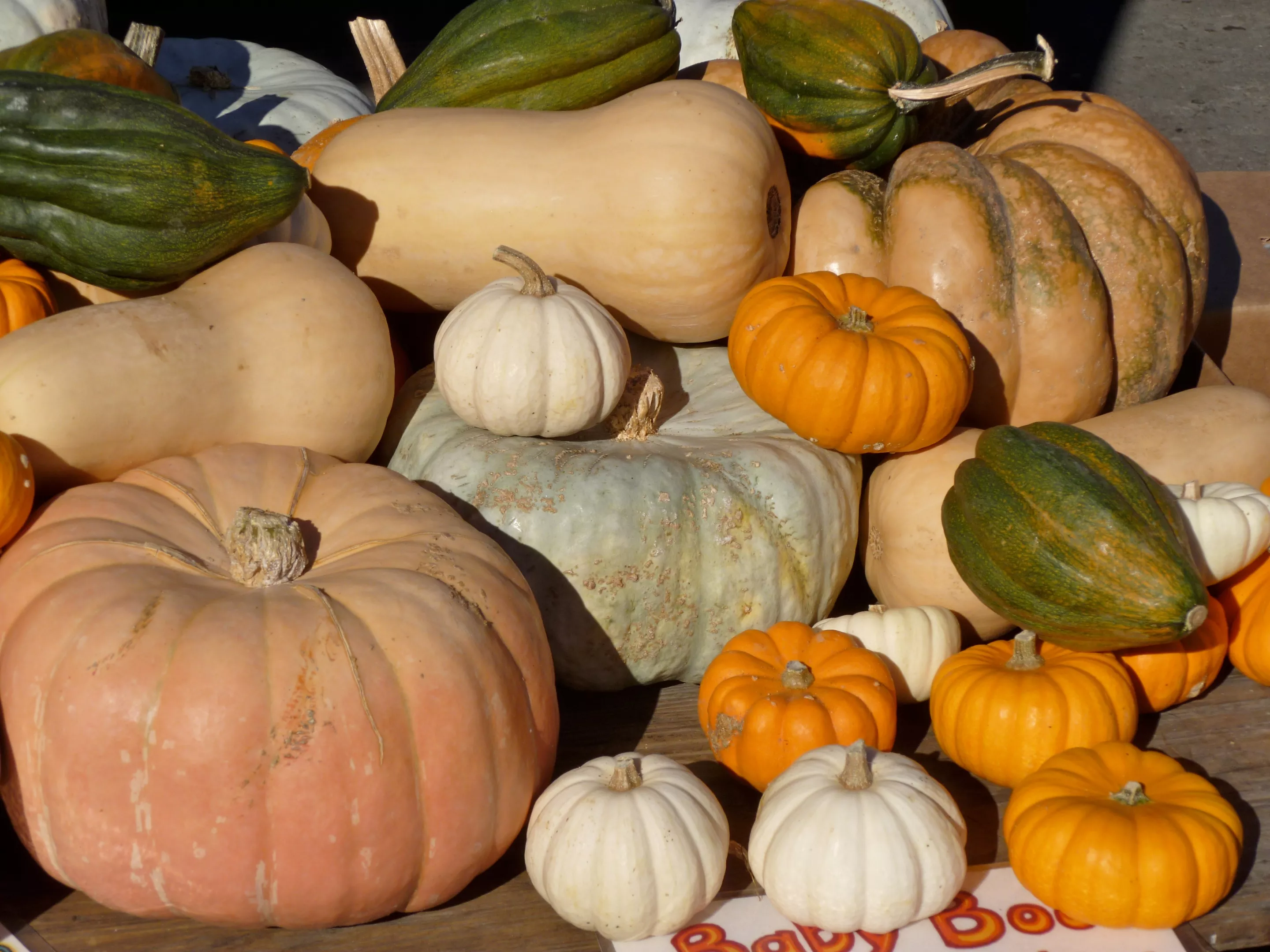 photo by Simona Carina
Squash at the Farmers' Market
We are fast approaching Thanksgiving, and the Saturday before, Nov. 19, is the last Farmers' Market of 2011 on the Arcata Plaza. That's the day when I say arrivederci many times, when the wish to be particularly attentive and thankful competes with the need to focus on the final alfresco shopping of the year. It is a lot of work for the farmers to prepare for market, and I imagine they are ready to have a less intense end of the week for a few months. We -- the customers -- are once again wondering how we will make it to April without the weekly chance not only to buy fruit, vegetables, flowers, plants and other items directly from the producers, but also to chat with them (and with friends and neighbors), and to enjoy the festive atmosphere of the plaza on a Saturday morning -- sparkling even when it is not sunny.
I miss the Farmers' Market during the winter months. I miss the produce, beautiful in colors and shapes that make me more mindful when I cook and encourage me to try new items, new varieties and new recipes. The produce makes me want to honor it in the best possible way -- which includes making sure I don't waste any of it. As I wrote here two years ago ("Foods With a Name and a Home" Table Talk, Dec. 3, 2009), fruits, vegetables, eggs, honey, etc. at the market have a name and a face associated with them, those of the people who produce them. The food chain includes links made from personal interactions. My shopping at the Farmers' Market is a joy also because of the brief exchanges with the farmers: an observation here, a laugh there, often a question -- always many smiles.
When the first winter squashes appeared on various tables some weeks ago, I turned into hoarding mode. Every week, I have been buying specimens to add to the collection. I buy well-known varieties, while I am also on the lookout for ones that I have not yet tried. The Grey Kabocha has been one of my favorite varieties ever since I tried it a few years ago. The dark green, deeply ridged Black Futsu, a Japanese heirloom squash, turns a deep burnt orange color in storage and its flesh has a rich, nutty flavor. The Iran squash, another heirloom, looks painted in a pastel palette that includes green, salmon-orange and off-white, while the butternut is confident in its position as a favorite due to its great flavor. And always I add a Delicata and an acorn squash to my purchase. I am sharing a recipe for Stuffed Acorn Squash today, and in a future article I will talk about Delicata.
Years ago, a dear friend offered us acorn squash stuffed with pears, hazelnuts and dried cranberries. The pleasant experience got me thinking about using pears, but placing them in a different environment: with shallot and thyme. Toasted pecans contribute to the flavor palette and provide a textural contrast. When I published an early version of the recipe on my blog (briciole.typepad.com), one of my readers suggested adding Gorgonzola to the pears. I implemented the suggestion and added cheese to the list of ingredients, a change that made the dish even dearer to my palate.
I have been playing with this recipe for a few years, and I can't honestly tell you which cheese I prefer in it. When I use grated cheese, I allocate some of it to line the squash cavity before adding the pear stuffing, then I distribute some on the top, keeping an eye on the balance of flavors. If the chosen cheese does not lend itself to be grated, I use thin slices of it to line the cavity and small pieces to top the stuffing. For the fruit part, this season I have used Asian pears of the variety called 20th Century (or Nijisseki). The very last time I prepared the dish, I chose a Concorde pear. In the past, I have used Bosc pears as well. As for acorn squash, besides the more common green one, I have also used the white and orange varieties -- they all tasted good.
The dish is quite simple: Start with my proposed list of ingredients, add your own variations and turn it into a personalized version. We like this stuffed acorn squash so much that it makes a welcome appearance at the dinner of our two-person family once a week this time of the year. Of course, you can multiply the given quantities depending on how many people you need to accommodate. I think it would be perfect on the Thanksgiving dinner menu.
Simona's Stuffed Acorn Squash
1 acorn squash (about 1 1/2 lb.)
olive oil
a medium shallot, minced
1/2 tablespoon fresh thyme leaves
1 pear or Asian pear (about 7 oz.), ripe but firm
sea salt and freshly milled black pepper, to taste
2 tablespoons toasted pecans, finely chopped
freshly grated cheese of choice, to taste
Preheat the oven to 375 F.
Cut acorn squash lengthwise and scoop out the seeds with a grapefruit spoon or a melon baller.
Place squash halves, cut side down, on a baking sheet lined with a silicone mat or parchment.
Bake for 45 minutes.
While the squash is baking, prepare the stuffing.
Warm oil a small frying pan.
Add shallot and stir to coat, then add thyme and stir again.
Cook, covered, until the shallot is soft, making sure it does not become dry (in which case add a splash of broth or water to the pan).
Wash the pear, then halve, core and dice it. (Do not peel it).
Add pear pieces to the shallot and cook for a few minutes, until the pear warms up and softens a bit. Remove from heat.
Sprinkle salt and pepper and stir.
Add pecans and give one last stir.
Keep warm until needed.
Turn the squash halves cut side up.
Distribute some of the cheese so as to line the cavity of the two halves of the squash.
Fill the squash cavity with the pear stuffing, then sprinkle more cheese on the top.
Put squash back in the oven for 8-10 minutes to melt the cheese.
Serve immediately.