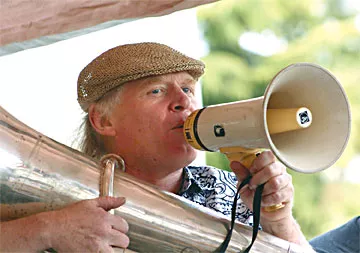 Glasnost Family Holiday music director Gregg Moore announces a tune by Bandemonium at the Humboldt Folk Life Festival. Photo by Bob Doran
To put it simply, The Glasnost Family Holiday is a musical, and every musical requires a music director. The assignment went to Gregg Moore, a natural choice if you know anything about his work. Dell'Arte Founding Artistic Director Joan Schirle gave him a call as the piece was coming together. He was glad to hear from her.
"Music for theater is a big part of what I do and there's so little of it to do around here," said Moore in a conversation a couple of days before the show was set to open.
His task: "To bring them some new music, specifically Christmas music and music in odd meters. They fancied themselves an East European group, only they weren't really doing anything in odd meters -- and that's the hallmark of a lot of East European musics."
As leader of the alternative brass band Bandemonium, Moore knows his odd marching band music. And, by chance, he has been working on another project that required music in odd meters: a short film being made by Anthony Lucero of Circus Remedy. The work-in-progress, Prophet the Fox, is a shadow puppet play with an East Euro feel.
"So I took them some of that music and some other things I had done before, including a couple of Christmas tunes. I'd ripped off a Marty Paich arrangement: Years ago he did a version of 'Jingle Bells' in seven for a Barbra Streisand record. I stole the idea, just because it worked so well." (He illustrated this by humming the tune while drumming a wild beat on the tabletop.)
Moore also worked with the Glasnost band on refining the music they'd already put together. "It was great what they'd come up with. They had a whole show of material with some really tight numbers, like the 'Sleigh Ride' thing."
It's actually an understatement to say Moore was a natural for the job of music director for a wild and crazy show (with odd meters). The son of College of the Redwoods jazz/world music prof Jerry Moore, Gregg grew up in a decidedly musical household. After heading to Utah for college, he ended up spending three decades in Europe playing music and working with theatre groups before returning to Humboldt County, where he has done the same.
"I went over [to the Netherlands] in 1975 with the Great Salt Lake Mime Troupe, a theatre and dance group that had grown out of the dance department at the University of Utah, where I had studied," he recalled, detailing how he became a 30-year expatriate.
Moore was the trombonist and tuba player for the Salt Lake troupe when they went to Amsterdam to perform at the first International Festival of Fools, organized by expat clown Jango Edwards.
"It wasn't straight theater," said Moore. "Everyone was mixing theatrical disciplines with dance, with clowning, with music." In many cases there was a political side to what Edwards dubbed the "Nouveau Clowns."
"A lot of us came to realize that doing what we were doing was a political statement in and of itself," said Moore, noting that a contingent from Dell'Arte was at the Festival of Fools. There's even a poster for the fest on a wall at the Dell'Arte School in Blue Lake.
Moore ended up staying in Amsterdam for 20 years before moving to Portugal. He traces his move there to another Dell'Arte connection.
"One of the founding people in Dell'Arte was a guy, John Paul Cook. He was among the first teachers at Dell'Arte School." Cook had studied movement at Jacques Lecoq's movement school in Paris and went on to found the British nouveau clown troupe, Footsbarn Theater. At some point in the '80s, Moore signed on as Footsbarn's music director. "The idea behind Footsbarn was to do quality theater in a rural environment, much like Dell'Arte actually," said Moore.
The Footsbarn folks had a grand plan to take their show on the road for a world tour. They headed for southern Europe, figuring they'd catch a ship to South America for performances there. They only got as far as Portugal, where Moore met a woman he brought back to Amsterdam.
Back in Holland he started working as music director for a Dutch community band, Fanfare van de Eersteliefdesnacht, exploring alternative brass band music. Then in 1994, he returned to Portugal with his wife and a couple of kids in tow. His work in music and theater continued there in the town of Evora, where he formed another street band, the Evora Street Monkeys, and plunged into Portuguese folk culture.
In 2004 he came home to Humboldt County. "My first big lesson was that things don't operate here like they do in Europe," he said. "Over there it's possible to make a living as a musician because there's more support for culture."
Specifically, there's government support. Many of the bands and theater groups he worked for were subsidized by the government based on their cultural importance. "Most towns of any size will have a culture budget. Imagine that," said Moore.
Here support comes in a private form. "I'm having to learn a whole different way of going about my business. I'm learning to be a grant writer." He's also looking for other avenues of support.
With the Glasnost show on the road, Moore is turning his attention to another holiday project: Bandemonium Christmas. Moore and company plan on teaming with the folks from Circus Remedy along with the stilt-walkers and jugglers of Synapsis to put together a show.
"We have this plan to sell the idea to businesses. We're hoping they'll sponsor us so we can take a holiday show to hospitals and homeless shelters, places like the MAC in Eureka and the Serenity Inn. In exchange, we'll perform for their Christmas parties for free."
Interested? You can contact Moore through his website, www.relevantmusic.org, where you can also learn more about alternative brass bands and Bandemonium.