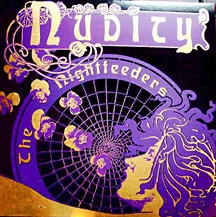 The Nightfeeders by Nudity
CD by Nudity.
Discourage Records.
Chances are that if you've been grooving to the likes of Acid Mothers Temple, Earthless and Wooden Shjips, or taking advantage of the recent slew of psych/space rock reissues, then Nudity is more of what you're looking for. The influences are easy to spot, and as the band will tell you, the sounds of Hawkwind, The Velvet Underground and the MC5 provide fuel for their astral traveling.
Nudity hails from Olympia, Wash., and include in their ranks members of Growing and Tight Bros From Way Back When. The band has been around since 2004, and although they've recorded a couple of self-distributed CDs, The Nightfeeders is Nudity's first proper label release. It's two versions of the title track, both of which clock in at more than 21 minutes apiece.
The band's first take opens with a gentle rolling sitar drone that is soon joined by a splashing of cymbals and some playful flute melodies before giving way to buzzing keyboards and surging into the song's entrancing riff and rhythm. The approach is minimalist in nature and becomes increasingly hypnotic as the track progresses. The vocals are subdued and hazy and almost become an afterthought to the thorough acid-washing of guitar solos that dominate much of the song's second half. It may be a time-tested formula that doesn't veer far from course, but it includes enough intricacies to ensure this is not the work of those attempting to cash in on '70s nostalgia.
The second take on The Nightfeeders, alternately dubbed the "Concentrick Mix," is more of an instrumental affair that remains similar in theme but differs greatly in dynamics. Essentially reconfigured by producer Tim Green (Fucking Champs, Citay, Six Organs, etc.), the song's extended opening serves as a meditative passage and includes the addition of what sounds like conga drums, tambourines and a far-off heavenly chorus that melts into the song's background. The track takes a dark and melancholy turn, much of this due to Green's studio touches and the inclusion of his own frizzled and stormy guitar work. Whereas the band's initial undertaking seems content with easing listeners into a sonic journey, Nudity's second launching is simply a flat out dive into lysergic dementia, complete with swirling masses of organ, multilayered guitar freak-outs and a flute solo laid over a backtracked drum loop.
The extent of Green's contributions on the second mix is not made clear, but I suspect his hand weighed in heavily. I suppose the only reason I mention this is because I hope it will prove to be a help and not a hindrance to the band's prospects. Also, I'm not sure why Nudity chose to fill one release with two versions of the same track instead of offering listeners more of their repertoire. However, I'm not going to lose much sleep over it, as the record does stand nicely on its own and clearly points to the potential of Nudity. Actually, if I had to hazard a guess, I would imagine that they have something much larger planned for the near future.
In the meantime, check out Nudity when they play the Alibi this Saturday, Feb. 16, with Humboldt's own Dragged by Horses.