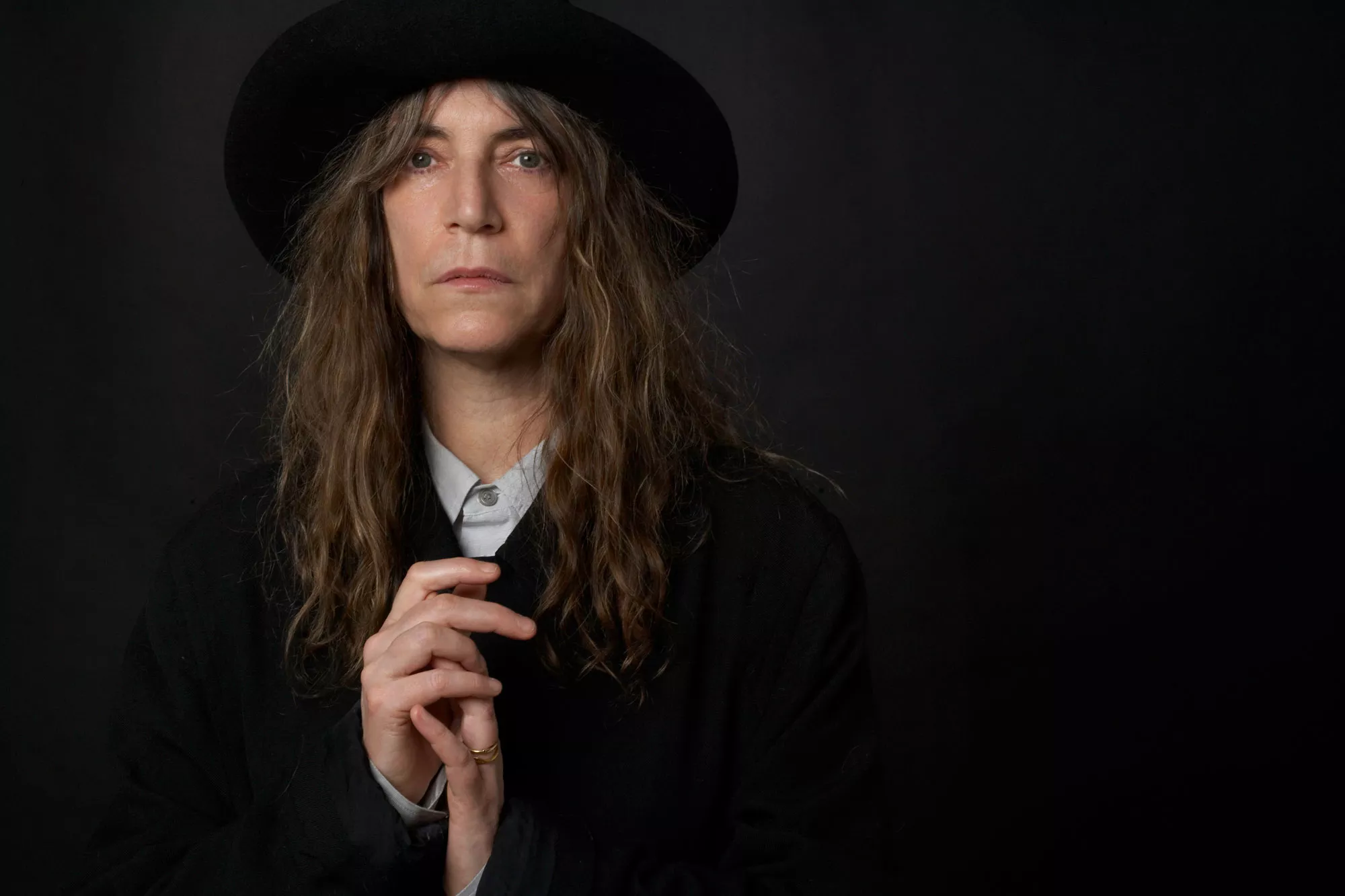 photo by Edward Mapplethorpe
Patti Smith
An email from a New York PR firm showed up in my mailbox recently with a download link for a benefit collection titled, Occupy This Album. Amid the 100 tracks donated by musicians well known and unknown, one stood out, perhaps the ultimate Occupy anthem, "People Have the Power," by Patti Smith.
The live recording of her song from the '80s had a new preamble. "All over the world, the people are rising up. We occupy -- with manifestations. We take the streets. We vote. We strike. We, the people, exist," she announced before plunging into mystic lyrics slightly reminiscent of William Blake: "I was dreaming in my dreaming, of an aspect bright and fair, and my sleeping it was broken, but my dream it lingered near, in the form of shining valleys, where the pure air recognized. And my senses newly opened, I awakened to the cry, that the people have the power to redeem the work of fools. ... It's decreed: The people rule. People have the power! People have the power," and so on.
Patti's own power is in full effect. She was inducted into the Rock and Roll Hall of Fame a few years ago, and in 2010 won what I'm guessing she may see as an even higher honor, the National Book Award, for Just Kids, her brilliant remembrance of her friend Robert Mapplethorpe and life in NYC.
Discussing her book with Jeffrey Brown on PBS' Nightline, she spoke of the power of rock. "I began as a poet, but rock 'n' roll was really the canopy of our cultural voice, especially in the late '60s and early '70s," she said. "Our rock stars, the people who were building that voice, whether it was John Lennon or Neil Young or Bob Dylan, whoever it was, they were infusing politics and political ideology, social justice, sexual energy and poetics, all within that canopy of rock 'n' roll. And striving to make this a universal language -- it was a real mission -- and I wanted to add to that."
And she did. Starting in 1975 with the punk poetics of Horses, she created a powerful body of work. And she's far from done. A new record, Banga, is due for release in June, with a single, "April Fool," already out. The album was recorded at Jimi Hendrix's Electric Lady Studios in New York City with her band, along with Tom Verlaine from Television, and her kids, Jackson and Jesse Paris. It includes a song for those hit by the earthquake and tsunami in Japan, one for Amy Winehouse and another for her friend Johnny Depp. Ms. Smith will spend the summer touring Europe, but first she has a few warm-up dates in California with her longtime guitarist Lenny Kaye. They bring the power to the Van Duzer Thursday night. Maybe I'll see you there.
Thursday at the Jambalaya the folks from Samba da Alegria are throwing a party/benefit to recoup cost of bringing some Brazilian teachers to town. It starts with traditional West African-style music by Guinea Gbe, moves on to SambAmore spin-off Operation: Water Dragon with steel pan and horn players, drummers and dancers, then more pans: Steel Standing's calypso rock amalgam. The show's mastermind Jesse Jonathan points out, "All these groups will be performing at the Humboldt Arts Festival -- get a sneak peak and dance the night away." Also playing Thursday night (at Humboldt Brews) and playing at HumArtsFest: The Trouble and The Fickle Hill Billies.
Saturday night at Arcata Theatre Lounge (post-Humboldt Arts Fest) it's the Third Annual Black & White Ball, an elegant blast of soul/funk/jazz featuring Welsh guitarist Eddie Roberts with The West Coast Sounds and The Jazz Mafia Horns. If you're hip to the resurgence of '60s- and '70s-era funk 'n' soul, you've heard about Roberts' other band, The New Mastersounds, a fine guitar/Hammond organ quartet out of Leeds, England, in the mold of The Meters and the like. Here he's working with an all-star Cali combo featuring S.F.-based organist Wil Blades (who was just here with Will Bernard). Filling out the ad hoc West Coast Sounds you have more San Fran funk from The Jazz Mafia Horns, a division of the Jazz Mafia family, aka The Shotgun Wedding Quintet, multi-instrumentalists using samplers and looping effects to put a new spin on retro-soul/jazz. Extra added attraction: global fusion dancing by Luna Moon of Fire and Isis Dance Collective.
When she's not fronting her own band, neo-Americana fiddler/singer/songwriter Carrie Rodriguez plays her fiddle, guitar and Mandobird (an electric mandolin) with the likes of Lucinda Williams, Alejandro Escovedo, Bill Frisell and Jeff Bridges among others. Taking a break from work on a new album she's recording at Fantasy Studios in Berkeley, she's doing a few gigs up and down the coast including a Friday show at the Arcata Playhouse with her pedal steel player Luke Jacobs. The local string duo Blake and Rich opens.
This week's tributes: Naive Melodies plays your favorite Talking Heads dance tunes at the Humboldt Brews Friday night; Full Moon Fever does Petty Saturday afternoon on the Main Stage at HumArts Fest. Then there's Saturday's "Endless Summer: The Beach Boys Story" at the Arkley Center featuring a costumed band called The California Beach Boys, allegedly "the world's most popular Beach Boys tribute." Doesn't it seem odd to see guys dressing up like The Beach Boys when the actual band (the Mike Love version anyway) played the Arkley not that long ago?
Looking for one more hit of Humboldt reggae before graduation day? The Mighty Redwood Ambassadors play at Cher-Ae Heights Friday night with special guests Madi Simmons, Empress Kiki and DJ Abba Roots. If the drive to Trinidad seems like too much, there's a free shuttle departing from Arcata Community Center at 8:30 p.m. (We assume it will also take you home.)
For hip hop heads there's "That One Show" Saturday evening (early) at the Ink Annex, a benefit for the Ink People with Maniac, Thic Man, Logan P, Grim, Cali the Artist, Dub Luv, S.F.B., W.I.L.L. and Morgan Rockey among others.
Jazz/rock/funk keyboardist Aber Miller plays a lot. On Friday you can catch him playing solo at the Baywood Golf and Country Club; Saturday he's with classic rockers Déjà Vu at Cher-Ae Heights, Tuesday he brings a combo he calls Arcata Pizza Council to Six Rivers Brewery, Wednesday it's a solo gig at Larrupin', followed by a show next Thursday at Mad River Brewery with a band he calls River Valley Mud. He's doing all this with a bit of a disadvantage. As he noted in a post on Facebook in late April, "Hey everybody -- my car just got stolen. If anyone sees a '98 black Honda Civic hatchback with a red 'Undam the Klamath' sticker, a rainbow sticker next to the license plate and a Nels Cline Singers sticker, please let me know." What he did not mention is the fact that his music gear was in the car when it was swiped. With that in mind, his friends have organized a benefit, "The Pilfered Keys Jamboree," Monday night at the Arcata Playhouse with Small Axe, The Luscious Ladies Soul Review (featuring members of AkaBella), and of course one of Aber's combos, River Valley Mud with Aber on (borrowed) keys, Claire Bent, Ari Davie, Joe Antrim, Sam Kaplan-Good, Louis Gordon and Scott Machen.
Looking for something different to do? A few of the Soul Night DJs have taken over the Sunday adult roller skate night at Perigot Park in Blue Lake. King Maxwell, Mantease, Jaymorg and DJ Knutz will be in the house spinning while you wheel around the room.
Are you graduating? Congrats and good luck in the "real world." Remember what Patti said -- you have the power.