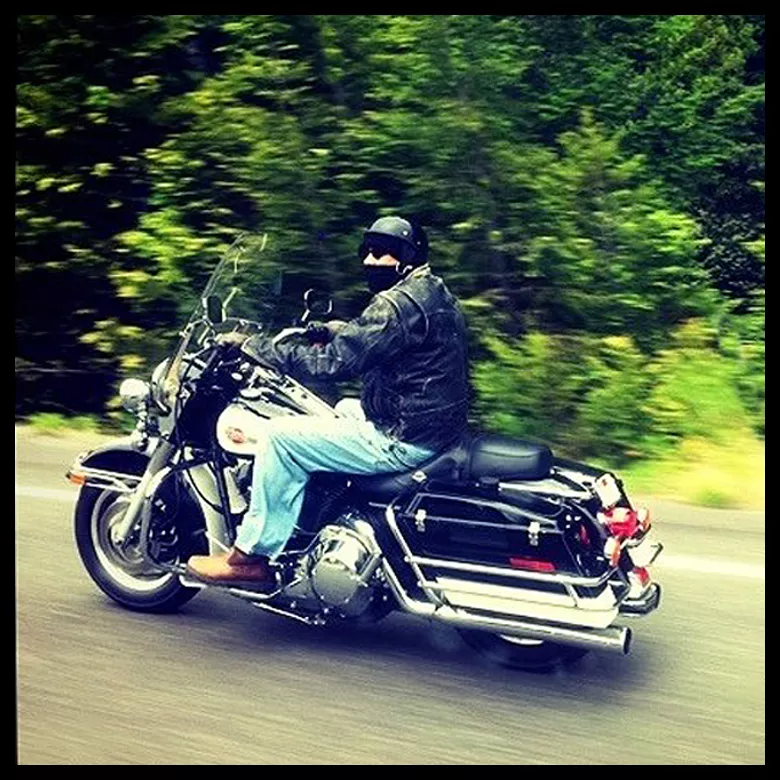 photo by Bob Doran
Biker on his way the Redwood Run 2011
You hear their engines roar as they zoom by on heavy metal steeds, leather-clad riders rolling down the road in packs. They're on a run to somewhere, but a big part of the pleasure is the ride there. This weekend that somewhere is the Redwood Run, or as they're calling it this year, The Kiwanis Original Redwood Run.
You might remember that back in 2010, longtime organizers Sciandra and Doug McCauley announced they were calling it quits and that would be the last Run. Not so fast, it's not really yours to end, said Kiwanis of the Redwoods, who have relied on the event as their major annual fundraiser for 35 years. Since the McCauleys control Riverview Ranch, the property near Piercy where the Run has been held for decades, in 2011 the event moved to a new location.
Now, says Kiwanis member Dave Hardy the club has signed a lease with the McCauleys and, "We're happy to be back on the ranch." Hardy describes the biker run party as "a purely Humboldt homegrown event supporting old codgers and rug rats," specifically things like building wheelchair ramps, supporting school sport programs and building school bus shelters.
So, what goes on at a woodsy NorCal biker party? The motorcycles start rolling in early Friday (no cars are allowed past the gate), and the festivities begin at 8 a.m. with a patriotic flourish: Gene Womack and a color guard sing the national anthem and say a little prayer.
A day full of rock music in various forms starts shortly after. It begins with alt. rock/country by The Stick Martin Show (at 9 a.m.), then southern rock by Savannah Blue (10:30 a.m.), blues rock by The Mike Osborn Band (12:30 p.m.) and classic rock by RubberSideDown (2:30 p.m.), whose name is a biker term for a safe ride with wheels on the pavement.
The evening portion kicks off at 4:30 p.m. with a tribute to recently departed guitarist Ronnie Montrose, with special guest Michael Lee Firkins backed by Ronnie's band. Canadian classic rocker Pat Travers is on at 6:30 p.m. followed by Willie Nelson's son, Lukas Nelson and Promise of the Real (8:30p.m.), biker fave Charlie Brechtel (11 p.m.) and last, a tribute band, The Unauthorized Rolling Stones.
For those who don't need to sleep much, the music starts up again at 8 a.m. with Low Fill, but most of Saturday morning is taken up by a bike show and "biker games," for example the classic slow ride with biker babe on the back who has to chomp a suspended hot dog as the bike wheels under it. Classy blueswoman Kaye Bohler and her band take the stage at 11:30 a.m., Michael Lee Firkins is back for his own set at 1 p.m., then it's more fun and games with the traditional (for the Run anyway) wet T-shirt contest at 3 p.m.
Country rocker Amanda Gray and Whiskey Savage start off the last music portion at 5 p.m. with Skinny Molly at 7 p.m., featuring guitarist Mike Estes from the (post-plane crash) Lynyrd Skynyrd. At 9 p.m. it's Ukiah's classic rock band II Big with special guest Billy Idol. Closing things out Saturday night you have The Fryed Brothers, a true biker band and a Redwood Run favorite for years. As bandleader Harry Fried puts it in song, "The party ain't over 'til the Fryeds go home," which means the wee hours of Sunday.
The party actually breaks up come morning; the bikers say their farewells and roll off through the redwoods headed for home, hopefully rubber side down.
The 35th Annual Redwood Run takes place June 8-10 on the Riverview Ranch just south of Piercy, off Highway 101. Tickets covering the whole weekend are $120, available online at www.kiwanisrwr.com.