Courtesy of Brandi Easter
Brandi Easter and her freshly speared yellowfin tuna in Panama in April of 2017.
Brandi Easter is a tallish, strong woman with shades of mermaid-green hair hiding along her shoulders. As most competitive spearfishers do, she has a day job. She's a commercial photographer. On the table in her studio where we met was a bevy of Lacey's Cookies, her latest project. She's been sprinting around all week trying to get her ducks in a row because she's headed to New Zealand for the 2019 Freshwater Worlds competition. She and her partner, longtime friendly rival Anne Doherty, are competing as the Catfish Cazadoras (meaning "hunters" or "slayers") — the U.S.' No. 1 ranked women's team.
Born in Orange, California, Easter moved to Humboldt County in 1993. She'd been a bit of a water dog her whole life, getting her scuba diving certification in 1987. But it wasn't until she moved here that she shed her tank." Friends would spearfish, and I would always point them towards the fish, saying, 'Go over there! Go over there!'" Easter said.
But her time as an unofficial spotter was short-lived. "I got introduced to abalone diving and you had to free dive for them." About a year later, in '94, she joined Humboldt Skin Divers (chartered in 1956, it is one of the oldest, continually-running dive clubs in the state) and began spear fishing.
Spearfishing is an ancient and ubiquitous practice. With spear or speargun in hand, and often with the aid of breathing tanks or snorkels (though Easter freedives, "lung powered" as she calls it), fishermen dive and hunt fish with the ultimate aim of impaling a fish. Easter's arsenal includes a dozen spear guns and a pair of pole spears, which launch the deceptively simple looking spear with a band the diver stretches and releases along the length of the pole. What she uses depends on the competition and where and what she's hunting. In New Zealand, she and Doherty will be sharing a carbon pole spear for their two days of six-hour catfish hunts between 5 and 40 feet below the surface.
Humboldt Skin Divers falls under the auspices of the Central California Council of Dive Clubs, also known as CenCal. CenCal oversees three different sports: fin swimming, spearfishing and underwater hockey — which are all exactly what they sound like. "So I thought, 'Well, that's interesting. I'm going to see what these spearfishing competitions are,'" Easter said. So, in 1997, she went down and participated. She speared one fish. "And it was the only legal fish out of all the women, and I won! And I thought, 'Well, this is too easy,'" she quipped.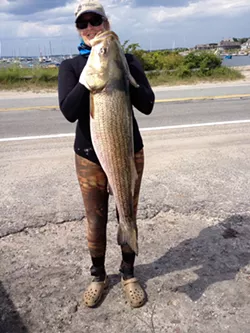 Courtesy of Anne Doherty
Easter's partner Anne Doherty with a striped bass she speared.
Easter talks about herself with a casual matter-of-fact confidence. As well she should. She's a multi-time national champion, one half of the top ranked women's team in the nation, was a member of the first Women's Team USA for the world championships in Chile (2004, third place) and holds scores of individual wins. If anything, she's quite humble — just a bit of a trash talker. And when you've been dominant for as long as she has, you can say whatever you want, really.
When she first began spearfishing, there were no sanctioned world competitions for women. The international governing body of spearfishing, the Confédération Mondiale des Activités Subaquatiques (CMAS), held only men's events. After her one-fish victory in '97, her eyes were opened. "Then I learned that every two years, the men go on a world level with CMAS, under the Olympic Committee," Easter said. Though men's worlds had gone on for nearly 50 years, there was no women's division, "But the carrot was there," she continued. "So I competed religiously to rank myself within the [CenCal] council so I could represent the United States when the opportunity came." And in 2004, that opportunity manifested. It was not sanctioned by CMAS but, "due to the tenacity of the Chilean women, we had a World Cup," Easter said, a toothy smile across her face.
Photo by Johnathan Kamierczak
Doherty and Easter at Lake Powell, Utah, on June 9, 2018, with their Catfish Cazadoras plaque.
Easter has a funny way of talking about the ocean. To hear her tell it, you'd think they'd have been married for years — at the very least longtime intimate friends. When I asked if she'd been diving much in preparation for worlds, she replied, "Right now, not a lot because the ocean's been upside down." I asked what she meant. "So, when it's really flat, calm and glassy, it's got a undulation under the surface I call that a 'sensual ocean'. And then it gets to the point where it's an Ocean Appreciation Day, where it's dangerous to go in so you keep your distance. And that's where we've been at for a while," she said. Having spent so much of the past 20 years in and focused on the ocean, developing a relationship with it makes sense. To know its quirks and subtleties and peeves. To know when it just wants to be left alone.
When the Pacific is uncooperative, Easter uses spearfishing as the compass by which she travels. "Most of my dive buddies live out of the area now ... so we meet in the middle and we go dive. Sometimes it's a day trip, sometimes it's a weekend which is great because we can do camping, swap stories." Some of her favorite spots, though, are on the West Coast. Trinidad, Shelter Cove and Fort Bragg are usual haunts for Easter. So the next time you're out there, if you see a lone woman half a mile offshore dipping beneath the water for minutes at a time, it might be Brandi Easter.