Lyn Risling's clear, inviting images celebrate the Native Northern California in her exhibition Reconnecting: A Cultural Journey. Contour lines and panels of vivid color illustrate a world drawn from indigenous stories, in which human beings and animals coexist and interact as equals, without anyone making a big deal out of it. A gentle humor animates many images. Coyote, Panther, Blue Jay, Bear and Deer all figure as protagonists, and these characters are faithfully rendered down to the last cloven hoof and curling whisker — even if they do sometimes walk on their hind legs or sit in the dentist's chair.
Photo by Gabrielle Gopinath
Lyn Risling's acrylic on canvas painting "Peethivthaaneen Pikyaavan (Fix the World Person)," 2019.
Risling has written and illustrated several popular books about Native California for young readers, including A is for Acorn: A California Indian ABC, authored by Analisa Tripp, and Coyote at the Big Time — a California Indian 123, which invites readers to count up from one clapperstick to 10 stars twinkling in the evening sky. Paintings originally featured in those books hang here alongside more recent works on themes of animal symbolism and metamorphosis.
In "Peethivthaaneen Pikyáavan (Fix the World Person)" a California condor personifies the Karuk ethic of ritual world care. Invested with regalia, the great bird perches against a cosmic backdrop that bustles with spirit activity. Once among the apex species of the region and now threatened with extinction, the condor is strange and yet familiar. It is poised on some kind of threshold, as potentially ghostly as the white spirit deer that flicker across the sky.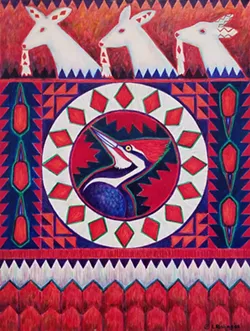 Photo by Gabrielle Gopinath
Lyn Risling's acrylic on canvas painting "Iktakataktihan (Woodpecker)," 2008.
This exhibition focuses on Risling's "cultural journey" and it contextualizes her paintings by including some of the traditional works of Northern California basketry and regalia that inspired them. There is much to be learned in the wall text, from elements of the medicine traditionally used in a ritual context to cure the sick to lists of the basketry materials used in Northern California since time immemorial (hazel, willow, bear grass, Woodwardia fern, maidenhair fern).
"Íhuk, She Returns in the Spring" uses a traditional basket-weaving mark at the top and bottom of the composition to frame a bust-length portrait of a girl creature who is split down the middle, half human and half doe, standing before a backdrop of roaring flames. It is one of several paintings depicting aspects of the mythic Deer People, who are implicated in the creation of women's puberty rituals in Northern California. Risling writes: "The deer people kind of represent the in-between, they have both the connection to the spirit world and connection to the earth and they sort of help bring that together. So the deer is really important in our ceremonies."
Photo by Gabrielle Gopinath
Lyn Risling's acrylic on canvas painting "Aachipan (Center Man)," 2018.
Photos and text document the traditional Karuk coming-of-age ceremony for girls known as Íhuk, which inspired this painting. The ceremony had not been practiced for 120 years by the time Risling and others began making efforts to resuscitate it in the 1990s. "This was a new period of learning and growing for me that began with a five-year period of research, learning songs and Karuk language, finishing my daughter's ceremonial dress and other regalia and items for the ceremony," the artist writes. "We gathered materials for the dresses and other regalia, gathered and prepared acorns, involving and teaching the girls as we were still learning ourselves. The experience leading up to the ceremony, as well as the ceremony itself, was transforming for the girls, as well as for myself and for all involved.
"Through this experience, which still continues, I felt 'reconnected' on a deeper level to my culture, to my ancestors, to the land and the Spirits there. Following the ceremony I felt a need to express what I saw, felt, and experienced. I began painting again."
Photo by Gabrielle Gopinath
Lyn Risling's acrylic on canvas painting "Ahaknah'iroo (Flying Geese), 2018.
Paintings like these benefit from being shown in proximity to elements of traditional regalia and a selection of northern California baskets on loan from the Clark Museum. The pieces of regalia are stunning. These are objects that are not commonly exhibited: beaded necklaces of shining dentalia and abalone, boldly decorated caps woven from roots and grasses with fairy-like delicacy and precision, crowned with piercingly red feathers from the crest of the pileated woodpecker.
Both classes of objects present a welcome opportunity to compare and contrast the traditional forms used in Northern California design with Risling's more eclectic, contemporary approach. Some of the most interesting paintings here integrate representational areas with bands of geometric decoration bearing the flat abstract forms, graphic patterns and acute angles that characterize indigenous regional style.
Photo by Gabrielle Gopinath
An early 20th-century Karuk basket in front of paintings by Lyn Risling.
In "Live Your Language (2015)," a mother wearing a traditional woven basket cap speaks with her young son in an indigenous Californian language and the words come spiraling out from her mouth to take visible shape in the air around them. They find delightful expression in the running mark called apxankuykuy, which unfolds in the space around the speakers like a red ribbon of laser-cut geometric forms.
Reconnecting: A Cultural Journey will be on view at Humboldt State University's Gou'dini Native American Arts Gallery through March 9.
Gabrielle Gopinath is an art writer, critic and curator based in Arcata.