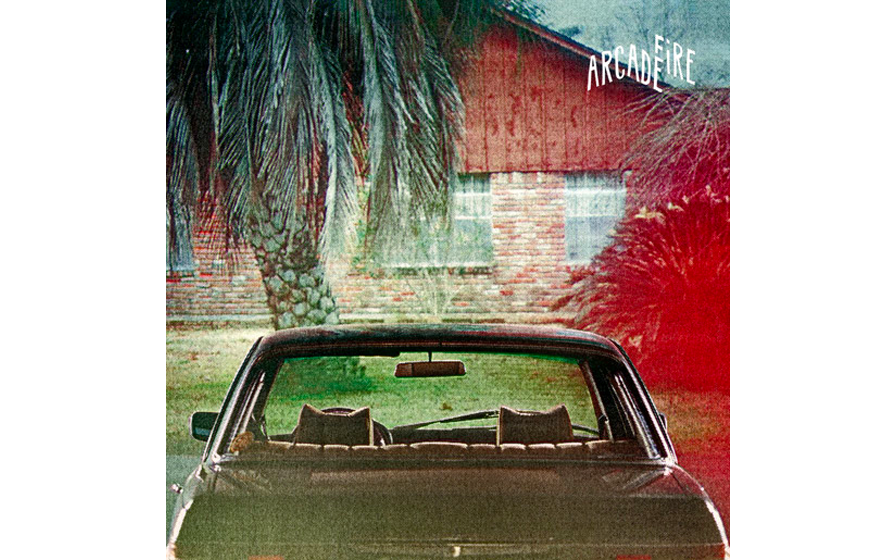 Arcade Fire
The Suburbs
In the early 1970s, my parents and I drove up Hwy 17 from Watsonville, then a small farming town, to visit relatives and their new house in Foster City near San Mateo. As soon as we entered Foster City, a relatively new suburb built on landfill in the '60s, we got lost. All the houses looked exactly the same. The streets were only distinguishable by their names. There were no architectural landmarks - only rows of identical homes with identical yards. We were disoriented.
How does suburban living affect the psyche? The songwriting duo of Win Butler and Régine Chassagne and their Montreal-based band Arcade Fire expand on this premise for the their third full-length release, The Suburbs, not only using the literal as a focus, but also the metaphorical. And the result is, perhaps as expected, epic - both sonically and lyrically.
Their 2004 album Funeral, inspired by a string of deaths of the band's family members, intricately wove together grief and celebration. After a period of heavy touring, the band sequestered itself in an abandoned church and in 2007 delivered what many considered a sequel, Neon Bible. Centered on a dense church organ sound, the album's tone took a more somber route. For The Suburbs, Butler and Chassagne draw in equal parts from Bruce Springsteen (lyrically) and David Bowie/Brian Eno (musically) to create an unexpected pop album, one that addresses a dystopian existence and apocalyptic nightmare that exists just around the corner.
On the opening cut, the title track, "The Suburbs," Butler sings, "I want a daughter while I'm still young. I want to hold her hand, show her some beauty before the damage is done... but is it too much to ask?" The lyrics roll over a bouncy tack piano riff, reminiscent of Ray Davies-like vaudeville pop. The themes of modernity and its cost to a society -- isolation ("City With No Children" and "Suburban War"), excess ("Rococo"), and escape ("Sprawl I" and "Sprawl II (Mountains Beyond Mountains)") -- run throughout The Suburbs.
While "Sprawl I," borrowing from playwright Sam Shepard's Action, is about one's initial engagement to a larger world through exploration, Butle'sr conclusion in "Sprawl II" is that escape is neither the answer nor a possibility. In her only lead vocal appearance, Chassagne belts the chorus: "Sometimes I wonder if the world so small, can we never get away from the sprawl... dead shopping malls rise like mountains beyond mountains, and there is no end in sight. I need the darkness; would you please cut the lights." It's the visualization of cyberpunk writer William Gibson's dystopian nightmare come to fruition. Though it's a tall order, Arcade Fire have delivered an artful, uplifting warning. The Suburbs successfully juggles '70s-influenced glam pop engaged with immediate present-day questions.