It is an inescapable truth: COVID-19, as it was last year, is this year's single most impactful story. Its nasty little fingerprints are everywhere, from our overwhelmed health care system and our struggling businesses to our mourning neighbors and exhausted families. Humboldt County spent the entirety of 2021 in the throes of the pandemic, having lost 100 residents to the disease by the time the Journal went to press Dec. 28.
But as overwhelming as COVID-19 has been, life continued around the pandemic in a way it largely didn't in 2020. Kids went back to school with protocols that looked a bit more normal, more of us returned to work and, well, news abounded. So where we devoted the entirety of our annual Top 10 list to the virus last year, this year the Journal has decided to offer a more varied look at the stories that shaped us in 2021 and beyond. But as we reflect back on the year that was, it's imperative that we not become numb to the tremendous toll of this pandemic, nor ignore the fact that it infected, hospitalized and killed more of us in 2021 than it had in 2020. For as much as we are all exhausted and ready for this to be over, it is clearly not.
Thadeus Greenson
Sue-meg Restored
The Yurok people have called the coastal area north of Trinidad — located in the heart of their ancestral lands — Sue-meg since time immemorial but it bore a different name for more than 100 years.
That changed Sept. 30, when the State Parks and Recreation Commission voted unanimously to — as one commissioner said — "restore the name" Sue-meg to the Patrick's Point State Park unit at the request of the Yurok Tribe.
The change was the first for a State Park under California's "Reexamining Our Past Initiative," which was launched by the state last year to address what California Natural Resources Secretary Wade Crowfoot described as "historic names that stem from a dark legacy that includes discrimination, violence and inequity."
Several members of the Yurok Tribe talked to the commission about the importance of giving the land back its rightful name and removing the moniker that referred to Patrick Beegan, an Irish immigrant who briefly laid claim to the jutting peninsula in the 1850s as whites infiltrated the area amid the gold rush.
Historians believe Beegan to be responsible for numerous atrocities, including the murders of Native Americans — among them a young Yurok boy. Beegan lost the property when fleeing law enforcement in connection with the killing.
Yurok Tribal Heritage Preservation Officer Rosie Clayborn told the commission that restoring the name Sue-meg carries a great meaning to the Yurok people and is an act that bridges both the past and the future.
"It gives a more balanced and just world for not only Yurok children but to all children," she said.
Kimberly Wear
Auditor-controller Acrimony
Years of ongoing issues with the Humboldt County Auditor-Controller's Office came to a head in 2021, almost ensuring the messy conflict will spill into 2022.
Elected in 2018 after raising alarm that the county's auditing practices amounted to little more than a rubber-stamp, leaving the county gravely at risk of fraud and waste, Auditor-Controller Karen Paz Dominguez has been a polarizing figure from the start. Several outside reports have seemingly buttressed her statements that the county's accounting practices were inadequate and her office was short staffed, but in 2021 her office repeatedly failed to meet basic deadlines and perform essential functions, which county department heads and outside agencies have said is putting revenue streams at risk.
Numerous boards — including the Fortuna Union High School District Board and the county's Workforce Development Board — issued no-confidence votes in her office, saying its delays in closing the county's 2019-2020 single audit were putting grants and state and federal funding at risk.
In November, after a payroll processing error caused delays in all county employees getting their direct deposits, with some also reportedly paid incorrect amounts, the Humboldt County Board of Supervisors voted 3-2, with supervisors Mike Wilson and Steve Madrone dissenting, to pass a no-confidence vote in Paz Dominguez, an extraordinary — and entirely symbolic — public rebuke of a fellow elected official. The county staff report for the vote was blunt, saying Paz Dominguez's tenure "has been marred with deficiencies" and listing more than two dozen grievances with her office, from the outstanding single audit to her "failure to take responsibility for her actions."
Paz Dominguez, meanwhile, has repeatedly maintained her office is doing the best it can with a short staff, dependent on other departments to work within new systems and provide fiscal documentation to do its job.
While the situation is a complicated mess, there is at least some hope voters — who will hold Paz Dominguez' professional fate in their hands at the polls in 2022 — will get some clarity in the coming months, as the Humboldt County Civil Grand Jury, a third-party investigator hired by the county and the state Controller's Office have all launched investigations into the county's financial reporting processes.
Thadeus Greenson
Humboldt County Sheriff's Office
Investigators process the scene of what's believed to have been Humboldt County's first triple homicide in decades the morning of Feb. 10.
Murder and Heartbreak in Bear River
Tragedy struck Humboldt County early this year when, on the morning of Feb. 10, the Bear River Band of the Rohnerville Rancheria Reservation lost three residents, Nikki Dion Metcalf and Margarett Lee Moon, both 40, and Moon's 16-year-old daughter, Shelly Autumn Mae Moon, all fatally shot in their home by then 18-year-old Mauricio Eduardo Johnson.
A Humboldt County Sheriff's Office investigation revealed that Johnson was a "friend" of the family and had permission to be in the house prior to the early-morning shooting. On Feb. 11, Johnson was arrested in Utah while traveling with his mother, Melissa Sanchez Johnson, and her friend Von Keener, reportedly heading to a friend or family member's residence in Indiana. In May, Johnson was extradited to Humboldt County, where he would plead guilty to three counts of first-degree murder in a controversial plea agreement in October.
Metcalf and Margarett and Shelly Moon's deaths had profound impacts on the Bear River and Loleta communities. Metcalf and Margarett Lee Moon had become engaged on Christmas Eve, and Shelly and Margarett Lee Moon both worked at Loleta Elementary School as aides, tutoring students and working in the afterschool program.
Johnson faces 150 years to life in prison and is scheduled to be sentenced in January.
Iridian Casarez
Countdown to Cal Poly Humboldt
Come January, the California State University Board of Trustees is slated to decide whether to rebrand Humboldt State University as California State Polytechnic University, Humboldt — or Cal Poly Humboldt, for short.
If approved, the change would go into effect immediately.
President Tom Jackson, Jr. presented the trustees with a formal request to change the name Nov. 9, part of the process for HSU to become the state's third polytechnic university in the CSU system and the only one in the northern end of the state.
Over the summer, HSU received an historic $458 million investment from the state that will fast track new academic programs (science, technology, engineering, math), building renovations, upgraded laboratory spaces, additional student housing, expanded broadband and renewable energy research capacity as part of the transition.
With the Cal Poly designation, HSU forecasts a rapid increase in enrollment over the next few years, growing from this fall's student class of about 5,500 to nearly 11,000 students by 2028.
A self-study done by campus officials notes the "limited off-campus" housing opportunities in the area but states HSU is planning to accommodate around 4,000 students in campus housing by 2028, beginning with around 800 beds via the Craftsman's Mall project by 2024.
Kimberly Wear
The Hope and Frustration of Vaccines
When 2020 came to a close, with COVID-19 cases beginning to surge in Humboldt County, fueled by holiday gatherings and travel, the promise of a safe and effective vaccine shone like a beacon on the horizon. Yolanda Stevens, an occupational health supervisor at Mad River Community Hospital, became the county's first to receive a COVID-19 vaccine on Dec. 15, 2020, and people celebrated the New Year, eager for the rollout of max vaccination clinics that would hopefully put the pandemic behind us.
Locals lined up by the thousands in February and March to get their shots, and vaccinated teachers and staff allowed local schools to reopen their doors to in-person instruction. But for many, hope had morphed into frustration by April amid news that scores of vaccination appointments were going unfilled. Vaccination rates locally have continued to lag behind the state average.
And as breakthrough infections of fully vaccinated individuals abound, the vaccinations have proven very effective at preventing severe illness and death — the vast majority of Humboldt County's hospitalizations and deaths have been unvaccinated residents, mirroring state and national data.
In that sense, history will remember 2021 with a layer of avoidable tragedy that was absent amid all the grief and loss of 2020, which saw 22 local residents die of COVID-19. As the Journal went to press Dec. 28, 100 local residents had died of COVID-19 in 2021, the vast majority of them preventable.
Thadeus Greenson
Photo by Aldaron Laird
A recent storm surge sent waves overtopping the riprap rock slope protection at Buhne Hill in front of the nuclear waste storage site in King Salmon.
Climate Crisis on the North Coast
California saw a total of more than 8,600 wildfire incidents, with about 2.6 million acres of land burned and 3,629 structures damaged or destroyed in 2021, which continued a troubling trend of longer, more intense wildfire seasons in recent years. And once again, Humboldt County was not spared.
For weeks, the county was surrounded by four wildfires, including the Monument Fire east of Willow Creek, the McCash Fire near Somes Bar in Siskiyou County, the McFarland Fire south of State Route 36 and the River Complex fire in the Klamath National Forest, which combined to char more than 640,082 acres, prompting evacuations and threatening entire communities.
Climate change experts have said that California's wildfire seasons will continue to become worse, especially given the state's historic drought. This year was the second driest year on record due to extreme heat and lack of rain and snow and the summer saw several Humboldt County cities, including Rio Dell and Trinidad, declared drought emergencies and ask residents to conserve water.
In May, Gov. Gavin Newsom declared a drought emergency in 41 counties, including Humboldt, before expanding the declaration in October to include the entire state.
Meanwhile, efforts to use controlled burns to manage forest health and make communities more fire-safe have continued to gain momentum, with the Klamath River Prescribed Fire Training Exchange growing to span a record seven weeks this year.
Here's hoping 2022 brings lots of snow and rain.
Iridian Casarez
Texts and Turmoil at EPD
The city of Eureka was rocked in March by an explosive report in the Sacramento Bee detailing a host of leaked text messages that had reportedly been sent between a group of police officers led by veteran Sgt. Rodrigo Reyna-Sanchez. The texts, which were later confirmed by the Journal through a public records request that also unearthed additional incendiary messages, contained vulgar, misogynistic, violent and dehumanizing language, and immediately prompted widespread condemnation, as well as protests calling for the officers to be fired.
Then Police Chief Steve Watson promptly put Reyna-Sanchez and officer Mark Meftah, who combined to send the vast majority of the offensive messages, on leave. The city hired Sacks, Ricketts and Case, a Bay Area law firm, to conduct a full investigation. Capt. Patrick O'Neill was then placed on administrative leave in May, pending an investigation, though it remains unclear if that was related.
This month, after a months-long investigation by Sacks, Ricketts and Case and a months-long legal review by another outside firm, Eureka City Manager Miles Slattery confirmed to the Journal that the city was moving forward with disciplinary actions against five officers as a result of the texting probe. Slattery said he couldn't disclose who was disciplined or what actions were taken, noting the officers still have the ability to appeal under the Police Officers' Bill of Rights, though he said the city hopes to be as transparent as possible once the process is complete.
Watson, meanwhile, announced he was resigning his post Dec. 1 — insisting the decision was about family and unrelated to the texting scandal that had drawn national headlines. Capt. Brian Stephens has stepped in as acting police chief while the city works to appoint an interim chief.
Whoever takes on the role will face immediate challenges. In addition to completing the disciplinary process for the texting five, the new chief will also inherit a department in which one of every four officer positions sits vacant, forcing officers to work emergency schedules built around 12.5-hour shifts and mandatory overtime, as the law enforcement staffing shortage felt regionally, statewide and nationally has taken a toll.
Thadeus Greenson
Recycling in the Trash
If you've been following the Journal's coverage of all things recycling, including California's Refund Value recycling program, you know the state's system is broken for rural counties like Humboldt. This came into sharp focus in 2021, which saw Humboldt pass an entire calendar year without a CRV center where residents could redeem their deposits.
California's Bottle Bill law was written and enacted about 35 years ago as a way of incentivizing recycling and, for a long time, it worked. But when China passed its National Sword policy and stopped accepting recycling from other countries, the value of all recyclable material (like plastics, glass and aluminum) tumbled. In rural areas like Humboldt, where transportation costs are high, this caused the system to collapse.
When Humboldt's last CRV redemption site closed at the end of 2020 due to overwhelming demand, residents were left without a place to redeem the 5 to 10 cent deposits paid when they purchased a bottle or can. This also posed a problem for retailers, as the law also states that when there are no redemption centers available for people to redeem their deposits, grocery stores and markets must take on the responsibility of collecting, storing and transporting CRV materials, while also giving back the deposits, or pay a fee of $100 per day (roughly $36,000 per year) to not take on that responsibility.
For Humboldt's smaller grocery stores and gas stations, the responsibility of taking on CRV services was burdensome, and the $100-per-day fee was costly, and some simply refused to pay the fees or collect recyclables.
The situation left many Humboldt residents simply forfeiting their container deposits, though some opted to drive their recyclables to Hambro Recycling in Crescent City. So many did this, in fact, that Hambro announced it would be opening a center in Arcata and, though the project has hit numerous delays, the company expects it to open in February.
Iridian Casarez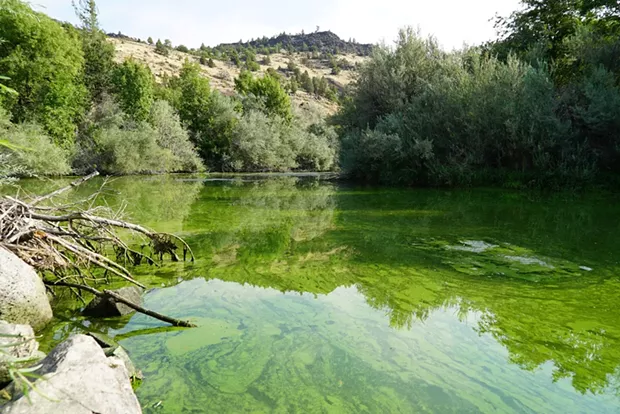 Photo by Stormy Staats
Four hydroelectric dams along the Klamath River stymie flows and raise water temperatures, leading to toxic algal blooms.
Crisis on the Klamath
If it was in any way unclear previously, 2021 cemented the notion that the project to remove four hydroelectric dams choking the Klamath River is, in fact, a race to save the river's struggling salmon populations.
While the year opened on the heels of a huge announcement in November of 2020 that an agreement had been salvaged between the Karuk, Yurok and Klamath tribes, the states of California and Oregon, and PacifiCorp to remove the company's four dams, improving water quality and opening hundreds of miles of spawning habitat, it quickly became clear drought conditions were potentially catastrophic.
In April, the Yurok Tribe announced its project monitoring juvenile Chinook salmon found that more than 70 percent of the young fish were dead on some stretches of the river, with almost all testing positive for the deadly pathogen known as C. shasta. The Karuk Tribe declared a climate emergency the following month, warning of a massive fish kill that could result in the loss of an "entire generation of salmon."
At an August hearing, local, tribal and state officials warned we are all "witnessing the collapse" of the Pacific salmon fishery, while the Karuk Tribe reported later that month that a survey of Chinook salmon on the Klamath spotted just 95 of the fish where hundreds of thousands once swam.
Ironically, it was the smoke from devastating, climate-crisis fueled wildfires that may have prevented the full collapse, as it blocked out the sun for weeks in late August and September, likely preventing water temperatures on the river from rising to levels that would have killed scores of the remaining fish.
In November, the Klamath River Renewal Corporation — a nonprofit formed to oversee dam removal — announced it was on track to begin removing the four hydroelectric dams in early 2023. Some regulatory hurdles loom in 2022 — including a review under the National Environmental Policy Act — and whether the nonprofit can clear them and hold firm to its timeline might well determine whether there are still salmon waiting to swim upriver when those dams come down.
Thadeus Greenson
Photo by Mark McKenna
A volunteer fills a syringe with the Pfizer vaccine at a mass clinic held by Mad River Community Hospital at Pacific Union Elementary School.
Delta Surges
The surge in COVID-19 case counts and hospitalizations officials had warned of for months hit Humboldt County hard beginning in July, with the arrival of the highly contagious Delta Variant on the North Coast.
Case counts quadrupled in a matter of weeks and hospitalizations followed, with the local hospital COVID-19 census peaking at 42 on Sept. 3, as exhausted health officials warned of reverberating impacts and triaged care, while new cases, hospitalizations and deaths surged to record rates.
Over a four-month period stretching from July through October, Delta would take a terrible toll on Humboldt County, racking up more new cases of the virus (4,752), hospitalizations (212) and deaths (62) than the county had seen over the entire 16-month course of the pandemic to that point. While the surge prompted Humboldt County Health Officer Ian Hoffman to re-impose a masking mandate, health officials largely held off on implementing other mitigation measures, promoting vaccination as the thing that would claw Humboldt County out of the pandemic.
As 2021 comes to a close, Delta remains the predominant COVID-19 strain in Humboldt County, where case rates remain elevated. But all indications are that the new Omicron variant will soon be confirmed to be circulating locally and will then overtake Delta, as it has in other areas.
First identified in Botswana and South Africa in November, the variant has a distinctive combination of more than 50 mutations and early evidence suggests they make it far more transmissible — two or three times, by some estimates — than Delta and less susceptible to existing COVID-19 vaccines. By Dec. 18, the U.S. Centers for Disease Control estimated it was accounting for nearly 75 percent of new infections in the United States.
While early studies have shown that natural immunity and vaccination are far less effective at preventing Omicron infections, they also indicated full vaccination plus a booster shot does provide strong protections against the variant. (Full vaccination, while less effective at preventing transmission, does still appear to protect against severe disease and death.)
Will Omicron fuel a devastating Delta-like surge in Humboldt County? It's too soon to know, but it seems clear whether it does will prove one of the most determinant storylines of 2022.
Thadeus Greenson