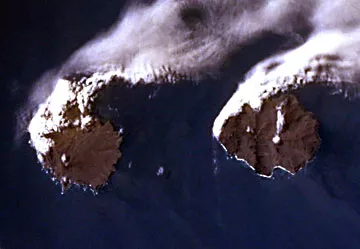 Île de la Possession and Île de l'Est, Crozet Islands, Indian Ocean. Go 500 miles northeast, drill down 8,000 miles and you'll be in Humboldt County. (NASA photo)
We're in an economic slump, no question. What we need is a new and profitable tourist attraction right here in Humboldt. Nope, not a steam train around the bay, much as I'd love to see it. I'm thinking just a tad grander. Here's the plan:
Announcing the Transglobal Tourist Tube. It's pretty simple, really. My plan is to drill a hole straight down until it comes out the other end, evacuate the tube of air (for frictionless travel) and start selling tickets for through-the-earth trips. Folks enter their pressurized capsule -- say, in the Arcata Plaza -- and off they go, free-falling all the way to the center of the earth, and beyond -- their momentum ensures that they'll make it to the surface (upside down!) on the far side of the earth. If they choose not to linger, they can stay on-board and return the way they came, 8,000 miles each way, total trip time 84 minutes. The perfect way to spend a lazy afternoon while visiting Arcata.
I do see a couple of snags. We're going to have to deal with the fact that the earth's spinning on its axis, otherwise the capsule is going to be banging and scraping the sides of our tube all the way down (and up again). I guess we could deal with that by drilling from North Pole to South Pole, but what's in it for our local economy? Oh yes, then there's the little matter of iron-melting temperatures and pressures at the core, which might make the whole thing a little iffy. Not to worry, I'm sure some smart HSU grad can figure a way around such petty details.
What's that? You want to go, but you want to get out at the other end and check out what's happening at Arcata's antipode? Oh dear, another tiny glitch -- you'll emerge three miles underwater. Maybe we should extend the tube up to a raft on the surface. Now for the Optional Extra (we can charge 10 bucks more for this), you get to visit La Belle France! A department of France, that is -- the French Crozet Islands. Closest land from our raft, less than 500 miles to the southwest, is Île de l'Est. OK, there's no one living there, but I bet you could get a croissant and café au lait at the one inhabited place on the islands, a research station, just 10 miles away on Île de la Possession.
Rappelez-vous, vous le lisent ici d'abord!
Barry Evans (barryevans9@yahoo.com) is a recovering civil engineer living in beautiful Old Town Eureka. His book Everyday Wonders: Encounters with the Astonishing World around Us led to a four-year stint as a science commentator on National Public Radio.