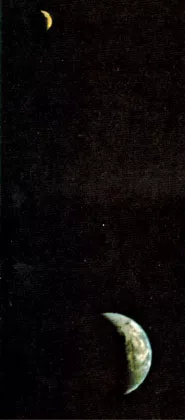 Earth and, Beyond, the Moon from Voyager 1, September 18,1977. This was the first picture of its kind taken by a spacecraft in which the entirety of both bodies can be appreciated.
Is Mars a dead planet? Some optimists imagine a tenuous colony or two of micro-organisms still eking out an existence, perhaps in an underground pool on the flank of a still-warm volcano. The general feeling among scientists, however, is that if there ever was life on Mars, it's long extinct, victim to the intense cold and the loss of almost all the original atmosphere.
Early in the planet's history, the Martian climate was more benign, probably quite similar to ours back then. We know that life started on Earth almost as soon as the crust had cooled enough for liquid water to remain on the surface, and perhaps the same happened on Mars. Terrestrial life consisted of single-celled organisms for three billion years. It's only in the last 500 million years that multicellular life evolved, so the odds of anything beyond the simplest bacteria having ever lived on Mars are remote. What follows, then, is pure fantasy.
Imagine that life not only arose on Mars, but it evolved so fast that intelligent beings emerged while the climate was still benign. How would their worldview have differed from ours? I believe Martian culture would have been remarkably unlike ours because of the way they would have experienced their "place in space." Assuming my hypothetical Martians had eyes somewhat like ours, they could have easily seen Earth's moon orbiting its parent planet. What impact would such observations have had on their culture?
To answer that, look at our own. You can argue that Earthly culture is excessively anthropocentric ("What a piece of work is a man," gushes Hamlet, before expressing his disillusion) because everything appears to be revolving around us. Without a telescope, we appear to be uniquely located at the very center of the universe. In a classic case of cognitive dissonance, this view persisted even after the invention of the telescope, despite Galileo's evidence for a Copernican sun-centered system.
Suppose a Martian true-believer claimed that Mars was at the center of the universe, thus proving that Martians were the gods' chosen ones? A Martian skeptic would only have had to point to Earth's moon revolving around the Earth to show that Mars wasn't at the center of it all. And what if the roles were reversed, with Mars having a sufficiently large moon to be seen from Earth with the naked eye? Perhaps our species as a whole would be a little humbler. After all, it would be hard to feel quite so singled out by a creator if it was obvious, to anyone who glanced up at night, that we hadn't been placed at the center of everything!
Barry Evans (barryevans9@yahoo.com) is pretty sure the center of everything is 2nd and F in Eureka.
CAPTION: Earth and, beyond, the moon from Voyager 1, September 18, 1977. This was the first picture of its kind taken by a spacecraft in which the entirety of both bodies can be appreciated.