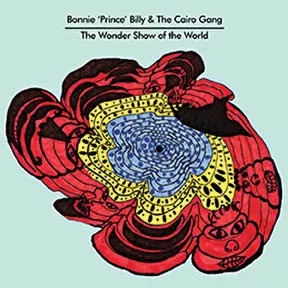 The Wonder Show of the World
"Where I am, I don't know, I'll never know, in the silence you don't know, you must go on, I can't go on, I'll go on."  -- Samuel Beckett
It's hard to say whether or not the Irish playwright would have liked the music of Will Oldham, under the nomenclature of Bonnie 'Prince' Billy, but they carry similar sensibilities. Their characters move achingly and ambiguously in the world. Words come from dark silences. Humor derives from isolation and restlessness. Yet, both artists are persistent; their narrators push ahead, albeit, at times, begrudgingly. And in their respective persistence lies their brilliance.
As a singer/songwriter Oldham has amassed a wide collection of bittersweet, often dark, songs, whose flawed narrators carry hard luck stories. For his sixteenth Bonnie 'Prince' Billy release, The Wonder Show of the World, the prolific Oldham, ever the musical juggler, presents his songs with a spare orchestration, collaborating with The Cairo Gang, nom de plume for guitarist Emmett Kelly.
From the opening cut, "Troublesome Houses," the sound immediately strikes the listener, thanks to the production assistance of brother Paul Oldham; it's intimate, warm and clear. "I once loved a girl," Oldham sings, "but she couldn't take that I visited troublesome houses. She'd say when I got home to leave her alone. She could taste trouble on my mouth." Emmett Kelly's subtle electric guitar work elegantly glides in and out, providing a groove and edge over Oldham's acoustic strumming. Kelly, who has played with Oldham, both live and in studio (on the near-masterpiece The Letting Go), executes his guitar skills, with an allowed space to fully display his talent.
Musically, Oldham leans toward the late '60s-early '70s L.A. Laurel Canyon scene for inspiration, namely Neil Young, Stephen Stills and David Crosby. And in the case of "Teach Me to Bear You," the music hints at Derek and The Dominoes, including a brief Clapton-esque guitar solo by Kelly at its conclusion. From the deceptively breezy "The Sounds Are Always Begging" to the fluttering flamenco-like burst of guitars in "Kids," Kelly's contributions aid in defining the songs, without flash or excess. In addition, the respected musician Shazhad Ismaily (Evangelista, John Zorn, and most recently touring with The Yoko Ono Plastic Ono Band) contributes bass and percussion.
Oldham deftly employs jazz chords on the folksy sing-along "Go Folks, Go," with Mt. Eerie's Phil Elverum assisting on vocals. "Go folks, go forth," says Oldham. "Trust your brain, trust your body -- go." It is Oldham's Beckett-like mantra for The Wonder Show of the World, a record that successfully balances the warmth with the dark, countering a lonely timbre to the joy. It also documents a solid pairing: Oldham's talented persistence with the equally talented musicianship of Kelly.