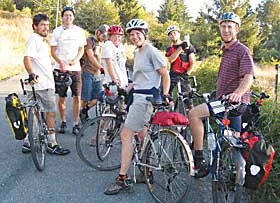 The Fickle Hill Friday crowd. Photo by Heidi Walters.
After two months off the bike to give my suddenly-dislocating thumbs a little rest from the brakes, I got back in the saddle this past weekend. With a mild vengeance. And it got me to thinking, once again, how deliriously grateful I am for the assortment of cycling jaunts within minutes of my front door. I took it pretty easy, but any of these rides could be ridden faster or longer by someone less inclined toward rest and excuses.
Fickle Hill
The first time I ever bicycled up Fickle Hill Road was actually when I was coming "down" it. Fickle Hill Road is not a straight up, straight down affair. Oh, it may seem that way if you start out from Arcata — feels like nothing but up, at the beginning anyway. But if you ride from Blue Lake first and wrap around the hills through Butler Valley — climbing, climbing — by the time you've got to the home stretch — Fickle Hill — you're wondering where the so-called coasting-on-in break is. Yes, there are the screaming downhills where your hands get so freeze-gripped on the brakes you can no longer hold on safely. But in between those there are hideous ascents for which you might not have saved any energy reserves. Silly you, falling for the old maxim that what goes up must come down.
This is how my first ride on Fickle Hill Road went — and I remember with fondness how, once the group I was with had gone so far out in front as to render my presence negligible, I suddenly got a flat. On one of the uphills of the descent. I was so happy. I limped off onto a dirt driveway, changed my tube, and took a little five-minute sit-down nap in the sunshine. Bliss. Why bother hurrying off to the fog? But, fond flat-tire memories aside, I swore off group rides after that — sure, I was OK, and in fact had had a nice little snooze. But what if I'd flatted on the downhill? Crashed, and needed scraping off the blacktop? Nobody came looking for me, nobody left a note on my car back in the parking lot in Arcata to call them to let them know I was alive. So I figured I might as well ride alone since that's how it ended up anyway. (You have permission to sob now.)
I broke my vow against group riding last Friday evening and joined the Fickle Hill Friday crowd on their weekly after-school/work pedal up that daunting, relentless climb. And I'm happy I did. The FHF people are fun. They may have flash race bikes tucked in flannel covers back home, for all I know, but on these Friday night jaunts they come decked out in pure Humboldt humble: assorted bicycles, road, mountain and cross; trailers; racks and panniers and fenders; cotton shorts and T-shirts; helmets (they're not stupid); and playful attitudes. Maybe some of these people are racers, but if so they kept their competitive side to themselves. And so what I'd worried might be a heart-thumping, breathless, anxious struggle up a hill that has defeated me in the past turned out to be a heart-thumping, breathless, delightful social outing where nobody got dropped. I was the slowest, natch.

For a time, a guy named Matt — a bike commuter for whom this was a rare recreational pedal — regaled me with tales of his uncertain entry into Humboldt living. When he first got here, he was so poor he had to camp for several months in the forest and on the beach — working full-time during the day, landscaping — until he'd saved enough dough to get into a better situation. Always, he biked in to his jobs. "It made me aware of how hard it is to be homeless here," he said. (That's a bit of a paraphrase; I wasn't carrying a notebook.) He said the KOA cost $18 a night — who could afford that? And other campgrounds were a long stretch away.

Held rapt by his tales, before I knew it we'd ground away maybe five, seemingly vertical, miles — and I felt no existential angst or need for a serendipitous flat. I did know it was time for me to stop, however. So as the rest rode the remaining eight or so miles to the top, I turned back. The late-afternoon sun slanted through the trees. I could see Humboldt Bay in the distance. I had renewed faith in fanatic hillclimbers.
The Fickle Hill Friday ride, put on loosely by members of HSU's Green Wheels bike advocacy club, leaves every Friday at 5 p.m. from the CCAT building on campus — although, they might be moving that up to 4:30 starting this week to accommodate the waning light. Check 'em out: green-wheels.org.
The Hammond
On Saturday, I returned to one of my favorite road rides: the Arcata Bottoms to the Hammond Trail to Moonstone Beach and back. Now, up until recently, there's been this thing called the "Hole in the Hammond" — you all know about it. There you are, happily spinning along the lovely Hammond trail, through dark channels of trees and stretches of snaggy sunshine overlooking the mouth of the Mad River, a pelican-filled slough, dunes and the ocean itself. In the past, when I've reached the hole, I've done what everyone does and detoured up into McKinleyville. There, you can take any number of ways north. My favorite is to wend my way through Dows Prairie, up into that shifting world of tree-shady hollows and high, dry-grass fields where roosters compete with cows for the afternoon call.
I'd like to say that this ride was different — I'd seen that new trail all slicked-out in black pavement the day before, driving past. Alas, there were tall gates and admonishing keep-out signs at both ends. So it was the Dows Prairie route for me. I'm not complaining. And on the way back, as the sun dropped low, there was no reason not to wheel off onto Clam Beach for a sandy nap in the sun.
As for the No More Hole in the Hammond Trail? Any day now, any day.
Community Forest
What's all this talk about napping? What a lazy ass. On Sunday, I did not nap. Instead, I followed Brian from Adventure's Edge into the Arcata Community Forest so he could show me the two new trails the city and some bicycle advocates have recently built.
This story is short: The two new trails — Trail 11.5 and Trail 6 (a converted log skid road) — are fast, skinny, woodsy, fern-flanked singletracks with plenty of grunting climbs and tight-twisting turns. You may be inclined to walk some of the hairpins. You may wonder about mountain lions. And you may, like Brian who has been riding the forest so long he could do it backwards in the dark, wish there were many more trails like these, and much longer ones. Although the trails in the community forest are fun, and now more varied, they are limited — you can ride them in a couple of hours. Compared with other places where logging has shaped forests, say, Canada and Oregon, Arcata's approach to accommodating recreation has been slow to catch up, Brian says. But two new trails, achieved through no small amount of effort by Brian's colleague, Rocky — that's something.
And if you take extended vacations from cycling, they're like brand new.