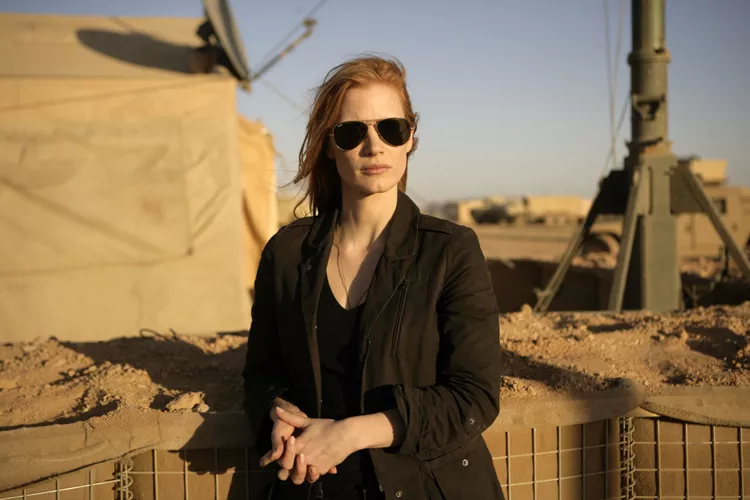 They have DirecTV at Bagram Airfield? Jessica Chastain in Zero Dark Thirty.
Reviews
ZERO DARK THIRTY. People of all sorts have been shouting themselves hoarse about this movie. They say that it's fascistic, that director Kathryn Bigelow and screenwriter Mark Boal colluded with the CIA somehow, that it justifies or even celebrates torture. Fortunately, saner heads are prevailing, their voices filtering through to call Zero Dark Thirty what it is: a masterpiece. Those decrying its politics aren't just missing the point; they're missing the movie, and that's too bad.
Bigelow and Boal have created a monumental, engrossing survey of the manhunt that followed 9/11. They've managed to encapsulate 10 years of war, unrest and international investigation in a taut, perfectly crafted Hollywood movie. It's an amazing thing to see.
This movie pulls off a nearly impossible gambit, depicting the hunt for Osama bin Laden without politicking or grandstanding. Somehow, the filmmakers manage to tell their story in such an unvarnished, evenhanded way that, to me at least, their method is unassailable. Some of the practices depicted are inhumane, even deplorable. But they're part and parcel of the narrative; the story couldn't be told without them. So dismiss the political arguments, and take the movie on its own terms.
At the center of the story sits Maya (Jessica Chastain), a CIA operative whose entire career has been dedicated to hunting bin Laden. We learn late in the film, in a funny, sinister exchange with the CIA director (James Gandolfini), that she was recruited into the spook business straight out of high school. We meet her as she assists in waterboarding a prisoner at an Abu Ghraib-style detention center. We then follow along as Maya becomes a hardened interrogator and the architect of a strategy to track and kill bin Laden.
This is tough stuff, but not what you may expect. Boal and Bigelow build their story largely as a procedural, giving us more desk work than wet work. We really get a sense of the thousands of frustrating hours spent poring over video and arguing with higher-ups that must come before any decisive action is taken.
Chastain's performance yields revelatory insight into a young woman so focused and purposeful that she would willingly expend those thousands of hours. Her frustration, tenacity and belief fill every frame, until we forget that we're watching a performance.
That's one of the most remarkable things about Zero Dark Thirty: There seems to be no artifice, nothing that rings untrue or breaks the trance. It plays like the most intense, comprehensive documentary ever made. In an objective, technical sense, it is perfect. R. 157m.
GANGSTER SQUAD. In 2009, director Ruben Fleischer broke onto the scene with Zombieland. Two years later he treaded creative water with 30 Minutes or Less. Now he seems to have run out of ideas entirely. His latest combines a setting filled with rich stories (Los Angeles circa 1949) with his best cast yet (Josh Brolin, Ryan Gosling, Emma Stone, Anthony Mackie, Nick Nolte, Sean Penn, Michael Pena and Giovanni Ribisi). But it doesn't go anywhere.
The sets and costumes look good, if unremarkably so, and the performances are strong. But the underlying story is strictly boilerplate, and the telling of it lacks any trace of a unique voice.
L.A. finds itself at the mercy of ferocious gangster Mickey Cohen (Penn). Unable to defeat him by conventional means, Chief Parker of the LAPD (Nolte) tasks hard-charging Sergeant O'Mara (Brolin) with forming an officially unsanctioned guerilla unit: the titular squad. This motley crew includes a hard-drinking ladykiller (Gosling), a drug-crusading knife thrower (Mackie), a tech expert (Ribisi) and a gunslinger (Robert Patrick). Their crusade goes exactly like these things always do: A woman gets caught in the middle; relationships are strained; one member of the team is lost, etc. The movie hits all these well-worn marks without going anywhere new.
James Ellroy has written voluminously and exceptionally about crime in post-war Los Angeles. To me, he owns that turf. This movie serves as a very pale imitation. R. 113m.
A HAUNTED HOUSE has a few things going for it. Here, I made a list:
It skewers the found-footage haunted house format that's so depressingly prevalent of late. Marlon Wayans, who still possesses a self-assured, likeable on-screen persona. Improv comedy stars David Koechner (Anchorman) and Andrew Daly (HBO's Eastbound and Down). Some genuinely funny material showcasing the inimitable Cedric the Entertainer.
That said, the movie never really rises above the basest level of humor. I don't particularly have a problem with that; as far as I'm concerned you can make all the ghost-sodomy jokes you want, if they're funny. But most of the material here plays like first draft stuff, only reaching for the lowest hanging punch lines. They get laughs (the crowd I saw it with -- mostly teenagers -- ate it up), but this cast could do better.
For those who just can't get enough of that distinct Wayans brand of fart/sex humor, this is a valuable addition to the canon. For the rest of us, it's less than the sum of its parts. R. 86m.
-- John J. Bennett
Previews
SILVER LININGS PLAYBOOK. Finally! My wife and I caught this movie in Sonoma County over New Year's. I'll leave a full review to the professionals, but suffice it to say that director David O. Russell (Three Kings, The Fighter) has crafted a hilarious and touching romantic comedy about people with serious mental health problems. With Bradley Cooper, Jennifer Lawrence and Robert De Niro. R. 122m.
BROKEN CITY. The preview for this one seemed to reveal the entire plot. We'll keep it enigmatic: A shady mayor (Russell Crowe in a tux) hires an ex-cop-turned-private Dick (Mark Wahlberg) to follow his wife. R. 109m.
THE LAST STAND. The Austrian steroid balloon who used to be our governor goes back to what he does best: mumbling one-liners and blowin' shit up. Here, Arnold plays a grizzled old border-town sheriff trying to block the path of the drug kingpin hurtling his way. R. 107m.
MAMA. In this supernatural thriller produced by Guillermo del Toro, a man and his girlfriend (Jessica Chastain) find his two young nieces in a decrepit cabin five years after their disappearance on the day of their mother's death. But are the girls alone? (I'm guessing "no.") PG13. 100m.
CIRQUE DU SOLEIL: WORLDS AWAY 3D. Have you always wanted to take the kids to "Circus Olé" but can't or won't go to Vegas? Well, now you can watch the renowned performance troupe contort, trapeze and twirl from the relative comfort of a theater seat. It's cheaper, too! PG. 97m.
On Saturday, three days shy of the 40th anniversary of Roe v. Wade, the Arcata Theatre Lounge will help commemorate the historic Supreme Court decision by hosting a series of reproductive-rights documentaries by award-winning producer Dorothy Fadiman, who will be on hand. Presented by Six Rivers Planned Parenthood. See Calendar for details.
Has there ever been a better title for a sci-fi B-movie than The Green Slime (1968)? That's the feature for ATL's next Wednesday Sci-Fi Pint and Pizza Night. 6 p.m.
The Humboldt County Library's "Based on the Book" series "Sin in Soft Focus: Pre-Code Hollywood" will continue next Tuesday with a free screening of Trouble in Paradise, Ernst Lubitsch's sophisticated jewel-thief comedy from 1932. Hosted by the Journal's own Bob Doran. 6:30 p.m.
Continuing
DJANGO UNCHAINED. Quentin Tarantino's violent Blaxploitation fantasy about an avenging slave in the antebellum South is the most audacious and entertaining film of the year. Starring Jamie Foxx, Christoph Waltz and Leonardo DiCaprio. R. 165m.
THE HOBBIT. Peter Jackson's gonna milk this Middle Earth business for all it's worth, isn't he? This bloated Lord of the Rings prequel (part one of three) looks beautiful but sags. PG13. 169m.
LES MISÉRABLES. Director Tom Hooper (The King's Speech) brings the mega-selling Broadway musical (based on Victor Hugo's French historical novel) to the screen with corny bombast. PG13. 157m.
LIFE OF PI. Ang Lee's adaptation of the bestselling book by Yann Martel is a visual feast, a technological marvel and a glib homily about spirituality. PG. 127m.
LINCOLN. Daniel Day-Lewis delivers a bravura performance in Steven Spielberg's handsome and rousing biopic, which portrays the deft political wrangling of our 16th president. PG13. 149m.
PARENTAL GUIDANCE. Billy Crystal and Bette Midler star as grandparents using old-school discipline on their 21st century grandkids in this utterly disposable crap-a-thon. PG. 104m.
THIS IS 40. In this "sort-of sequel" to Knocked Up, writer-director Judd Apatow cast his own wife and kids alongside Paul Rudd to examine the tragicomic reality of marriage and parenting. R. 134m.
WRECK-IT RALPH. The tale of a video game character's soul search returns to theaters having nabbed an Oscar nomination for "Best Animated Feature Film." PG. 108m.
-- Ryan Burns