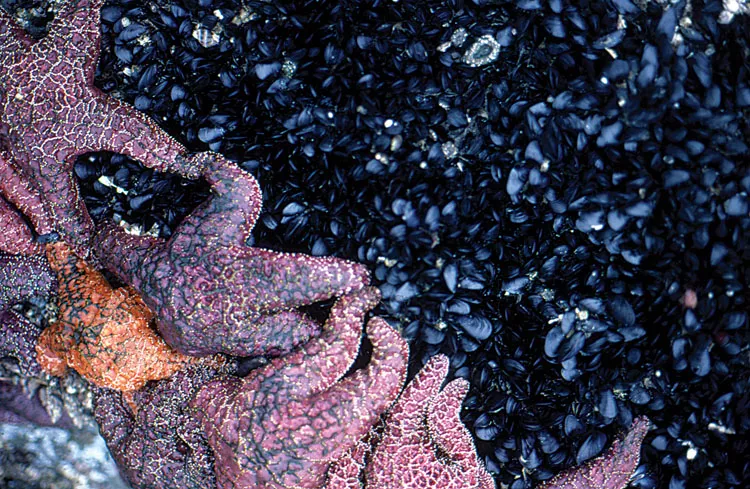 photo by rees hughes
Sea stars, anemones and mussels exposed at low tide.
"Tide pools contain mysterious worlds, where all the beauty of the sea is subtly suggested and portrayed in miniature." -- Rachel Carson
Thanks to the summer solstice and the full moon, the sea will reveal often-hidden secrets in early June, with a string of nine "minus tides" that include the lowest tides of the year. So it's time to get together your rubber boots (optional), buckets (optional), nets (optional) and guidebooks (optional) and head to the ocean for some tide pooling. This is an opportunity to experience an intertidal zone that, for most of the year, usually remains covered by a protective layer of ocean water.
I grew up in southeast Kansas, just about as far from the ocean as you could live in the United States. "Salt water" was what I called the mineral-laden drinking water some of the small nearby towns produced from their wells. And I'm old enough that my early perception of marine life was informed by children's books like Harry by the Sea (Harry was a well-traveled dog), The True Book of Pebbles and Shells (I now wonder if the Untrue Book would have been more interesting), and that classic The Whales Go By. Clearly the pre-SpongeBob SquarePants era. So when I moved to the West Coast more than three decades ago, I quickly fell in love with what I really found on our beaches, along our rocky coastline, and in our tide pools. Since then, I have regularly been called by the siren song of the low tide.
Milt Boyd, Humboldt State emeritus professor of zoology, told me that because of the unique confluence of tides, climate and upwelling, the North Coast has "some of the best tide pools in the world (comparable to those in New Zealand, Chile's southern coast, South Africa, and parts of Northern Europe)." We have more than 40 major groups of plants and animals present along our rocky shores.
Like so many things in life, we can experience tide pools at different levels. Superficially, these pools can be appreciated for their extraordinary beauty with the greens of anemone, the rich purples, reds, and oranges of sea stars (less correctly known as starfish), the colonies of California mussels, the leaf barnacle armies and the waving fronds of kelp and seaweed. Look a little closer and you may notice a sculpin trapped in the pool or a crab tucked safely away under a rock. Rub your finger across the sticky surface of the tentacles of an anemone. Luffenholz Beach near Camel Rock offers a great introduction for families with younger children (although it usually is an adventure getting down to the beach). There the sandy beach makes access to pools relatively easy and the waves are tempered by the offshore rocks. When I shared a draft of this article with several seasoned parents, they suggested that I remind families to leave a set of dry clothes in the car for each child (and each child at heart). How could I forget!
If you are prepared to get a little more serious, consider heading for Indian Beach just south of Trinidad or Palmer's Point in Patrick's Point State Park. In these settings you will make your way out through rocks covered with kelp, footing is precarious and you will need to take care not to turn your back on the ocean. It is nice to tag along with someone who knows what to look for. My nephew, Robin, with the marine biology degree, showed us delicate feather dusters, translucent shrimp and colorful nudibranchs with names like the "sea clown" and the "elegant eolid." My personal favorites are the chitons, especially the leathery gumboot chiton. On another trip I went with Milt, who found so much animal life on the underside of the seaweeds and kelp exposed by the low tide that I really began to grasp just how much there was yet to be learned.
The shallow edge of the sea in temperate latitudes like the North Coast (and most of the other places on Milt's "best of" list) is one of the best habitats for plant growth. According to the Audubon Society, "it has been estimated that the large marine algae and sea grasses growing in a narrow belt on only 5 percent of the earth's surface represent over one-third of the ocean's productivity." Giant kelp grows as much as 18 inches or more each day, faster than any other plant known. I've been content to buy my seaweed at the store, but some people will take advantage of the low tides to harvest kombu, nori, sea palm and more. The Ocean Harvest Sea Vegetable Company sponsors a Seaweed Safari Retreat on the Mendocino Coast, June 23-25, if you really want to get serious.
Keep in mind that these minus tides are periods of considerable stress for many intertidal creatures. Be very careful when moving (and replacing) rocks. If you do touch an animal, wet your hands first and touch gently. Touching animals with dry fingers can damage their delicate surfaces. Most will die if pried from the rocks, and all of them need the oxygen from seawater to breathe. Take nothing from tide pools and always return marine animals exactly as you found them, because many are so specialized that they may not survive in a location even a few feet away. As SpongeBob reminds us, "Excuse me, sir, but you're sitting on my body, which is also my face." Some of the tide pooling sites in central and southern California have suffered so much from the impact of visitors that raised wooden walkways have been constructed in a last ditch effort to revive intertidal habitats.
All this being said, the best tide poolers are those not afraid to get their hands wet and pick up some rocks (crabs like to hide under rocks). We found an octopus in a tide pool near Baker Beach when we moved a few rocks.
If all of this feels overwhelming, there is always the potential of a visit to the touch tank at the HSU Marine Lab in Trinidad. Hold an urchin, tickle an anemone or admire the aptly named leather star.
You may need to set the alarm to really take full advantage of these minus tides. And, I often need to bribe my daughters with the promise of breakfast in Trinidad afterwards. But take it from this Kansas boy, it is worth traveling 1,500 miles to experience our tide pools. Thank goodness you don't have too.