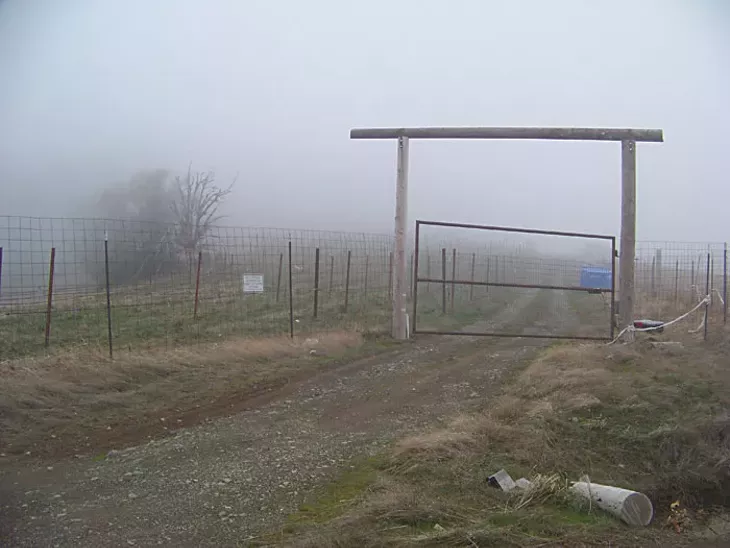 8 slides
The wine-makers move in
The twiggy young vineyard swoops up a gentle slope of high prairie, its staked rows parting midway to flow around a stand of wild, mossy oaks. All around, barely visible in the winter fog that's descended on this afternoon, more prairie hills rise, dip and rise. If you followed them northeasterly, you'd pass through woodlands of oak, fir and madrone and, higher, cedar, until you reached the nearly 5,000-foot Horse Mountain before dropping into Willow Creek. Head southeast and you'd find yourself at Titlow Hill. Going west, you'd wander down across Redwood Creek and more prairie and woods until you hit the 3,000-foot-elevation Doug fir ridge -- part of Green Diamond's vast timber holding -- before descending to foggy redwoods and the ocean.
For the particular grapes these vines will grow someday, this protected valley has perfect summers. Not too hot, like in Willow Creek, but completely bright and sunny unlike the coast.
Along one edge of the wire fence that encloses the vineyard runs a dirt road everyone out here just calls "the ranch road." It loops through these steep hills in a 14-mile slingshot south of Highway 299, connecting to the highway in two spots -- where the O'Kane Bridge crosses over Redwood Creek, and via Titlow Hill Road near Berry Summit. In its early days the ranch road was an artery mostly for loggers and cattlemen working the nearly 8,000 acres of what for a long time was called the Chezem Ranch.
Along another edge of the three-acre vineyard a long driveway departs the ranch road and heads through a gate up to Marisa and Jeff St. John's place. By the gate sit several large blue bins that bear the name Oxywave, a company in Fields Landing that processes fish scraps into an organic fertilizer that the St. Johns use to manipulate the growth of their vines.
The vines are about three years old; it'll be another two years before they produce grapes. And four years from now, the St. Johns could be entering their first Rocky's Ridge organic wines into the market: a Pinot Noir from the grapes grown here and in another vineyard nearby, and a Sirah from Monterey-grown grapes that they will process and bottle here.
It's a bit of a wait. But the St. Johns have their house to work on -- they're building it alone, just the two of them, with an owner-builder permit from the county -- and myriad other chores that come with establishing a winery and maintaining a 240-acre homestead that's off-the-grid, solar- and hydro-powered and way back in the boonies. Marisa commutes during the week into Arcata, where she works as an IT specialist at Humboldt State University. Jeff spends most of his days here. A semi-retired metallurgist who spent a 20-year high-intensity career in aerospace and, later, as global head of research and development for Seagate (which designs disc drives), he's happy to work around the homestead and ride his horses -- including "Rocky," after whom their winery is named. The countryside here is broad and open, at least compared to the manzanita-choked Santa Cruz Mountains he and Marisa left in 2005 to move here.
"This is my dream," said Jeff last week, standing at the foot of their driveway gazing at the rolling landscape. "I just fell in love with this place."
But the dream has nearly morphed into nightmare. What the St. Johns had expected to be a quiet, nature-enveloped haven of peace and beauty with a couple of nice, quiet neighbors has become -- to hear them tell it -- a teeming landscape of noisy ne'er-do-wells, especially in the summer. People come and go at all hours, they say, tearing up the old ranch road but not bothering to help out the couple of year-round residents who maintain it. They construct, without permits, precariously perched houses and over-steep roads on hummocky slide-prone hillsides. They set up trailer and tent encampments that sometimes sprawl onto the St. Johns' land, run noisy generators and have lights on all night, deplete the water resources, poach deer, dump sewage and toilet paper next to streams, abandon junk cars, install locked gates on traditionally open ranch road spurs and, certain months, permeate the air with a skunky stench that knocks you flat.
Sounds kind of typical for rural Humboldt. But the St. Johns say it wasn't like this when they investigated the property before buying it in 2002. They'd walked for miles back then and seen just a couple of houses. Jeff had even camped several nights on the property; all was quiet. After they moved in, things changed.
Now, after several years of filing complaints, they're laying blame squarely on Humboldt County: for not cleaning the place up, and for letting it get out of hand in the first place.
The county, meanwhile and rather belatedly, blames Ken Bareilles of Eureka, a 67-year-old logger, trucker and attorney who, 27 years ago, began selling off pieces of the old ranch without county approval. The county says the sales have resulted in 58 illegal parcels upon which unpermitted developments have proliferated because the county won't issue permits for construction on an illegal lot.
It turns out, at least in the matter of the county versus Bareilles, there's plenty of blame to go around. So what happens now? And what's to keep such messes from happening in the future?
People v. Kenneth M. Bareilles
According to records on file at the courthouse, in June 2008, Humboldt County filed a criminal complaint against Ken Bareilles and his wife, Linda, accusing them of felony unlawful land sales in violation of the state Subdivision Map Act. The complaint carried four counts: one each for three land sales made in 2005 and 2006, and one for conspiracy to make unlawful land sales. (The county only filed complaints on the most recent land sales; the others took place too long ago for prosecution.) The counts were later reduced to one.
Ken Bareilles pleaded guilty last year. (Charges against his wife were dismissed.) But this January he filed a motion to reduce the count from a felony to a misdemeanor, saying in it that one reason he'd pleaded to the felony was so that he could have the sentencing hearing which would allow him to submit ample pre-sentencing evidence of his and his wife's good character.
Also, Bareilles reasoned in his pre-sentencing statement, in the 1980s the county threatened to file a criminal misdemeanor (not felony) complaint if he did his land sales. And he accused the county of making false statements about him in its pre-sentencing report, including alleging that he knowingly sold some land to "itinerent purchasers" who grew pot and moved on, and that he neglected to notify buyers that their land wasn't a legal parcel.
But he doesn't dispute that he did, in fact, sell some illegally subdivided lots. He argues, however, that the county drove him to it.
"The issue here is not what took place, it is why it took place and what should be done about the three recorded sales that are listed in our complaint," wrote Bareilles in a pre-trial statement.
In 1976, the Bareilleses and another couple, Greg and Elaine Barnes, bought the 7,800-acre Chezem Ranch for $700,000, according to Bareilles' pre-trial statement. They renamed it the Double B Ranch and applied with the county to create the Hillside Ranch Subdivision.
According to a report prepared this January by Humboldt County Community Development Services staff for the Humboldt County Board of Supervisors, which was considering writing a letter to the sentencing judge supporting Bareilles' felony conviction, the application was to create 111 parcels no less than 20 acres each. A rezone would be required, because the area was zoned agriculture exclusive with 160-acre minimum lots and special building restrictions.
By September 1978, following environmental studies, the project was whittled to 70 rural residential parcels, no less than 40 acres each, on 2,800 acres, and a timber and grazing preserve on the remaining 5,000 acres. The Humboldt County Board of Supervisors approved (5-0, notes Bareilles) a preliminary project plan, with numerous conditions. Bareilles wrote, in his motion to have the charge reduced, that he agreed to fulfill the conditions -- more studies and technical work -- if the county signed a contract guaranteeing the final map and subdivision would be approved once the conditions were met. The board agreed and everybody signed the contract drawn up by the county counsel, wrote Bareilles.
Bareilles spent over two years and $300,000 fulfilling the conditions, said his attorney, Kelly Walsh, in a recent interview. And in the fall of 1981, the planning commission approved the plan.
But then, wrote Bareilles, that decision was challenged by the League of Women Voters, the 22,000-acre neighboring Russ Ranch, and Redwood National Park, whose concern seemed to be for Redwood Creek, which runs past the Double B Ranch before reaching the park.
The appeal went before the board of supervisors. But now, wrote Bareilles, the board had three new members: the brother of Linda Bareilles, who had to recuse himself from voting on the matter, and Wes Chesbro and Eric Hedlund. The latter two, wrote Bareilles, were "both from the Arcata area and totally opposed to any type of development."
Upshot: the new board, with two for and two against the old plan, approved instead an amended one that called for a subdivision of 38 lots. According to the staff report, they could be an average 40 acres in size, but ones less than 160 acres had to be clustered alongside a major roadway where the land was more stable. Adjacent unsubdivided lands had to be merged into bigger parcels, and the rest of the ranch had to be merged into one parcel and placed into a Williamson Act preserve or rezoned as a timber preserve.
Bareilles balked. "They made it a financially unfeasible project," said Walsh.
Bareilles sued the county for breach of contract, and lost. The judge ruled the board didn't have the authority to enter into such a contract because it would limit the government's police power, explained Walsh. Therefore it was invalid.
Bareilles appealed, and lost again. But, he noted in his recent motion to reduce the charge against him, "the appellate judge said in the record that he had never seen a case where anyone was misled more than in our case by the Humboldt County Counsel's office in drawing up the alleged contract that we all signed."
In 1983, after warning the county what he was about to do, Bareilles started selling off patent parcels. Each deed of sale was dutifully recorded at the Assessor's office, and the parcels have been taxed.
Bareilles wrote that he felt he and his wife had no choice. The timber business had tanked. They'd spent a lot of money trying to get the subdivision approved. They'd had to buy out their land partners, the Barnes, after that couple divorced and needed out. Their taxes had skyrocketed.
"The only 'hard times' we have ever had in the 43 years of our marriage were the years after our subdivision was rejected by this Humboldt County in 1982," wrote Bareilles in his motion for a reduced charge. He said it took several years to pay off all of their associated loans and obligations.
Bareilles also wrote that he only sold patent parcels between 1983 and 1993, which were legal sales because the lots were some of the original 77 patent parcels comprising the ranch, and they hadn't been altered since their creation (under the 1862 Homestead Act). However, he acknowledged, 32 parcels he sold between 1993 and 2007 were illegal because he had split up 12 patented parcels to create them, in violation of the 1964 Subdivision Map Act.
The county figures Bareilles, being an attorney, ought to have known better. And the Board of Supervisors did send that letter to the judge in support of a felony conviction -- which if upheld will cause Bareilles to lose his law license. The letter said Bareilles' land divisions "radically depart from the subdivision concept conditionally approved by the Board in 1981." Instead of homesites clustered along major roadways, it said, now 58 illegal residential parcels were scattered across the ranch along with 40-some legal parcels.
"These homesites necessitated the construction of new roads, water diversions and grading," notes the county's letter, "all done without the benefit of County review of permits, and have resulted in the fragmentation of resource lands and impaired future resource management. ... What is known today is that the illegal land sales have denied the public the opportunity to plan their own communities, including determining approprite land uses and density, substituting instead Mr. Bareilles' personal and financial interests for that of the public and their elected representatives."
Bareilles, in court documents, said he hurt nobody, and that his buyers knew what they were getting into because he informed each of them when they bought an illegal lot they'd have to get it legally subdivided if they wanted to build on it. He also has said he wants to help fix the subdivision violations from the three most recent land sales.
A sentencing hearing, begun Jan. 29, was continued to April 2, at which time Bareilles' motion for a reduced charge, plus details of a plea bargain with restitution, will be discussed.
Restitution and beyond
Making many of the illegal lots legal requires rezoning and a General Plan amendment. It will be expensive. District Attorney Paul Gallegos has recommended the Board of Supervisors set up a Titlow Hill Trust Fund, into which Bareilles, as part of a plea bargain, would deposit $283,000. Humboldt County Community Development Services could then use the money to pay for bringing the lots into compliance.
Bareilles, at his January hearing and in his sentencing brief, said he wants to pay the $283,000 -- but not without a detailed plan from the county on how the money will be used. The judge, likewise, has asked for more details.
But Titlow Hill isn't the only place with illegal parcels. Claude Young, with the county community development service's code compliance program, said there might be as many as 5,000 illegal parcels throughout rural Humboldt County. It's something the county ignored for years, he said.
"I think it was just a nonchalant attitude," said Young, in an interview last week. He says it wasn't until legal land buyers like the St. Johns came along and started complaining about public nuisances that the county finally took notice -- and that's because he was now on board, he says.
Now, said Young, the assessor's office and community development services have a new plan to facilitate investigation of dubious parcels -- which is for the assessor's office to send them over to the planning office soon after they're spotted.
"If we find that it's a violation, we'll record a notice of violation with the county recorder and it'll show up in the title report," Young said. "Now some innocent person who wants to buy that lot will maybe not buy it."
But the St. Johns have little sympathy for people who've bought illegal lots -- or for Ken Bareilles. The St. Johns jumped through numerous hoops to make their own property, part of which had been illegally subdivided, comply with the law, they say. And they want the $283,000 to be given directly to the county's code enforcement unit, instead, to help remove garbage dumps, abandoned vehicles and multiple encampments.
In an interview last week at the Journal, Marisa St. John said code enforcement has only come out a couple of times. And, court records show, one visit did lead to a pot bust out there -- but the St. Johns say pot isn't their main concern, but the junk and poor developments.
"It's getting worse," she said.
One of their neighbors, Ben Shepherd, who has a cabin on a legal patent parcel he's owned for 20 years, agreed in an interview last week that there has been more road and home construction, and a lot more traffic, in recent years. "But we're off to ourselves, so we're not impacted by it," he said. But 10 years ago, he said, somebody illegally divided a 160-acre parcel below them into 40s and sold them off -- and that, he said, impacted their water rights.
The St. Johns say some of their neighbors on the illegal lots have threatened them for speaking out. "And we hear people say, 'We got screwed, and now we can't build anything,'" said Jeff St. John last week, driving around on the ranch road. "But I think they knew what they were getting into and did it anyway."
Ironically, the St. Johns knew when they bought their property that they were going to be surrounded by illegal parcels. At the time, they thought that was a good thing, because they figured nobody would be able to get a permit to build on many of those lots, and so they'd never have any neighbors.
But this is Humboldt County.
"You know, Humboldt County, I don't know if I would call it the most corrupt place I've ever lived," said Jeff St. John. "But when you define corruption to include ineptitude, and people not doing their job at all, I've never seen worse in America. Being in business and overseas, and in Mexico, I've seen worse for sure, but it's kind of hard to believe that you have to compare a place in America to Mexico. People seem to be able to do illegal things here with no correction, not even a slap on the wrist most of the time. ... They could just say, everybody with a 40 is legal now, and change the law, if you could get the General Plan update to be amended to incorporate that and change the zoning. But that's the point: Most people here know that if you just do it illegally, you'll get away with it and eventually it'll be made into law."