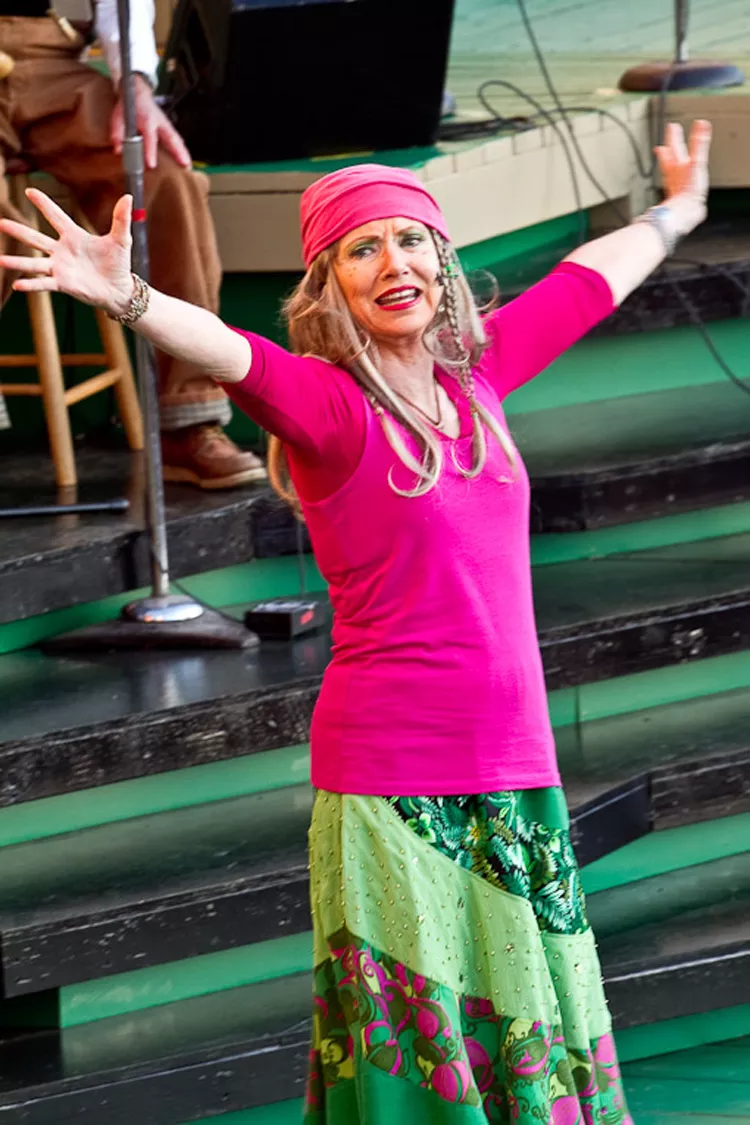 Photo courtesy of Dell'Arte
Mary Jane – Joan Schirle
The word, "festival" seems too brief to describe the month o' marvel that's gracing Blue Lake this summer. Even Oktoberfest, the festiest of fests, only lasts for two weeks. Dell'Arte's Michael Fields said, however, that even if a longerish word were available, the Mad River Festival is too much of a tradition to lengthen.
Now in it's 22nd year, the festival shall commence this Thursday, June 21, with the return of Mary Jane: The Musical. Writer and producer Fields said that this year's version of the marijuana musical is even doper, with new songs and a more pronounced plotline (potline?).
The show is outside, in Dell'Arte's Rooney Ampitheatre, and the crowd can get pretty raucous, said Fields, making it in some ways more like a concert than a play. "You're not having to sit quiet in a dark box," he said.
Fans have 12 opportunities to indulge, with nightly shows Thursday through Sunday for three weeks in a row. Although the play is completely about weed, it's kid friendly, said Fields – no language or nudity to sully its PG-purity. Plays are good. Get 'em started young.
If weed doesn't tickle your bones, check out Exit 101, a show all about end-of-life choices. Although that sounds deeply depressing, Dell'Arte's founding artistic drector, Joan Shirle, said that the play is actually pretty dang funny, and it raises important points about those terminal times. Audiences leave feeling uplifted, she said – a Where the Red Fern Grows sort of thing.
The Fish in My Head is a lighter-hearted affair. "It's about the power of the imagination to transcend rational profit-seeking," said Shirle. The fight-the-man comedy is for kids, and features seven actors, who will don costumes and perform acrobatics including, but not limited to: somersaults, stilt-walking and leaping. Shirle said, however, do not expect live animals.
Another sure sell-out is the Red Light in Blue Lake, in which mostly-clothed adults watch mostly-unclothed adults perform various titillating acts. One year, said Shirle, before the meat dress was even a twinkle in Lady Gaga's eye, a performer covered her body with bologna, and then someone ate the bologna off of her. This is troubling. Why not bacon?
Special guests Bada Bling! Burlesque from Southern Humboldt will bring a dazzling array of song, dance and possibly sandwich meats to this year's Red Light. Again, buy early, because this show always sells out.
Topping off the whole extravaganza is the 34th Annual Humboldt Folklife Festival, which runs from July 13 through July 21st. If you're hankerin' for a barn dance, this is your chance. The fest also includes plenty of jam sessions, concerts and theme nights, and ends with an all-day free festival centered around the Dell'Arte ampitheatre. Road people will close the road, and fest people will haul hay bales out into the street so that festgoers can rest their weary bottoms while listening to music.
Every festival needs a feel-good climax. The Mad River-Humboldt Folklife mega-fest ends on a high note with a Beatles sing-along. "Ob-la-di, ob-la-da," "Yellow Submarine," and "Let it Be," are all likely to be on the playlist, so start practicing now.
Order tickets online at dellarte.com and at humboldtfolklife.org.