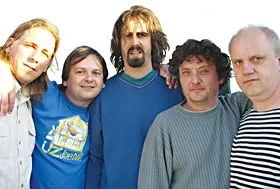 Czech prog/punk avant-rock band Uz Jsme Doma. Foto by Karel Šuster
Czech prog/punk avant-rock band Uz Jsme Doma is making its way across the U.S. The day I caught up with the band's keyboard player/songwriter and only remaining original member, Miroslav Wanek (Mirek for short), UJD had just played at an elementary school in Cedar Rapids, Iowa.
"It was a last-minute substitution," he explained, the indirect result of travel troubles that had canceled an evening gig at an arts center. "It was great. It was small kids. They appreciated it."
Uz Jsme Doma explores similarly unknown territory, akin to music of Pere Ubu or The Residents (who were once Humboldt County residents). Suffice to say that their avant-garde take on rock falls far outside the mainstream. Mirek prefers that the band not be categorized. He sees music as merely good or bad (I would place UJD on the good side), but you might get some hint from the fact that the band's latest CD, Cod Liver Oil , was mixed by former Petrolia resident Dan Rathbun of Sleepytime Gorilla Museum.
When Uz Jsme Doma got its start in 1985, rock 'n' roll was banned in Czechoslovakia. "Before the revolution, almost everything was forbidden, especially rock music, because they thought there was too much freedom in it and they didn't know how to control it," Wanek said. "So we mainly did shows illegally or we'd play fake weddings or birthday parties, things like that. Sometimes the concert happened and sometimes we ended up in jail for 24 or 48 hours. It was not only us. It was any rock band and many writers and artists. It was just that kind of atmosphere in the country."
Rock records were also banned, which is part of the reason the band sounds the way it does today. "There was a secret stream [of smuggled in records]. We got some recordings from the American embassy, some guy there, a cultural attaché or something. His taste was actually very progressive. He gave us records by The Residents, Pere Ubu, Chrome, and some punk, Jello Biafra, things like that, bands that were not well known even in the U.S. For me, that was U.S. music. Thanks to the cultural attaché, we do what we do."
By chance, local connections abound. "What's interesting, the first time we played in the U.S., which was maybe in 1993, our very first show in U.S. was in Arcata," Mirek recalled. "We played in some coffeeshop or something like that. We played with some band called Yuroks — it must be a Native band, not really Native [American] music, but a band of Native guys. The singer was the son of the chief, as I remember. It was also our exactly 200th show that day. Now we have played 2,000. I'm glad we can make it back to Arcata after so many years." (Note: I've never heard of a band called Yuroks. Did anyone see this show? Could he be thinking of Merv George? Of course, he's Hupa.)
The Uz Jsme Doma return engagement is this Friday, Nov. 2, at the Jambalaya, where they share a bill with locals Machete (a new band with Roshawn from The Hitch, among others) and Philadelphia's Capillary Action , a genre-hopping band on tour with UJD that describes itself as "The Supermarket of Music." Capillary Action returns to the Jam in two weeks (after they finish dates with UJD), working their way up the coast on a tour with bassist Joe Lally of Fugazi fame.
Earlier on Friday at Café Brio, accordionist Odile Lavault from Baquette Quartette plays the sort of music you might hear in a Parisian café, which seems appropriate since the place is designed to look like a Paris café. The music is appropriate for Odille too: She was born in Paris and spent years playing her chromatic accordion in that city's cafés, as well as around Europe in general, before coming to San Francisco to form her quartette.
Also in an international vein: Quartetto di Venezia , a string quartet from Venice, Italy, flying in to play music by Mozart, Sollima and Brahms Friday at Calvary Lutheran Church for the Eureka Chamber Music Series.
Remember the discussion here recently about Eric Burdon's band, the Animals? I mentioned that guitarist Eric McFadden had left to return to his own band. (His bassist wife Paula is still an Animal.) Well the Eric McFadden Trio is playing Friday at the Red Fox. As noted re: The Animals, Mr. McFadden can tear into a flamenco lick, but he's also a very funky dude, as evidenced by his stint with yet another classic band, George Clinton's P-Funk. Also worth noting: EMT bassist James Whiton , who plays a strange-looking stand-up model, very streamlined, and plays it wickedly, slapping notes out like a demon and twisting them with effects. Eric refers to James' axe as "The Upright Death Machine." This is a wild band capable of some crazy jams. Local wildmen Moo-Got-2 open.
Also on Friday, my favorite Arcata alt. rockers Strix Vega play at the Pearl Lounge along with their friends from San Fran, Or, the Whale . O,tW is a country-ish indie rock seven-piece with a big beautiful sound, grand in design with accordion and slide guitar along with the usual amenities. Last Friday the band garnered some hometown kudos winning a statuette of some sort in the annual SF Weekly Music Awards as "Best Alt. Country Band." When the alt. paper says you're alt. it really means something. Opening the show: Side Iron , yet another spin-off from our dearly departed Que La Chinga.
OK, Halloween's over but you still feel like dressing up. Head out toward Blue Lake Saturday to the E&O Bowl for the 8th annual White Trash Family Bash . This party starts pretty early (7 p.m.) but there are five bands — Entheogen , The Rubberneckers , Dynamite Sweater , Ashes and Moneyshot Lincoln — plus a couple of DJs ( Hot Pants and Burnin' Rubber ), so don't assume it'll be over early. Speaking of Dyno Sweater, a fan chastised me for leaving them off the list of bands playing at the Jambalaya Halloween Ball. If you pick the Journal up on Wednesday, you'll know.
Ironic costumed lounge singer Pleaseeasaur is back (wasn't he just here?) for a Saturday show at the Vista with new dad JPG (congrats) and Zac Institute , a new band that I'm told includes Chris Colland from EKA Garbage, Couch, etc. I was going to ask Chris about it at the (really great) Thurston Moore show the other night, but he disappeared before I could.
Bluegrass fans may want to head to the Arkley Center Friday to see Cherryholmes . I have to admit, when I saw a poster for the show I didn't know what to think. Family patriarch/bass player Jere Cherryholmes has a ZZ Top beard and tattoos and looks more like a biker than the leader of a family gospel bluegrass band. As it turns out the band is hot: Cherryholmes II: Black and White , their second album for Skaggs Family Records (Ricky's label), topped Billboard's bluegrass charts this summer, and they're regulars on the Grand Ole Opry, playing trad bluegrass, mind you. Says Jere, "People say that bluegrass music has to change or evolve or it will die. Well, if you change something from one thing to another it isn't alive anyway. I don't really think it needs to be changed. It just needs new life breathed into it. I feel like maybe I'm offering that with my family."
For grass of a different sort you have Montana Slim , a newgrass jamband from the Bay Area playing Saturday at the Jambalaya with UKEsperience , Humboldt's one and only "ukulele boogie music" band. Incidentally Montana Slim borrowed/stole its name from Wilf Carter, a Canadian yodeler from the distant past. The modern M. Slim plays live on KHUM at 3 p.m. Saturday.
How 'bout some insurgent bluegrass? That's what Colorado's Victor Barnes calls his music. He's at Muddy's Hot Cup Sunday with local picker JJ Cady and Jay Swanigin of the Dirt Nap Band.
Around this time last year Synapsis hosted an amazing acoustic guitar show that included Jack Rose , a trance picker reminiscent of John Fahey and Robbie Basho, who also plays bluesy bottleneck slide guitar. Jack is back for a solo show Monday, Nov. 5, at the Jambalaya, hosted by the Humboldt Folklife Society .
The following night, Tuesday, Nov. 6, Redwood Jazz Alliance takes over the Jam for its first " auxiliary" show, this one featuring the Bill Horvitz Band with Steve Adams from Rova Saxophone Quartet on woodwinds, Harris Eisenstadt on drums and guitarist Bill Horvitz (brother of pianist Wayne Horvitz, who plays his own RJA auxiliary show in March). Bill came out of the NYC downtown jazz scene. He's now based in the Bay Area and records for Phillip Greenlief's Evander Music. Expect freerange coolness.
Not long ago we heard from Ole Persson of Diamondback Entertainment about an upcoming show with local-girl-gone-big-time, Sara Bareilles . Since then Ole was in a major auto accident that left him flat on his back. Doctors say he should be walking in a few weeks. Meanwhile: "The show must go on, as they say," writes Ole. With help from friends and family the all-ages gig at the historical Eureka Theater is on for Saturday, Dec. 8 (a new date, moved from the 14th). Tickets go on sale Friday, Nov. 2. As Ole notes, "This will be Sara's first home concert since her exceptionally well received album, Little Voice , released on Epic a few months back. For Diamondback, this is a proud achievement to be able to bring someone of her caliber, and give the local fans and community a chance to see a true legend in the making."