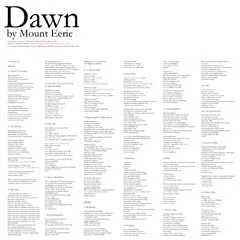 Dawn. Mount Eerie (P.W. Elverum & Sun). The saint of all albums for 2008, Dawn is humble, beautiful, insightful, simple, honest, pure and good; sort of makes me want to cry. A slow-motion journey through the emotionally exhausted heart of Phil Elverum, it holds both renditions of older tracks as well as some fresh ones such as "Voice in Headphones," a stunning and addictive tribute to Bjork's "Undo."
Heretic Pride. Mountain Goats (4AD). These ballads of SoCal deadbeats, excuse me, heretics, vehemently confirm John Darniell as the Lord of bitter and jagged poetry. Tracking characters as they're dragged through the streets, overwhelmed by life, and left lonely once again, Heretic Pride is a painfully honest glimpse at the calm after the storm.
City of Refuge. Castanets (Asthmatic Kitty). Recorded in a lonely desert hotel in unincorporated Overton, Nevada, some 65 miles outside of Las Vegas, City of Refuge is an eerie experiment in silence and simplicity paired with the soft moments of haunting gospel Raymond Raposa has dabbled with in previous releases. Fulfilling that ever-present need for the sad-Americana sound with tracks like "Shadow Valley," the album features minimal yet significant overdubs by a cast the likes of Sufjan Stevens, Jana Hunter, Scott Tuma and Dawn Smithson (of Sun O))) ).
Friendship Nation. Foot Village (Tome Records) Stripped down, cathartic-avant-drum-noise-rock is about the only genre fit to house the L.A. foursome's post-apocalyptic soundtrack; a percussive full-frontal assault of art rock/noise punk fusion, both epically intricate and totally ridiculous. Lyrically explorative, each song tackles issues of the New World Order post-1998 apocalypse, decrying the role of Government, the plight of man and everything in between.
Street Horrrsing. Fuck Buttons (ATP). Looping, progressive noise by Bristol two-man experimental group Fuck Buttons, Street Horrrsing is surging, building and beautiful, incorporating overdriven synths, echoing chimes and blown-out distress calls reminiscent of Dystopia. At 50 minutes long, the six track album is firmly epic if slightly spacey, but well worth its acclaim. Perfect for lovers of metal and Mogwai alike.
St. Dymphna. Gang Gang Dance (The Social Registry).
13 Blues For 13 Moons. Thee Silver Mt. Zion and Tra-La-La Orchestra (Constellation).
Women As Lovers.** Xiu Xiu (Kill Rock Stars).
thebignooneunderstandsme. thelittlestillnotbigenough.
Dark Developments. Vic Chessnut, Elf Power & The Amorphous Strums (Orange Twin).