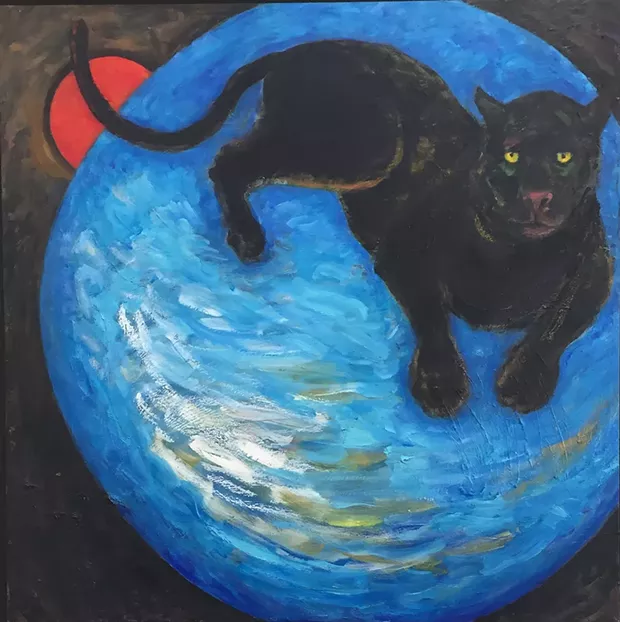 Courtesy of the artist
Harry Blumenthal's dream-inspired "Anima Mundi," (2012). .
Piante Gallery shows work by painter Harry Blumenthal, sculptor Marilyn Andrews and jewelry designer Scott Mitchell this month. Blumenthal's expressionist paintings are up front as you enter the gallery. Painted improvisationally with loose gestural brushwork, they're largely populated with animals and their creaturely subjects prance or slink through brightly colored, vaguely Fauvist landscapes that all seem to have been dipped in the same silvery, uncanny light. Symbols that recur in dreams pop up here as well with regularity: Monkeys and panthers peep out from jungle foliage surrounding a translucent pool in the forest and Henri Rousseau is an unsurprising reference point.
Their maker's involvement with the arts spans four decades. Blumenthal was living in New York City at the Studio School in 1969-72, casting artworks in plaster and bronze with the sculptor George Spaventa. Later he worked as an art teacher for 19 years before embarking on a second career as a psychologist. After practicing psychotherapy in Los Angeles and moving to Humboldt in retirement, he started making paintings and showing his artwork with Sue Natzler at Piante Gallery.
His approach has been influenced by his work with the psychologist Stephen Isenstadt, who introduced him to Jungian models of dream analysis. "Stephen calls the space we're in when we work with images 'the imaginal space,'" the artist observed. "Art gives us a way to experience with our imaginal intelligence."
The current series of dreamscapes was prompted by existential questions about the times in which we live, Blumenthal said. "A lot of this had to do with the concept of elders. Where are we going? Where are the elders? Who are the elders? I was thinking about the anima mundi, the world soul; the spirits of animals, the elders and the ancestors. I was dreaming a lot about big cats."
In the gallery's second space, Marilyn Andrews is showing calligraphic drawings and relief sculptures in earth tones, blacks, reds and shades of chalky white. Placards filled with handwritten dates in different inks are displayed in a pedestal-mounted print rack in what amounts to a deconstructed, minimal diary. Many of the calligraphic dates that fill the cards are simply recorded in cursive, others are written in block letters, a more elaborate script or otherwise annotated and embellished with reference to sets of private and not-so-private codes.
Courtesy of the artist
Necklace by Scott Mitchell.
Andrews' other works reiterate this focus on gauging and documentation, finding equally productive ways to chronicle the lived experience of time. Her drawings and relief constructions are animated by a logic that reminds me of the artist Jasper Johns's famous note to self from 1964: "Take an object/ Do something to it/ Do something else to it." Her works in both media give the impression of having been built through sequential gestures, each responding to previous moves.
The Andrews wall relief "Mwah" fills a shallow box with a group of vintage, precision-mounted industrial fragments to counterbalance a large cast mold of a pair of lips, positioned vertically and painted red. The artist's works on paper, which are more written than drawn, foreground the calligraphic skills Andrews acquired through study with influential Humboldt State University professor Reece Bullen in the 1970s. Each registers the progress of the maker's thought through time. Authors' citations copied out in neat block lettering are juxtaposed with words in copperplate and the occasional sentence in Hebrew script, oriented 90 degrees from the original text. The effect is like a map of the mind's movements between two time points.
The gallery's third room houses Scott Mitchell's jewelry designs: necklaces, mostly, fashioned from the rare and antique beads he collects. Mitchell said his jewelry making evolved from his longstanding interest in beads. His primary interest is in "Neolithic, ancient and antique beads," which he began to collect 11 years ago. The way he sees it, beads are tiny units of material culture: highly portable micro-sculptures whose travels illuminate patterns of ancient trade.
"Thousands of years ago, there was a huge trade route from India into North Africa. Three thousand years ago people were moving back and forth, and beads were moving with them," Mitchell said. Ancient peoples used beads as objects to barter and trade with. "Some were valued for trade. Some were used as currency. And, of course, some were simply valued because they are beautiful. Many of the beads possess unique meanings for the cultures that produce them. Some have designs to keep away the Evil Eye."
Many of Mitchell's designs reunite beads he acquired by painstakingly collecting over a period of months or years. The artist likes to keep beads from particular cultures and historical periods together when possible, but some pieces' rarity makes them one of a kind — those may end up mingling with beads from other periods and styles, creating juxtapositions that can be as visually potent as they are unlikely. Mitchell said he finds restoring these tiny designs to jewelry — the ornamental context for which they were originally envisioned — rewarding. He said it's like "taking them and letting them live again."
Gabrielle Gopinath is an art writer, critic and curator based in Arcata.