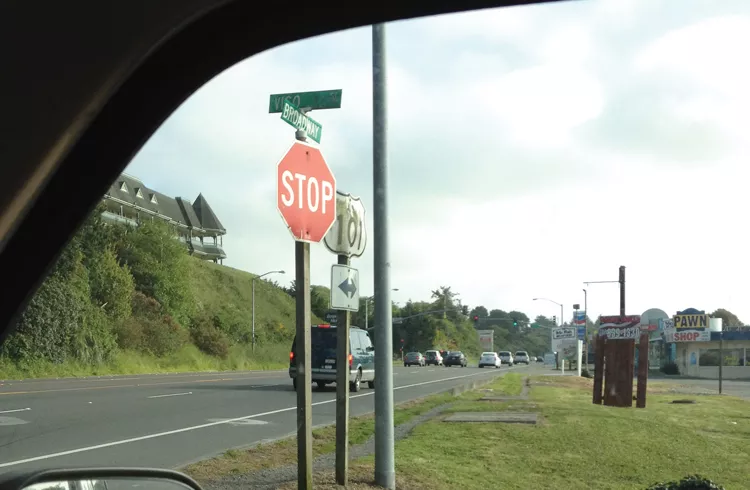 photo by heidi walters.
looking south down broadway from viGo street.
Just before noon last Wednesday, as members of Keep Eureka Beautiful's landscape and beautification committee were settling around a table in an office building in Old Town, one of them handed a photocopy of a recent New York Times opinion piece called "Why Trees Matter" to another member and said, "Read this."
Julian Berg, a designer with LACO Associates, looked at a couple of other attendees standing nearby and repeated, "You should read that. It's really good."
The article, by Jim Robbins, begins by saying that trees "are on the front lines of our changing climate." He notes how we have slaughtered, abused or ignored our planet's trees, severely underestimating their ability to convert sunlight into food, filter air and water, "release vast clouds of beneficial chemicals," shade us from the summer sun, sequester carbon dioxide and, by virtue of their beauty alone, make us feel good. Robbins notes research showing how a "walk in the woods ... reduces the level of stress chemicals in the body and increases natural killer cells in the immune system, which fight tumors and viruses. Studies in inner cities show that anxiety, depression and even crime are lower in a landscaped environment."
Then the committee got down to business. First topic: What to do about Caltrans' failure to include landscaping in a feasibility study of potential improvements to the Broadway/Highway 101 corridor?
The civic group Keep Eureka Beautiful was among several groups and individuals -- everyone from bicyclists to environmentalists to business owners -- invited to give early suggestions for Caltrans' Broadway Feasibility Study. They all first met in early 2011 to talk about ways to improve safety and efficiency -- and beauty, presumably, otherwise why invite the Keep Eureka Beautiful folks? The focus was on a three-mile stretch between the entrance to Kmart on the south end to where the road splits into Fourth and Fifth streets (referred to by Caltrans as the "Fourth/Fifth couplet"). It's a severely congested road, a nonstop jittering of commuters, shoppers and Highway 101 travelers. About 35,000 cars a day slog through. The sidewalks are intermittent, the driveways and cross streets numerous, the distances between crosswalks long, and cars have to jockey for position with bicyclists and pedestrians. Families push strollers across the road from the neighborhood on the east to the markets and other services on the west. And among this busy milieu are probably a good number of folks with anxiety, depression and even crime brewing in their hearts. Caltrans' reasons for doing the feasibility study include the fact that collision rates along some parts of this stretch are four times the statewide average for similar roads.
Just before a public open house in February at the Wharfinger Building to present three potential scenarios for tweaking traffic flow along the roadway, Caltrans did a dry run with all the groups it had invited to give early suggestions. All scenarios -- low build, medium build and high build -- include closing the northbound leg of Fairfield, a road that dives cockeyed into the intersection of Wabash and Broadway; and putting in a signal at Hawthorne Street. The medium-build narrows the median to 2.5 feet from Cedar Street to the Fourth/Fifth couplet (making more room, perhaps, for bike lanes and sidewalks). It also adds a signal at Clark Street, a location featuring a fast, blind curve right by Broadway Medical where, no doubt, there have been innumerable near if not actual collisions between coffee drinkers, gym rats, postal patrons and UPS trucks. The high-build adds to that a 12-foot median between Kmart and Cedar Street, with turn pockets and openings only at signaled intersections. The presenters showed pictures of each. Aside from a smattering of little green spaces planted by some business owners, each scenario is a long, gray monotony of concrete and pavement.
The high-build scenario, according to Caltrans engineers' calculations, would make traffic flow more swiftly, safely and efficiently than the other options.
Whatever. Where were the trees? And the grass?
"At that meeting, I looked at Jeff [Pimentel, Caltrans' project manager] and said, 'I don't see any landscaping anywhere,'" said Ron Kuhnel, vice president of Keep Eureka Beautiful. Landscaping tells tourists this is a town you want to stop and have lunch in. Or shop in.
Kuhnel told a story: Friends of his wanted to retire to Eureka. They came for a visit, entering town by way of Broadway. And they said "No way." They settled in McKinleyville instead.
What's wrong with Broadway? Sidewalks that peter out or become dirt paths. Decrepit residential motels, faded signs and boarded up buildings that have been empty for years. Sure, everything we could need or want is also on this street: car parts, pharmaceuticals, groovy groceries, gasoline, ankle braces, antiques, fast food, middlebrow restaurants, espresso, fresh fish, cell phones. And some of these shopkeepers have adopted their block and keep their properties clean and planted.
Nothing they do, however, seems to fully mitigate the crass pall that hangs over much of the roadway.
For years, people have schemed to fix up ugly Broadway. After Caltrans lost funding to blast a freeway through the heart of Eureka, the department, the city, Humboldt County and others turned their sights on that sad thoroughfare. The city completed a master plan in 1996 for improving Broadway, and in 1999 received $2 million to implement part of it -- prettying up the Fourth and Fifth street corridor through downtown Eureka with trees and kiosks. Later, a horse sculpture went up in a planter at the north entrance. Broadway and the south gateway -- where another sculpture and plants would go -- have languished as priorities shifted and funding grew scarce, said Assistant City Manager-Operations Mike Knight.
Keep Eureka Beautiful also formed in 1996. Its members aim to plant trees along every street, and so far they have planted quite a few. They also help keep city spaces tidy. At last week's meeting, they were talking about an outing to pull weeds in that horse sculpture planter.
Yet another group has sprung up: a "Broadway action team," formed as part of "Prosperity 2012," a follow-up to the 1999 "Prosperity!" in which multiple agencies drummed up an economic development strategy to guide city and county planners. That group will present its recommendations in June.
Caltrans, by its nature, must focus on traffic flow, safety and how to fit new features -- sidewalks, bike lanes, turn signals, medians -- into a constrained corridor abutted by buildings and bluffs. These other groups want safety, of course, but also beauty and livability -- maybe things like tree-graced medians and sidewalks, colored bike lanes for better visibility, bioswales (planted depressions) to absorb runoff and filter it before it seeps to the bay, and grassy areas separating sidewalks from the road.
Wonderful ideas. But there's no money, yet, to do them.
Even Caltrans' Broadway feasibility study doesn't have money attached. It's not an actual project, said District 1 Deputy Director Cheryl Willis. Rather, it's a sort of master plan that will make Broadway improvement projects more competitive for state funds. The study also is a pilot project for Caltrans' engineers to practice using a new modeling tool that allows them to simulate what happens to traffic flow when you tweak a certain element -- say, put in a narrower median or close off a side street. "The modeling just tells you how things flow through there," Willis said. "Landscaping is going to be part of the plan."
That wasn't evident to Keep Eureka Beautiful, however, said Berg, until it met in April with Willis and District 1 Director Charlie Fielder. At that point, Caltrans invited the group to come up with some landscaping suggestions.
So that's what the group is doing now. Caltrans will rework the initial ideas for Broadway and have another round of public meetings later this year. Now's the time to be pondering, again, what we all want for Broadway. It is not, apparently, too late to add trees.