To say it's been a trial by fire undersells it. After all, there have also been earthquakes, bomb cyclones, near-hurricane force winds and that Snowmageddon event in February. Before all those, there were the public safety power shutoffs of 2019 and then the COVID-19 pandemic.
"It's been nonstop," says Andrew Bogar, the disaster program manager for the American Red Cross in Humboldt, Del Norte and Trinity counties. "We're starting to see disasters happen with much more frequency and they're becoming much more complicated. And on top of that, we have to account for where the economy is. We're realizing that before the disaster even happens, a lot of communities are in very vulnerable positions. And you put a disaster on top of that, and there's a lot of compounding concerns."
The barrage of disasters that have battered the North Coast in recent years have tested a region that has long prided itself on resilience. But more importantly, they have forced a network of nonprofits, volunteers and agencies to fine-tune their disaster responses through collaboration and repetition to the point they've forged a kind muscle memory that allows multi-pronged responses that would have been impossible just a few years ago.
Perhaps nowhere has this been more visible in recent weeks than in Del Norte County, where a series of 150 lightning strikes on Aug. 15 have grown into the largest active forest fire in the nation, spanning 85,501 acres with 19 percent containment. As the fires threatened the town of Gasquet and forced the closure of Highway 199 into Oregon, they also crept within a quarter-mile of high-powered electrical transmission lines, forcing the utility company Pacific Power to de-energize them, cutting power off entirely to the communities of Crescent City and Smith River, as well as Pelican Bay State Prison, with little warning.
With hundreds evacuated from their homes and thousands without power in a city inundated with wildfire smoke, the situation was dire. And it didn't come in a vacuum, either. As the flames spread along the Smith River, lightning strikes also sparked fires near Hoopa and Orleans, and Tropical Storm Hilary made landfall in Baja California, moving north.
Undaunted, a network of local nonprofits, businesses and agencies banded together to get help where it was needed, knowing that beyond fire crews, state and federal resources would be limited. In Del Norte County, the school district was on the frontlines.
Del Norte County Unified School District Superintendent Jeff Harris says most of his staff was "off calendar," meaning they hadn't yet returned from summer break for the scheduled Aug. 28 start of the school year. Nonetheless, they leapt into action on a number of fronts, using the district's infrastructure to help where it could.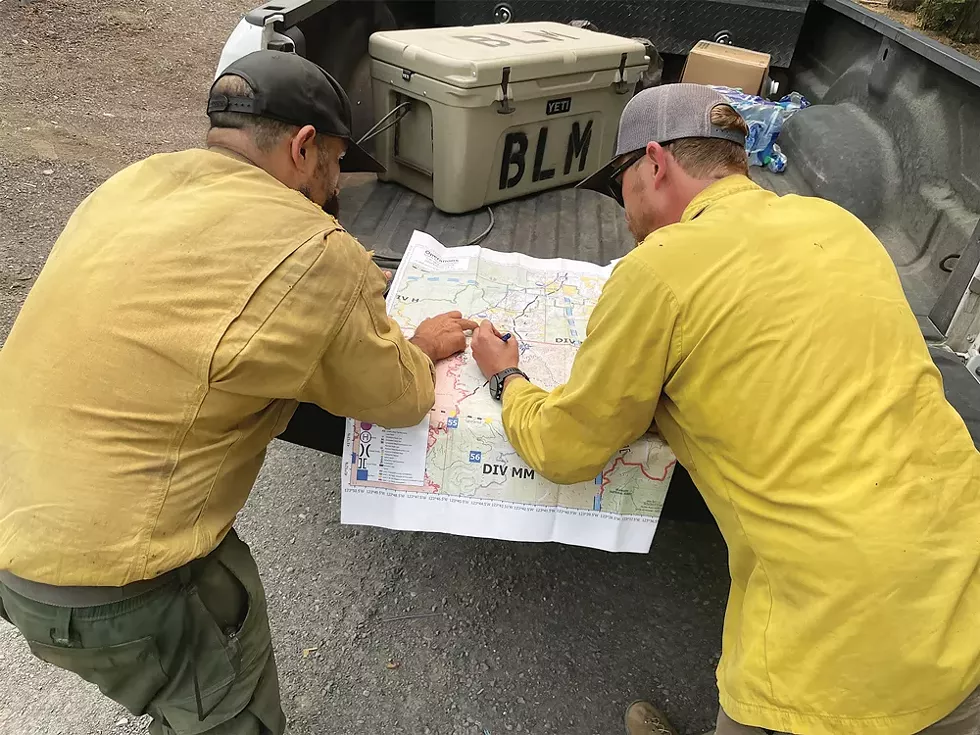 Photo courtesy of CalFire
Fire personnel study a map on the tailgate of a pickup on the Kelly Fire on Aug. 25. They are discussing progress made and locations of work to be completed off the Lone Mountain Road near O'Brien.
The district sent a couple of school buses to Gasquet to help with evacuation efforts there, Harris says, while it also opened its sizeable fuel reserves to first responders. When the power shutoff knocked the county's emergency operations center offline, Harris says the district's information technology specialist was deployed to help, noting that the district also opened a free WiFi hotspot in the high school parking lot to allow residents — most of whom didn't have cell service — to contact loved ones.
The Red Cross, meanwhile, set up a shelter at the Del Norte County Fairgrounds on Aug. 17, primarily staffed by volunteers, to welcome residents of evacuated areas, as well as their livestock and domestic animals.
When power was cut to the city, Bogar says the Red Cross began offering its emergency meal kits to the larger community, offering food "that didn't require power or heat to eat" while planning with the school district for a more robust effort.
Harris says his district's nutrition services program staff was ready to jump into action, knowing a community already prone to food insecurity faced would be in dire need. And the district was in a good position to help, Harris says, noting that, accustomed to road closures and other supply-chain issues, it had invested heavily in freezer, refrigerator and storage space and had "a little bit of a stockpile."
So, Harris says staff committed to not just providing daily hot meals for the more than 130 people staying at the Red Cross shelter and first responders, but also to feeding anyone who wanted a meal. Through a network of contacts, distribution sites were set up throughout the city, with thousands of meals served.
Photo courtesy of CalFire
Fire engines line the roadway outside of Ward Field fire camp in Gasquet on Aug. 24.
And when wildfire smoke became so thick the air was deemed unhealthy to breath, Harris says the district tapped into its supply of N-95 masks and began distributing them to the community, too.
Down in Humboldt County, a handful of organizations formed in recent years also sprang into action.
The Humboldt Community Organizations Active in Disaster (Humboldt COAD), an organization that aims to increase cooperation, communication and coordination between nonprofits, tribal governments, faith-based organizations, volunteer groups, businesses and governments, began coordaining efforts. First mobilized for the earthquake that rocked the Eel River Valley with devastating impacts to Rio Dell in December, the Humboldt COAD began coordinating efforts.
"That partnership and that collaboration has made this fire season so much more collaborative," says Jessica Gregorio, president of Pay it Forward Humboldt, a nonprofit that has been on the front lines of local disaster response since its inception several years ago. "I feel like we are all better supporting each other."
For example, when Bogar put out a call to the Humboldt COAD that the shelter needed towels and toiletries for community members looking to clean up, as well as pillows for evacuees, that message got to Gregorio. In short order, carloads of new towels and pillows from Costco were headed north, driven by a Pay it Forward volunteer.
"Pay it Forward Humboldt has been in the thick of it right alongside us," Bogar says. "We wouldn't be able to do it without them."
Some of the items seem small but can make a big impact, Bogar says, pointing to pillows as an example. They're not something most people think to grab when being evacuated and the Red Cross doesn't provide them, but on day two, three or four in a shelter, "those things make a huge difference."
Gregorio agrees, saying those types of things matter.
"To receive something that's brand new, just for you, that you get to lay your head on, it's deeper than just a pillow," she says.
Bogar says Pay it Forward — which Gregorio says has no paid employees and is run by herself and two other volunteers — was also crucial in an effort to help the Karuk Tribe evacuate regalia and cultural items from fire danger in the Orleans area, quickly getting clean totes on site to be loaded up and driven to safety. The nonprofit has also been collecting box fans and air filters to be crafted into make-shift air purifiers to be sent to the Orleans area, and recently posted on social media that it delivered 900 pairs of socks to Del Norte area resource centers.
"It's been go, go, go," says Gregorio. "But it wouldn't be fire season if I wasn't exhausted."
Another recently minted local collaboration has also come froward to play an integral role in getting help to our neighbors in Del Norte.
Facebook/Pay it Forward Humboldt
Food for People, Humboldt Made and Pay it Forward Humboldt recently teamed up to send 900 pairs of socks to family resource centers in Del Norte County and box fans and air filters east to Willow Creek and Hoopa.
The Harvest Hub, a project of the North Coast Growers Association, works to connect local farmers with wholesale buyers, like schools, Food for People and local restaurants, says Megan Kenny, its director (and co-chair of Humboldt COAD's food access working group). Last week, the hub worked closely with Pay it Forward, Humboldt Made and the COAD to get donated potatoes, summer squash, tomatoes and melon from local farmers to the Family Resource Center of the Redwoods in Crescent City.
"Thanks to the planning phase leading up to the launch of the Harvest Hub, I have been in conversation with all these entities previously to determine where the gaps are in our local food system, both during and outside of emergencies, so that when quick coordination of efforts is needed we already have a strong working relationship," Kenney says, adding that after identifying food storage capacity as a need locally, the Hub invested in large cold and dry storage spaces, as well as a delivery vehicle. "Because of this new space, NCGA was able to donate the produce that helped Del Norte residents during the evacuation and prolonged power outage. Without this investment in critical food infrastructure, their community would have needed to rely on deliveries from outside the county, which were delayed."
Amid the direct response of getting food and supplies where they're needed, the Humboldt Area Foundation and the Wild Rivers Community Foundation announced Aug. 30 they were distributing $120,000 through 12 fire response grants to organizations and agencies providing relief.
Humboldt County Fifth District Supervisor Steve Madrone says the fact of the matter is the county's Office of Emergency Services is "really small," so the local capacity to respond to disasters depends on "highly engaged" nonprofits working together, adding that the Humboldt COAD has been a huge step forward.
"I think they're doing nothing but positive work in trying to bring people together," Madrone says, adding that it's been a "trial by fire" for the Humboldt COAD, which has responded to a string of disasters since its initial activation in December.
Up in Del Norte County, things seem to have stabilized a bit. Since Aug. 25, Pacific Power has been providing electrical service to all of Crescent City, Smith River, the Yurok Reservation and Pelican Bay State Prison using a massive network of industrial generators, while some wet weather has helped fire crews get a handle on the blaze. Schools started Sept. 5, and there's a cautious optimism the worst has passed. But even if that's the case, there's a sense of certainty that the next disaster looms just out of sight.
Photo courtesy of CalFire
Crescent City community meeting on Aug. 23.
Gregorio says she's so happy with all the support Pay it Forward Humboldt has received in the form of the donated items it then funnels to places where they're needed most. (For a constantly updated list of what's needed, visit tinyurl.com/pifh2023.) But what the nonprofit needs most, she says, is volunteers, whether it be to drive supplies to Orleans, Crescent City or wherever they're needed next, or just to answer the phones.
"Pay it Forward is just three of us, so everything helps," she says, adding that she and her colleagues also have full-time jobs to juggle.
Bogar says the North Coast is on "the front lines of climate change" and that communities will increasingly be competing nationally for resources as disasters become more commonplace, making them increasingly reliant on local nonprofits and organizations, as well as their own resilience. He also notes that in times of disaster, folks feel inspired to volunteer. But at least in the case of the Red Cross, it's too late once disaster strikes, as the organization needs to do background checks for volunteers and put them through a training program.
"The last thing we want to do is throw someone in the deep end without floaties or a lifeguard," Bogar says. "The time to join us would be now so we can get you ready for the next disaster."
Thadeus Greenson (he/him) is the Journal's news editor. Reach him at (707) 442-1400, extension 321, or thad@northcoastjournal.com.