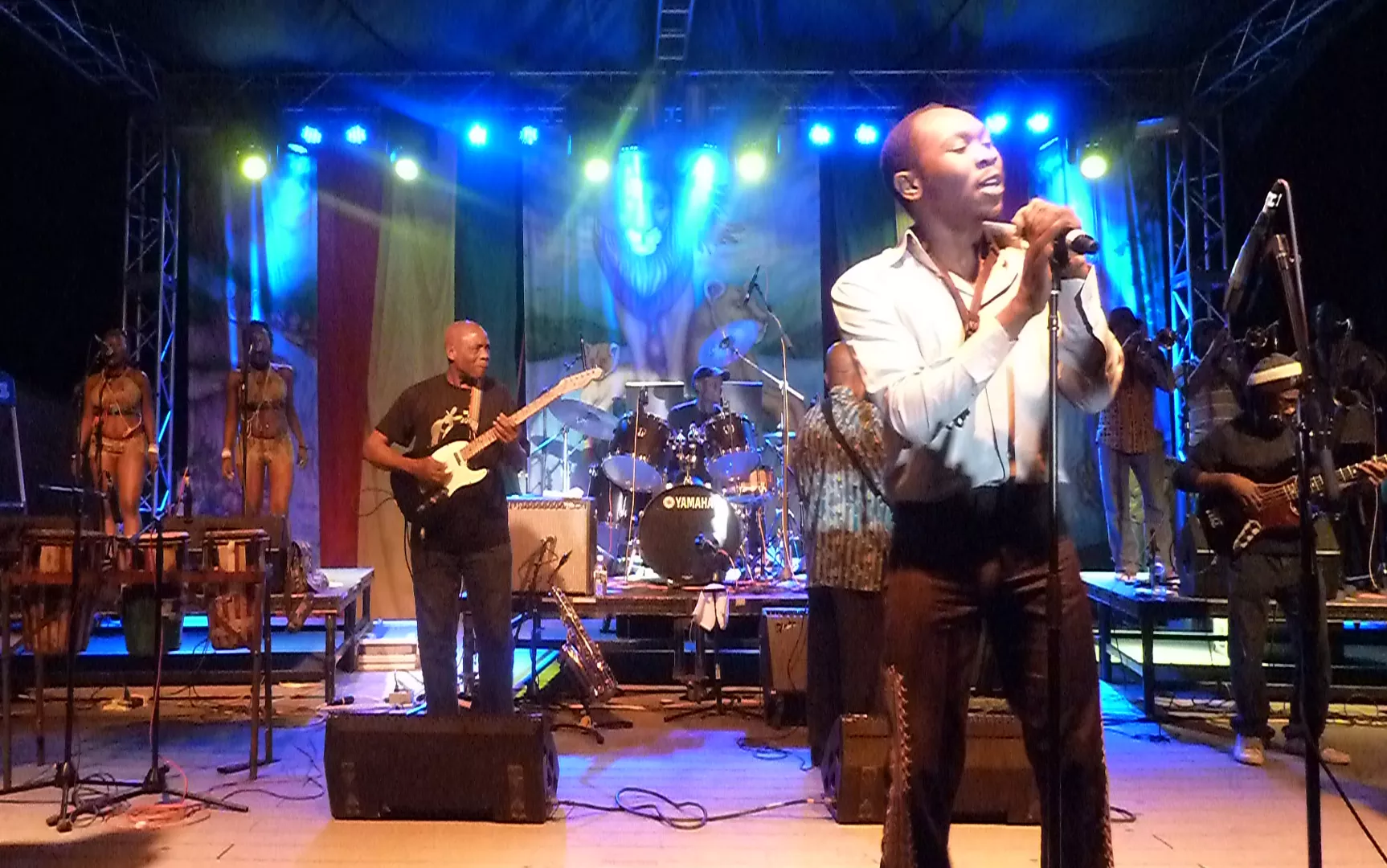 photo by Bob Doran
Seun Kuti and Egypt 80 at Reggae on the River
As the sun set on the final day of last summer's Reggae on the River, Seun Kuti's band, Egypt 80, filled the stage and eased into a rock-solid Afrofunk groove. Like the bandleader, the gyrating dancers and many of the players were young, but the bass player and guitarist were clearly veterans, guys who'd backed Seun's illustrious father Fela Kuti, the godfather of Nigerian Afrobeat in the '70s version of Egypt 80.
When Seun took the stage, everything fell into place. Alternating between his wailing sax, intense vocals and ecstatic dancing, he brought the crowd to a fever pitch with songs like "Don't Give That Shit To Me," an update on Fela's classic protest, "Expensive Shit." Seun is clearly a man on a mission beyond laying down a groove: He wants to give the people of his homeland a voice.
As he explained to a reporter last year, "As an African, you realize that the ordinary people do not have a voice. The ruling elites, which were chosen by Western countries in the 1950s and 1960s, have allowed Africa to develop in terms agreeable to the West. The elites have no interest in what the people go through or the harsh life of the people. It is only these rulers who have a voice, who CNN put on TV, who BBC will talk to daily and who spread their own propaganda to the world. Nobody comes to Africa to listen to the common man's voice. So it is up to artists who can escape this trap and have a voice on international radio and TV, to speak the truth about Africa."
Saturday night, March 24, Seun Kuti and Egypt 80 return to SoHum to speak truth to power at the Mateel Community Center in Redway. The local drum and dance troupe SambAmore opens the show with its Afro-Brazilian rhythms. Bay Area/Humboldt amalgam AfroMassive plays a set of Fela-inspired Cali-Afrofunk. DJ BadaBoon fills in the gaps. Show admission is $30, $27 in advance, discount for Mateel members. Doors open at 7 p.m. with an African dinner. Go to www.mateel.org or call 923-3368 for further details.