Heads up, Humboldt:
While the county's masking mandate has been lifted, Public Health is still strongly recommending masking indoors in public, social distancing and "avoiding crowds and poorly ventilated spaces." COVID-19 is still with us, so be sure to check the protocols at event venues.
Try Out Girl Scouts: Be Your Own Boss
When: Wed., Feb. 10, 6-7 p.m., Wed., Feb. 24, 6-7 p.m. and Sun., Feb. 28, 4-5 p.m. 2021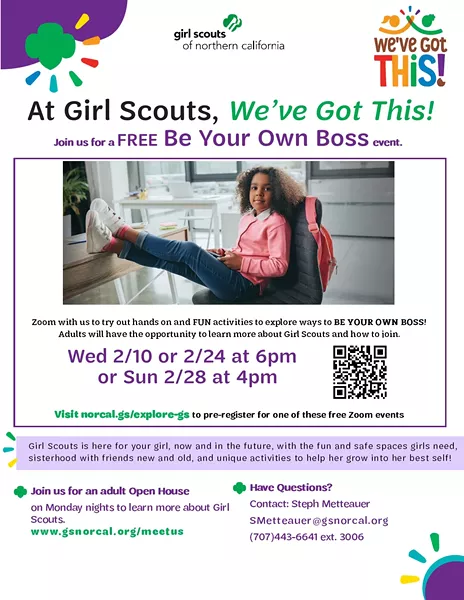 Girl Scouts is here for your girl, now and in the future, with the fun and safe spaces girls need, sisterhood with friends new and old, and unique activities to help her grow into her best self! Zoom in with your girl(s) virtually to try out hands-on and FUN activities as they explore ways to be their own BOSS. You will not only see how Girl Scouts provides a space for your daughter to make new friends while participating in engaging activities – but you will also be able to explore how to start your Girl Scout journey with us!