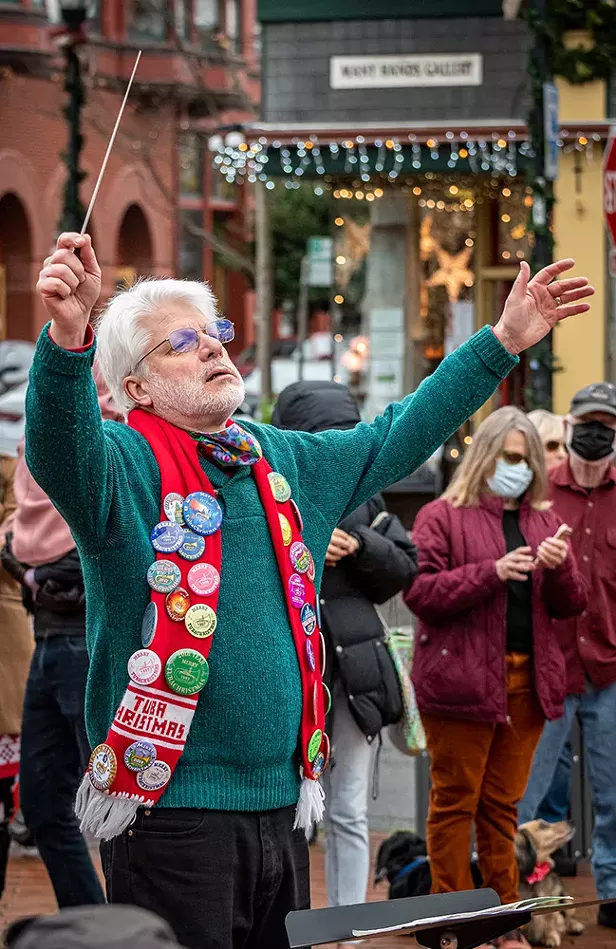 Photo by Mark Larson
TubaChristmas director Fred Tempas has been involved with the group's performances since 1988 and has lots of commenmorative buttons to prove it.
Photo by Mark Larson
Many attendees like Robert Adams (left), Monica Topping and Alton at TubaChristmas came dressed in masks and holiday attire...including a few of those special holiday sweaters.
Photo by Mark Larson
The tuba version of "I Want a Hippopotamus for Christmas" was a crowd pleaser, with Fred Tempas directing.
Photo by Mark Larson
Lani Sams, of Ferndale, wore her Santa hat with TubaChristmas buttons and played her euphonium, a medium-sized, tenor-voiced brass instrument that derives its name from the ancient Greek word euphnos, meaning "well-sounding" or "sweet-voiced."
Photo by Mark Larson
Gary Rogers played his highly decorated tuba with its button evidence of past TubaChristmas performances. A 1983 HSU graduate, Rogers said playing in the Marching Lumberjacks band back in the day was a huge influence in why he chose to come to HSU.
Photo by Mark Larson
Jude Carter, age 11, has been "playing" in the TubaChristmas performances since he was 3 with his father and grandparents – but only in recent years did he have an instrument that would make sounds.
Photo by Mark Larson
Long-time and now retired music educator Christie Lynn Rust, of Crescent City, performed on an unusual double-belled euphonium.
Photo by Mark Larson
Tubas were everywhere at TubaChristmas, including this ornament on a tuba player's stocking cap.
Photo by Mark Larson
Nick Aronoff, of Medford, Oregon, said he first began playing in TubaChristmas events in Los Angeles back in 1995.
Photo by Mark Larson
Over 150 mostly masked attendees listened to the TubaChristmas performance directed by Fred Tempas at the Gazebo in Old Town on Saturday. They followed this event with another performance in McKinleyville later in the afternoon.
Photo by Mark Larson
Santa indeed did show up in Old Town as the TubaChristmas group performed "Santa Claus is Coming to Town."