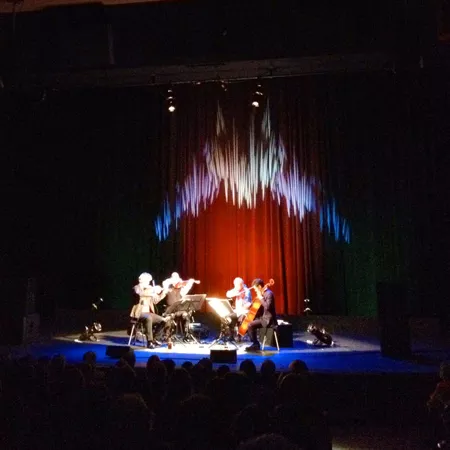 Last night's concert by Kronos Quartet was truly amazing, a collection of tunes with an arch that started with "Aheym," a song with Yiddish allusions by Bryce Dessner, guitarist for The National, written for Kronos to mark minimalist composer Steve Reich's 75th birthday. The quartet then moved into Arabic music, including "Tashweesh," by the Palestinian music collective Ramallah Underground; they ended the show with Reich's fearsomely heavy "WTC 9/11," which incorporated voices from the terrible day. (It wasn't mentioned last night, but the art work for the album containing that piece created some controversy when it first was released.)
After ending on that dark note, the quartet returned for an encore to play a beautifully uplifting song called "Tusen Tankar" (A Thousand Thoughts) they'd learned from the Swedish folk ensemble Triakel.
As we walked home from the Van Duzer, sifting through a thousand thoughts, my wife Amy (who has Swedish roots) said she wanted to hear the song again. Her googling produced this link to a blog post about the song from a few years ago, including a link to Trikel's version. The comment thread ends with a link to a video of Kronos performing "Tusen Tankar" in Glasgow's Hamilton Mausoleum, a room with fantastic natural reverb that stretches the notes out -- gorgeous.