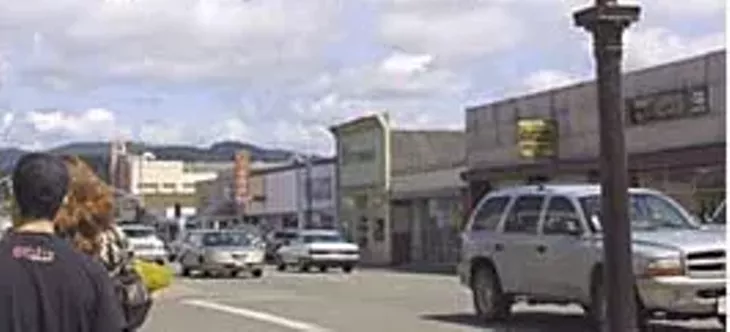 5 slides
In January of this year, journalism students in a class in investigative reporting at HSU taught by Marcy Burstiner explored the concerns of people in two different Humboldt County towns: Fortuna and Arcata. What drew them was a troubling statistic from the 2000 US Census; despite the obvious differences of these two cities -- one whose economy is based on farming and timber, the other centered around a university -- both have pockets of the highest level of family poverty in Humboldt County. They set off in pairs to 10 different spots -- five in each city, and knocked on doors. They interviewed more than a dozen residents about their community, but let each set the direction of the conversation. Each said they loved where they lived but were concerned about the diminishing quality of life. The students then set out to interview people who could help explain why residents felt that way -- employers, policy makers, city planners and academics. Over the course of three months, the students interviewed about 75 people about the two towns and the people who live in them. This story came out of that exploration.
The students involved in the project were: Briana Alfaro, Ashley Bailey, Zachary Cinek, Chad Harris, Allie Hostler, Torrin Hults, Nicholas Jackson, Heather Jones, Isaura Linares, Jocelyn Orr, John Osborn, Garrett Purchio, Renee Rivas, Mike Sano, Brett Shiells, Joseph Shreve, Terria Smith, Sarah Warnock, Blake Weaver, Emily Wilson and Alan Workman.
Drive into Fortuna and this is what you'll find: against a backdrop of redwood-covered hills, a main street that seems frozen in time, where shops offer things people need. A pharmacy, a mattress shop, a hardware store, a barber. People eat lunch at Bob's Footlongs.
Thirty miles north, around the Arcata Plaza, stores sell things people buy when they've got extra cash: sofas for $3,000, kayaks and top-of-the-line bicycles, fudge and artisan jewelry, wine and fancy gardening tools. For lunch, Brio offers a Niman Ranch pastrami sandwich, or you can get crepes at Renata's.
In some ways Arcata and Fortuna couldn't be more different. According to the 2000 U.S. Census, 63 percent of housing in Arcata is rented. In Fortuna, 66 percent is owned. Fortuna encourages expansion. Arcata resists.
But within both towns you'll find working-class people with remarkably similar concerns. They see new people moving in around them -- retirees who push up the price of housing and impoverished people looking for jobs or social services. They see costs rise while wages stagnate. They see plans for development everywhere that seem tailored to the needs of only a portion of the population, or to future residents.
It could be that people have unrealistic expectations. They want what they love about their communities to stay unchanged, yet they want improvements that can only come with change. Meeting the needs of all residents means that at least some will have to compromise. And people who live in towns often have a hard time understanding that their governments can't solve all problems.
But talk to people in both towns in their homes and then talk to leaders in the community and what you find is a disconnect between the concerns of many of the people who live there and the plans being made for the future of each town.
Regardless of whether they rent or own their own homes, have jobs or get by on disability assistance -- they say they have loved living in their community but are concerned that it won't be a place for them or their families in the future. Some are simply getting priced out. Others say they or their children can't find good jobs and won't be able to afford a home here. And even as town leaders and planners prioritize the needs of big or small businesses and retirees coming in from elsewhere, they may be overlooking the concerns of at least some of their current residents.
Take Patty Delancey, who shares a two bedroom, one bath apartment with her 23-year-old daughter, two grandchildren and a Pomeranian they had to shave because of a bad case of fleas. They live off Newburg Road, in one of the less desirable areas of Fortuna. Their living room is piled with toys, clothes, old water and juice containers and packages of ramen noodles. When Delancey moved to Fortuna from Sacramento, someone broke into her U-Haul trailer outside the hotel she was staying at in Willits and stole nearly all of her belongings. For a month she stayed in a tent on an Indian reservation until she could find a place to live. But you might say the move saved her life. Doctors had given her just six months to live. She was dying of lung disease, and they suggested that living near cool, ocean air might help. That was six years ago. "I love it here," she said of Fortuna.
These days she spends most of her days hooked up to an oxygen tank. She and her daughter, Bridget, survive on her disability assistance and she worries how her daughter will fare once she's gone. Bridget Delancey used to work at a local 76 station but quit because the minimum wage barely paid for child care.
To Delancey, Fortuna has been a place that has literally kept her alive, but it's changing, and those changes won't likely help her family. "You see new homes and new people," she said, "but no business to support them."
Over in Arcata, Melanie Bright takes in stray, sick and injured cats, nurses them back to health and finds them homes. There's Bean, for example, who she's kept alive for five years by giving him daily insulin shots. Along the wall of the complex below her bedroom window rests a cat ladder. "This is a veritable cat hospital," Bright said.
An administrative assistant for the Open Door Community Health Care Centers, Bright likes the area and the people. It's why she came here from Missouri 11 years ago. She loves the temperate weather, fresh air, beaches, healthy food, community events like the Farmers' Market, the close proximity of everything she needs, and Arcata's slow expansion.
But it's getting more expensive for her to stay; she pays more than $600 a month for rent for an apartment in one of those two-story complexes you can see as you head south on H Street from the Sunset exit, off Highway 101. Her front entrance is a sliding-glass door. It faces a parking lot, and car exhaust sometimes leaks into her place. Her rent has risen several times over the past few years. Seven years ago it was $425 a month. Bright said her quality of life would improve if it weren't for the struggle between wages and rent.
She's not alone. In Arcata, rental prices have seen a 20 percent increase since 2002. Three-bedroom houses are renting for from $1,350 per month to as high as $1,700, depending on the property and its location, says Joyce A. Mullins, a broker at California Lifestyles Reality in Arcata. Two-bedroom apartments go for as high as $1,100. The culture and easy access of the town make the higher rent prices a trade off for Arcata citizens, she says. "People want to live here."
But you hear the same thing in Fortuna. "People are just trying to live and work, and up here it is hard to do both," says property manager Michael Holliday. People like Fortuna, Holliday says, but they can't afford to stay. Since more and more people are working in Eureka and Arcata, high gas prices might chase many families closer to their jobs. Holliday says rent for a three-bedroom and two-bath Fortuna house went from $1,000 to $1,300 per month during the recent real estate boom. And it hasn't gone down.
It wasn't that long ago that in both towns you could find good jobs and a cheap place to live. "There used to be thousands of good-paying jobs in [the timber] industry," says Fortuna Mayor John Campbell. "A lot of young people came out of high school and either couldn't afford or didn't want to attend university, and they had a good safety net, a timber job with good pay and health benefits."
Between the closure of the Eel River Sawmill, the decline of Pacific Lumber and the closing of the Blue Lake Forest Products mill, thousands of quality jobs evaporated. Now, even as home prices and rents rise, the employment market is split between high-paying jobs for professionals with advanced degrees and, for everyone else, minimum wage jobs that require six months to a year before benefits kick in, if they kick in at all.
At Sun Valley Floral Farms in the Arcata Bottoms, for example, new hires and part-time workers earn minimum wage, while people who work for more than a year become full-time workers and get a 401k plan and health insurance. Anyone who works the night shift from 6 p.m. to 12 a.m. earns a dollar more an hour. So many workers ride the bus to work, that Sun Valley worked with the Redwood Transit System to have a route end at their complex. Sun Valley CEO Lane DeVries says that mostly because of the employment benefits for full-timers, his company has low turnover. "We're pretty blessed," DeVries says.
At Kokatat, an Arcata-based company that manufactures kayaking gear and apparel, most of the jobs involve sewing, cutting fabric and operating other lightweight machinery. These manufacturing workers at Kokatat start out at a little above minimum wage, and after training they begin to receive raises. The rewards come for those who can stick it out. Several sewing machine operators make $30,000 a year and the top sewing machine operator, who has also been with the company the longest, makes $40,000 a year.
Most people there don't stick it out. Kit Mann, the vice-president of Kokatat, says they hire new people all the time. That's partly because those jobs have high turnover because they are difficult and monotonous. "It takes a certain type of person to do that every day," Mann says. "I have a lot of respect for [the workers]. I couldn't do what they do."
Arcata resident Guida Coelho knows what it is like to work a difficult job for little money. Originally from Portugal, Coelho moved here from the East Coast with her husband 29 years ago. Her first job in Humboldt County was miserable. She worked in Eureka, prying open oyster shells for minimum wage. "I cried, but I had to do it," Coelho says. "I had a family to support." For the last 18 years Coelho has worked at Tomas Jewelry in Arcata. She doesn't mind her job, but she is concerned about her community.
Coelho says that she used to really like the area. "When I moved here 30 years ago, it was a nice town," she says. Both of her children attend Humboldt State and expect to graduate this year and next. She wants them to leave Humboldt County for better opportunities.
"In my family, everyone tries to make a nice life for themselves," she says. "That's what I try to teach my kids." Coelho says it will be hard to see them leave, but she feels that it's in their best interest. "I don't want my children to stay here," Coelho says. "I don't think there's a future here for anything. Jobs, housing, everything."
Things have gotten so expensive in Arcata that she drives to Winco in Eureka and Kmart in McKinleyville to shop. Meanwhile, she thinks the city often has its priorities wrong. Her neighbor across the street wanted to build a home on the property he bought. He had to wait three years before the city let him build.
"I pay my taxes, my neighbors pay their taxes," she says. "The city should keep to its own business. If we want to build on our land, it shouldn't be any of their business."
She sees increasing numbers of homeless people all around her and little being done about that. She cries when she sees young mothers on the streets.
"I try to help hungry people," she says. "I buy them food. I don't give them money. I care about people who don't have anything."
It seems that increasing numbers of people in Arcata and Fortuna, and throughout Humboldt County, need handouts. Ask Jyl Barnett, the Nutrition and Outreach Coordinator for Food for People who is seeing more working families at the food bank, people who just don't make enough money to get by.
"The people we serve are working families making minimum wage, as well as seniors and others in need," Barnett says. She says seniors and children in particular were often the hardest-hit victims in struggles for food, medical expenses and heating.
Or take a trip to some of the schools. In both Fortuna and Arcata more than half the children receive free or subsidized lunches.
And living one step above the folks that Coelho gives food to on the streets, or who receive food from the food banks or meal programs, are thousands of others living on a mountain of credit. Rosie Wentworth, education director of Consumer Credit Counseling Service in Arcata, says that in 2006, 1,406 people in Humboldt County inquired about counseling services. Her service counseled 892 people for debt management, she says, and 422 people needed help declaring bankruptcy. Wentworth says that the average monthly gross income of their clients was $2,699, but that an average client was $22,368 in the hole. Of these clients, 27 percent were homeowners.
Ask people exactly what is wrong with their town and you'll get a list of complaints. Ask them what it is they like or liked in the past, and they have a more difficult time putting that into words.
For Fortuna residents Mike and Pam Johnson, it's about how people in a small community will help each other out. Mike Johnson works for the City of Fortuna in charge of streets and construction. His aunt moved to town to be near them after she broke her hip and couldn't drive. Late one night, she ran out of her prescription medicine. Instead of panicking, Mike Johnson simply rang the owner of Green's Pharmacy and after telling him the problem the pharmacist met him at the store and filled it. Or there's the postman and the guy who delivers UPS packages. If the Johnsons aren't home when a package arrives they'll tend to get it later in the day; the postman will find them walking their Dachshund, Sweet Pea, or the UPS man will find Mike Johnson at a construction site and hand him the package instead of driving it back to Eureka according to procedure. And when their son was in high school, they always knew where he was, because watchful neighbors would call to tell him they'd seen his car or they'd seen him hanging out at the park. The town's watchful eye kept the Johnson boy out of trouble.
"In every community there is always going to be some needs and blessings," Pam Johnson says. "I think there are more blessings in Fortuna."
Humboldt State sociology professor Judith Little serves on the Arcata Economic Development Commission and thinks about quality of life issues.
In a healthy community, she says, goods and services that residents need to survive are produced and available locally. In this kind of integrated community people tend to be more concerned about safety, environment, pollution, and as a result you end up with lower crime. When people shop locally, she says, they invest money in the town rather than at a chain store, and that multiplies money throughout the local economy. "You don't have a lot of stuff, but what you have is quality," she says.
But people who are hard up will sacrifice community quality for economic opportunities.
"Big-box stores bring much greater choice at lower prices," says Little. "If your child is starving, big box stores may look attractive."
It's that trade-off that both Arcata and Fortuna are weighing in their plans for the future.
HSU Economics Professor Steve Hackett advises both cities of Arcata and Fortuna on economic development policy and helped both write the economic sections of their general plans. Both are taking different approaches based on different priorities.
"Different communities have different dominating values," he says. "Important community values are weighed into policy change. While Arcata is trying to increase local business and entrepreneurialism, Fortuna is hoping to increase not only jobs but shoppers, which will bring in tax revenue. Each community has to decide what is more important to them."
In Fortuna, the economy is moving from post-manufacturing to a service-oriented economy, Hackett says. Arcata did this a long time ago, but this is a recent change for the "Friendly City." The town is also debating whether or not to let so called big-box stores be built, to boost local retail taxes.
In their different approaches to economic development, both cities may be missing the mark. And the problem may come down to prioritizing the needs and desires of some types of residents over others.
Maria Corral-Ribordy, an HSU lecturer who just completed a master's thesis on the needs of undocumented immigrant women in Humboldt County, said that in a so-called healthy community, laborers should be able to afford the goods they produce and they should be able to live in the community in which they work. When talking about quality of life issues, Corral-Ribordy says, the term should have some meaning for every segment of the population -- and that means that all socio-economic classes have opportunities for decent housing, jobs and leisure. For that to happen, everybody who is involved in or affected by how the community functions has to be considered a fundamental part of the community and included in the policy making process.
It doesn't seem as if that is happening in either city.
Arcata's General Plan and city policies prioritize small business and open space. Mike Mullen, community development planning program manager for the city of Arcata, says that five years ago, the city passed an ordinance to cap the number of large, chain restaurants, such as Burger King, Denny's, McDonalds and Taco Bell. "Arcata is trying to preserve a small-town atmosphere," he says.
The problem is that in limiting businesses, the city also limits potential jobs and drives people like Guida Coelho to other cities for food, clothes and other goods.
In Fortuna, Campbell notes that the Fortuna general plan predicts a growth of about 4,500 residents by 2030. He says the city is anticipating more retirees moving up from the south. "They don't want to travel far for their shopping, especially with the high gas prices, so we have to try to tune the retail stores to their needs," he says. "We'll need more medical care and facilities to accommodate for that."
While planning for retirees, the city seems to be overlooking its other fast-growing population, that of newly arrived Latino immigrants looking for jobs to support growing families. Consider that 25 percent of those enrolled in Fortuna area schools checked Spanish as their first language. That language difference makes it difficult for new families moving in to speak up about their needs and priorities.
Stephen Avis, assistant city planner for the city of Fortuna, says one problem is that a disproportionate number of senior citizens attend city meetings and make their voices heard. When an issue of concern to seniors arises, they show up to the meeting. The same cannot be said of the Spanish-speaking i mmigrant population. Although the community holds festivals and parties in the park, they largely remain absent from civic activities. "If you were to walk through Fortuna," Avis says, "you wouldn't be aware of [that community]."
Ana Alvarado and her husband bought their first home in Fortuna four years ago. They now receive invitations to city meetings. But she suspects that many of the Latino families in Fortuna do not receive mailings about city meetings because they are renters. Even if they did, she says, they probably would not go because the invitation and the meetings are in English, and their first language is Spanish.
The Alvarados are not newly arrived immigrants. Ana Alvarado moved from Michoacan, Mexico, to Humboldt County at the age of 2, 26 years ago. Her parents viewed jobs in the dairy farms and sawmills as economic opportunity for their family. Although they never planned to stay in America, they now can't imagine leaving. Alvarado says she rarely leaves the county.
"I grew up here (Humboldt County) and I like it," she says. While she can't imagine leaving, she expects her children will. The job opportunities will be elsewhere. "I'd like to see my kids graduate," she says. "My oldest is nine. She really likes space, and has talked about being a scientist."
It'll be some time before Patty Delancey's young grandchildren have to think about jobs. In her living room one day recently, they scampered around her. Her 3-year-old granddaughter sat in a kid-sized chair watching cartoons, clad only in a shirt and underwear. After some time, she scampered off to a bedroom to put on a pair of thermal pants, then waltzed back, proud of her independence. "Look Grandma! Look! I put my pink pants on!" she said.
Delancey looked at her 4-year-old grandson, who hid behind a small chair close to the television set, a bit upset and embarrassed because he wore no clothes. "Well, see, baby. That'll teach yah to put clothes on," Delancey said. He soon wrapped himself in a blanket and took refuge in the bedroom.
Early this month, Delancey had to go back into the hospital for medical treatment. She came down with pneumonia and her body almost quit on her. Almost. She pulled through, and her doctors are giving her advice on how to stay strong and keep death at bay as long as possible. The care they gave her made her realize how much she loves Humboldt County.
If you want to define the quality of her community you could do it with one word: people.
Back in Sacramento she felt as if she were being treated as a number and the doctors only seemed to care whether or not she had insurance. Here, she says, her doctor never even asked her about insurance. "I have the greatest support group of doctors around!" she says. "The doctors here are 500 times better than in Sacramento. Here they care more about the people than the money."