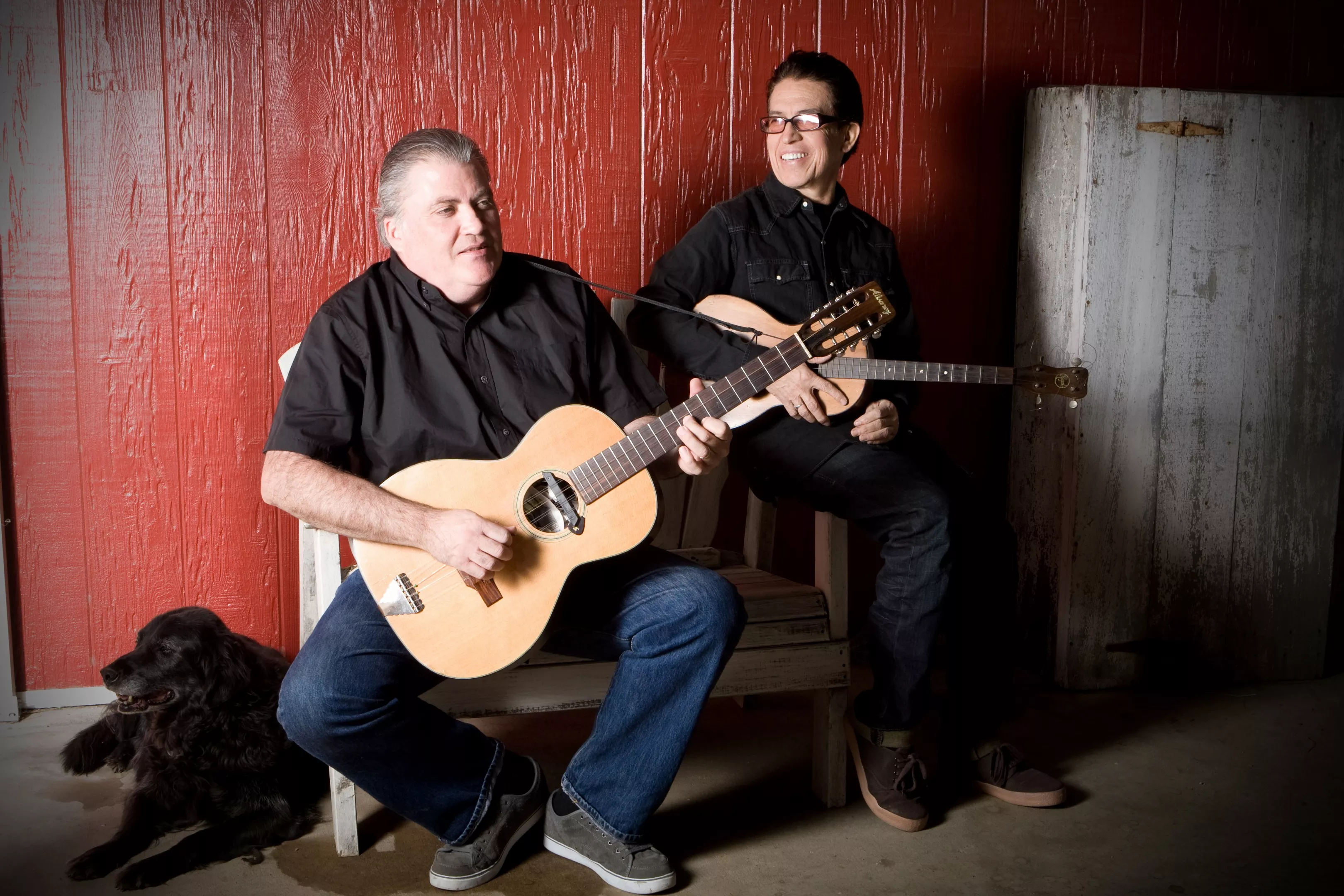 photo by Anna Webber
David Hidalgo and Louie Perez
At the heart of the Los Angelino rock band Los Lobos is the songwriting team of guitarist/vocalist David Hidalgo and lyricist/multi-instrumentalist Louie Perez, friends who have been crafting tunes together for around 40 years.
Both grew up in East L.A. -- Perez in a household where his mother played ranchero music on the radio and took the kids to see Mexican bands in downtown theaters.
"When I was about 10, she saved up the dough and went to Milan's Music Store on First Street in East Los Angeles and bought me my first acoustic guitar. That was it," he said, calling from his home in Orange County.
"By the time I was 14 or 15, my life had been wrecked by Jimi Hendrix," he added. Up until then he'd been attending Catholic parochial schools, but as he put it, "Half-way through 10th grade they politely asked if I would maybe go to another school."
He went public. "I arrived at James A. Garfield High School part way through the school year. That's when I met David, in art class. Music was the connection for us. His brother was a musician, a drummer, so he'd always had instruments around when he was growing up -- electric guitars, drums. His father, Joe, was into music by The Ink Spots, Cab Calloway, that sort of thing. I had a more traditional music upbringing."
They became friends through comparing notes on common themes in their record collections -- both had LPs by Fairport Convention and Ry Cooder's Into the Purple Valley.
"I was the new kid at school, and in this art class we'd sit at the back and hide behind the easels and talk about mutual tastes in music. We were kind of hippies -- our group of friends were known as the freaks at school -- we were the kids who smoked pot, listened to Firesign Theater and watched The Muppet Show, all that kind of stuff."
Perez was a year ahead. When he graduated, he moved into the Hidalgo home and slept on the couch. "We'd play guitars and started putting songs together. This tour we're doing is really a celebration of 40 years of writing songs together."
Ostensibly, the Perez/Hidalgo tour is connected to a duo album, The Long Goodbye, a collection of unreleased songs from the past. The tunes do not span 40 years however. Most are actually demos recorded at the end of the '80s, in between the traditional set, La Pistola y El Corazón and The Neighborhood.
Los Lobos had made several moderately successful albums in the early '80s, but did not really gain major fame until the biopic La Bamba. The band from East L.A. was enlisted to do a soundtrack album with covers of hits by the late '50s Latino rocker Richie Valens. The record was a smash -- it hit the top of the Billboard charts in September 1987 -- and for better or worse, the ace songwriters of Los Lobos found stardom playing someone else's songs.
At the time, it seemed like some sort of curse -- Perez admits it caused a momentary identity crisis -- but in retrospect he sees it in a positive light.
"It put up on the map and gave us the opportunity to do what we wanted. We ended up following this worldwide hit -- a quajillion platinum record or whatever -- with a record of traditional Mexican music. A lot of critics said we were committing commercial suicide. But for us, it was like we had to do something radical to get back on track.
"After that was done, David and I started writing again. We did this group of songs, did demos for them, but by the time we went into recording mode for The Neighborhood, they were forgotten."
Fast forward to an earlier Perez/Hidalgo duo tour. They wanted some new merch, "a souvenir of the shows," as Perez put it, so they dug out the old tapes from that session, cleaned them up and found a few more songs (and a spoken word piece by Perez) to fill up a CD. Now they're on the road again with a (non-Lobos) rhythm section, sharing songs and stories. Suffice to say, they have a lot of tales to tell and some truly great songs to sing.
CenterArts presents David Hidalgo and Louie Perez and friends in concert at HSU's Van Duzer Theatre starting at 8 p.m. on Wednesday, Jan. 18. Tickets are $35, $15 for HSU students. Call the box office at 826-3928 for reservations.