On a day intended to honor her, Sara Bareilles sat in a park in her hometown and sang a love song to the city of Eureka.
More specifically, Bareilles held court for more than an hour and 20 minutes, playing 17 songs including the 2007 hit "Love Song" in Halvorsen Park, which had been transformed into a concert venue, complete with world-class sound and a stage flanked by two large video screens. With a crowd of 15,000, according to the Eureka Police department, the event was one of the largest in Eureka's history but felt almost intimate, with Bareilles interacting with the crowd between songs, whether it be complimenting a 7-year-old girl's "I am Brave" sign, explaining the inspiration behind her lyrics or expressing awe and delight at the day she'd worked for months with city officials to create.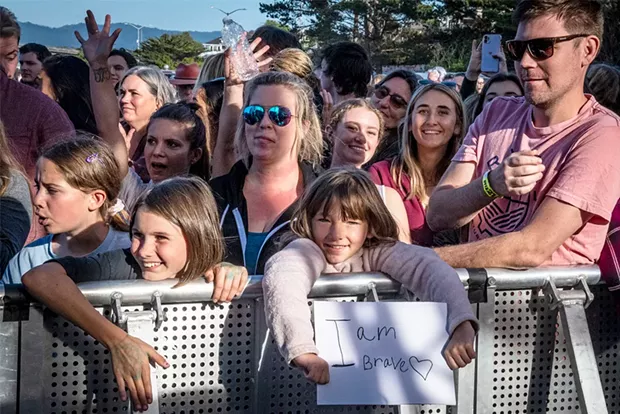 Photo by Mark A. Larson
Lots of young girls, some holding signs, moved to get as close as possible to the stage during Sara Bareilles' performance.
"This is unbelievable," Bareilles said moments after taking the stage and being presented with a key to the city made by local craftsman Eric Hollenbeck as Mayor Susan Seaman officially declared Oct. 16, 2022, Sara Bareilles Day in the city of Eureka. "This is beyond my wildest expectations. And we just want to make this a beautiful day to say thank you. Thank you for being an incredible place to be from. I am so proud of this city and of Humboldt County. I talk about it all the time and I'm just so grateful. ... I'm so proud, and I'm so fucking nervous. If you have young ones, I might swear a lot because I do that when I'm nervous. Earmuffs, OK?"
Clad in a green dress with white embroidered trees that was snatched at the waist by a black belt, black suede ankle boots and a black leather jacket featuring a pin that read "BANS OFF OUR BODIES" in bold gold letters, with her hair down but pulled back by a green paisley headband, Bareilles then took her key to the city over to her piano. She launched into an unaccompanied rendition of "Little Voice" before her band joined her on stage. As she began playing "Fire," any nerves seemed to vanish, the singer now in her element, surrounded by her friends, doing what they love, kicking off a set that would include songs from multiple albums, as well as her Broadway hit Waitress and covers of Aretha Franklin's "(You Make Me Feel Like) A Natural Woman" and Otis Redding's "Dock of the Bay."
With free tickets for the concert having been snatched up within a few hours of being made available last month, people turned out in droves to see Bareilles' first show in Eureka since becoming an international star. A line to get into Halvorsen Park started shortly after 8 a.m. and when the venue's gates opened five hours later, it had grown to snake from L Street up Second Street, past the Carson Mansion and over to Third Street, where it wrapped around the Humboldt County Library to end somewhere on Second Street.
But despite the long line, those waiting seemed largely jovial, excited to be a part of the singer's gift to Eureka. Seaman, who'd first approached Bareilles years ago about honoring her somehow after she won a Grammy in 2019 only to watch the idea snowball from a Zoom appearance at a City Council meeting into a free concert put on by Live Nation, said the day surpassed her "wildest dreams."
Photo by Mark A. Larson
Jan Schmidt, of Eureka, and a big fan of Sara Bareilles (live on the video screen behind her), said she'd seen Waitress on a Broadway stage in New York City.
"I can't imagine it having been any better," Seaman said the day after the show, saying she'd been doing "a lot of floating." "It was wonderful, and I think so much of what made it wonderful is that the community received it in the way it was intended. I think people felt like it was a gift and they were grateful for it. ... I think it was a demonstration of the best of Eureka. We were our best yesterday."
And at times, with a sea of people stretching out in front of her, with some dancing in front of lawn chairs as others swayed with kids on their shoulders, it seemed Bareilles was having as much fun as anyone.
"Oh my god," she gushed after her first song. "This is just overwhelming. Holy shit. It's really unbelievable. My family is here, my friends are here. I'm looking out at people I grew up with. It's just unbelievable — the love."
Repeatedly throughout the show she dovetailed into banter with members of the audience, whether they were shouting requests or holding a sign asking for rights to publish the lyrics of her hit song "Brave" in a book of coming out stories. Early in the show, she had a brief exchange with someone about a cameo she'd made on a television show in 2013, playing a hot air balloon guide.
"I love this," she said of the exchange, only her half of which was audible to most of the crowd, before asking whoever she was talking to, "You mind if I get back to doing this," gesturing toward her piano.
"I love you," she concluded. "Thank you for being a fan. I appreciate you."
As has been the case throughout her career, Bareilles also did not shy away from giving voice to the causes she believes in. Introducing "Armor" off her latest album, Bareilles said it was inspired by standing in solidarity with hundreds of thousands of women at the 2016 Women's March. "We are in a real moment of change and challenge, and I believe in the movement of freedom and choice and liberation for all," she said. "It's deeply important to me." A few songs later, she offered a plea for unity, both globally and locally, as we all try to navigate the chaos of life.
"It's my prayer for the world — that we not give up on each other," Bareilles said. "You know what I mean? Because shit is hard. ... And I've been talking about it backstage, how much I love this city and I love this community. I love Humboldt County because we're scrappy and we're stubborn, and we don't give up. But I see it here, too, where we've just like let go of each other a little bit. And my hope — my prayer — for everywhere in the world is that we can remember each other a little bit."
Courtesy of Sky Blue Photography
According to the Eureka Police Department, upward of 15,000 people attended the concert, making it one of the largest events in Eureka history.
Repeatedly throughout the show, Bareilles expressed her gratitude for those who'd made it possible, from her management team and the city of Eureka, to the U.S. Coast Guard, the Eureka Police Department and the Humboldt Bay Fire Department that were working to keep attendees safe. She praised "the extraordinary crew" who had spent the day "pulling cable, moving heavy boxes" and erecting a stage in the park. She also thanked Good Tidings Foundation, which had helped her throw a benefit concert that raised funds to renovate the performance space at the Boys and Girls Club of the Redwoods and add a recording studio.
Before the show, sitting on a couch in a makeshift green room set up in the Adorni Center, Bareilles told the Journal it was the stage at Eureka High School and community theater groups that inspired her career, and she wanted to inspire local kids to find their voices.
Photo by Mark A. Larson
Local band Huckleberry Flint, hand-picked by Sara Bareilles as an opening act, performs just before singer takes the stage.
"It's such a remote community here," she said. "I feel like sometimes we forget that we also have access to our big imagination and what is possible. ... I don't think small town has to equal small mind, and I think this is just a great way to remind kids to dream big. ... There is so much beauty up here to use and to metabolize to make art. I just think people have a lot to say and it's a way to give them a way to say it."
The Journal also asked Bareilles about her conditioning funding for a special collection for the Humboldt Literacy Project on it including anti-racist and LGBTQ+ books.
"It is essential," she said. "This is just trying to make sure that the information is diversified and inclusive and equitable and, to me, that's just like a no-brainer. ... It's just truth-telling, as far as I'm concerned."
Photo by Mark A. Larson
Eureka Mayor Susan Seaman presents Sara Bareilles with a key to the city made by local craftsman Eric Hollenbeck after reading a proclamation designating Oct. 16, 2022, as Sara Bareilles Day in the city.
Back on stage, Bareilles introduced "Brave," perhaps her most famous song and the last in her set, though she'd quickly return for a three-song encore.
"It is about knowing your truth and telling it unapologetically to the world," she said. "You deserve to be able to do that."
The next day, as Bareilles was at the Boys and Girls Club of the Redwoods to unveil the new performance space she'd helped create, Seaman was awash in gratitude — for Bareilles, for city staff, for everyone who had a hand in making the concert possible. She said she believes Bareilles had wanted to do something like this "for a long time," adding that she was amazed by the care Bareilles' management team put into making sure the event was a success, noting how emotionally invested everyone was, and that they were invested because she was.
"Everybody cried — everybody — at some point during the event, just from sheer happiness," Seaman said. "It was a good day."
Iridian Casarez (she/her) is a staff writer at the Journal. Reach her at (707) 442-1400, extension 317, or iridian@northcoastjournal.com. Follow her on Twitter @Iridian_Casarez.
Thadeus Greenson (he/him) is the Journal's news editor. Reach him at (707) 442-1400, extension 321, or thad@northcoastjournal.com. Follow him on Twitter @thadeusgreenson.