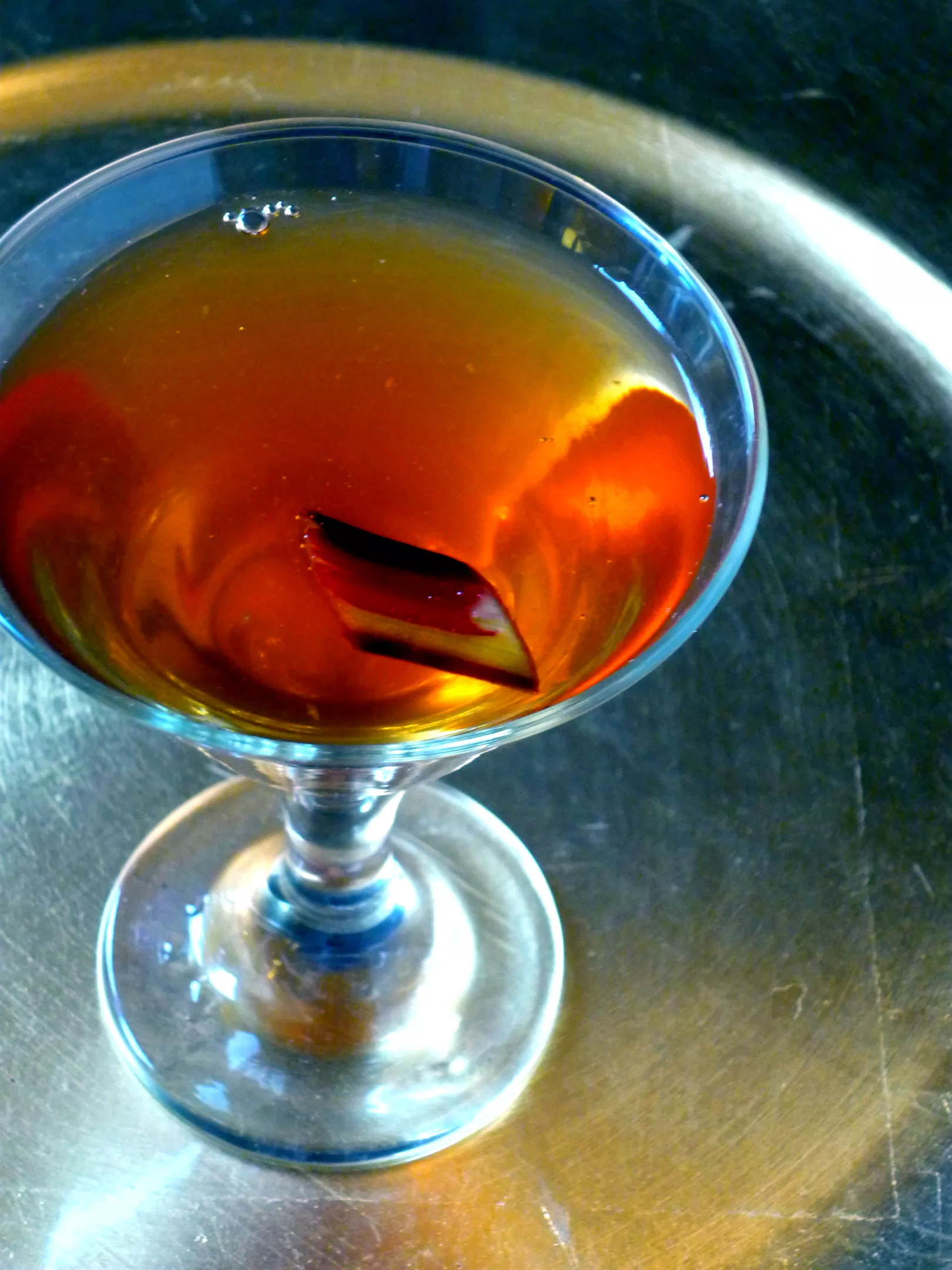 photo by amy stewart
Rhubarb and rye cocktail
If your idea of mixing drinking and gardening goes beyond dropping a homegrown cherry in your Manhattan, this is the list for you. They might be a little harder to track down, but there's still time to get them in the ground. Don't expect much the first year: These are long-term investments.
Black Currant. We Americans don't drink much cassis, and that's a shame. This thick, rich, French liqueur, made from the fruit of the black currant bush, turns an ordinary glass of dry white wine, sparkling wine or hard cider into something wonderful. I've even heard tell of it being mixed with red wine, or with beer. A little dollop of it in sparkling water is not such a bad thing either. (The fine people at Clear Creek Distillery make an excellent American version of cassis if you don't want to bother growing your own.)
So why don't we Americans grow black currants? The plant was banned in the 1920s for its role in spreading white pine blister rust. By 1966, the USDA realized that the ban was unnecessary and lifted it. Spores of the disease can only travel a thousand feet from black currant bush to pine tree, so keeping them out of pine forests is really pretty easy. Besides, many new varieties are disease-resistant. However, the ban remains in place in 10 states on the East Coast. Agricultural scientists are working with those states to educate them about black currant and persuade them to lift the ban.
So you can certainly grow them. Ask at your local garden center; if you can't find them locally, Raintree Nursery in Oregon will ship them to you. The authentic French variety is "Noir de Bourgogne," but it doesn't turn up in garden centers much. "Minaj Smyriou" is self-fertile and resists blister rust. "Ben Sarek" was bred by Scottish researchers to resist frost and do well in backyards, where it reaches only 3 feet. "Hilltop Baldwin" is a popular English variety. They aren't all self-fertile, so get at least two to ensure good pollination.
To make your own cassis, take a pound of black currants, wash well, and seal in a jar with one 750 ml bottle of grappa, grape eau-de-vie, marc or good vodka. (I'd choose Ciroc, a vodka distilled from grapes.) Mash the fruit to release the juice, and let it sit for a month, shaking or stirring the jar once a week. Then strain into a new container and add simple syrup to taste -- one to two cups simple syrup should do it. (Simple syrup is equal parts sugar and water, heated and allowed to cool.) Give it a couple more months, and your cassis should be ready to drink.
Sloe: Also known as the blackthorn bush or by its Latin name, Prunus spinosa, this large European hedgerow plant produces the small, tart fruit used to make sloe gin. It's hard to find in these parts, but try ForestFarm, a nursery in Oregon or Lincoln Oakes Nursery in North Dakota. Sloes can take a little light shade, but they can grow to over 12 feet tall, so give them plenty of room. And don't expect fruit for a few years -- sloes are, well, slow. The instructions for making sloe gin are pretty similar to those of cassis, except you'll use gin.
Or you can just go buy a bottle of sloe gin. Plymouth is distributing it again in the United States, and it's a fine thing. To make a fizz, shake two ounces of sloe gin, a hearty squeeze of lemon juice, a dollop of simple syrup, and the white of one recently-laid egg in a shaker with no ice. Shake for 30 seconds, then add ice and keep shaking. Pour into a glass over ice and top with club soda. (If drinking raw eggs freaks you out, don't do it.)
Rhubarb. There is no special trick to planting rhubarb. Just give it some sunlight and plenty of compost. Choose a permanent spot, because rhubarb doesn't like to get moved around. Space the crowns about 3 feet apart and bury them just deep enough to cover the top of the crown with a couple inches of soil. Pile a little more aged manure around the plants every spring, give it regular water, and that's all the care it needs.
Go easy the first year or two, harvesting only a few stalks. By the third year you'll get a better harvest, but don't ever pick more than half the stalks from a single plant. Rather than cutting the stalks, grip them firmly near the base and give them a little twist and pull. They should come out fairly easily. The tenderest stalks grow in spring and early summer; by July they can get a little tough. Remove flowering stalks to force the plant to put its energy into growing more foliage rather than setting seed.
Remember that the leaves are toxic; you only want to eat the stalks. Here's an idea of what you can do with rhubarb, and if you can't be bothered to grow your own, try a delightful liqueur called Rhubarb Tea from Art in the Age.
Rhubarb simple syrup
1 loosely-packed cup chopped rhubarb stalks
1 cup sugar
1 cup water
Other fruits or herbs to taste (strawberries, lemon verbena, scented geranium, for instance)
Combine all ingredients and simmer gently for 15 to 20 minutes. Once the stalks are soft, press them with a muddler or wooden spoon to release the juice. Allow to cool, then strain and bottle. Keep tightly sealed in the refrigerator. Adding an ounce of vodka as a preservative will help extend the life of the simple syrup.
Rhubarb and Rye
A delightful twist on the classic Manhattan from Adam Chumas at Tilth in Seattle.
1.5 oz. rye whiskey
.5 oz. rhubarb-lemon verbena simple syrup
.5 oz. fresh lemon juice
.5 oz. sweet (red) vermouth
Shake all ingredients over ice and serve in a cocktail glass.