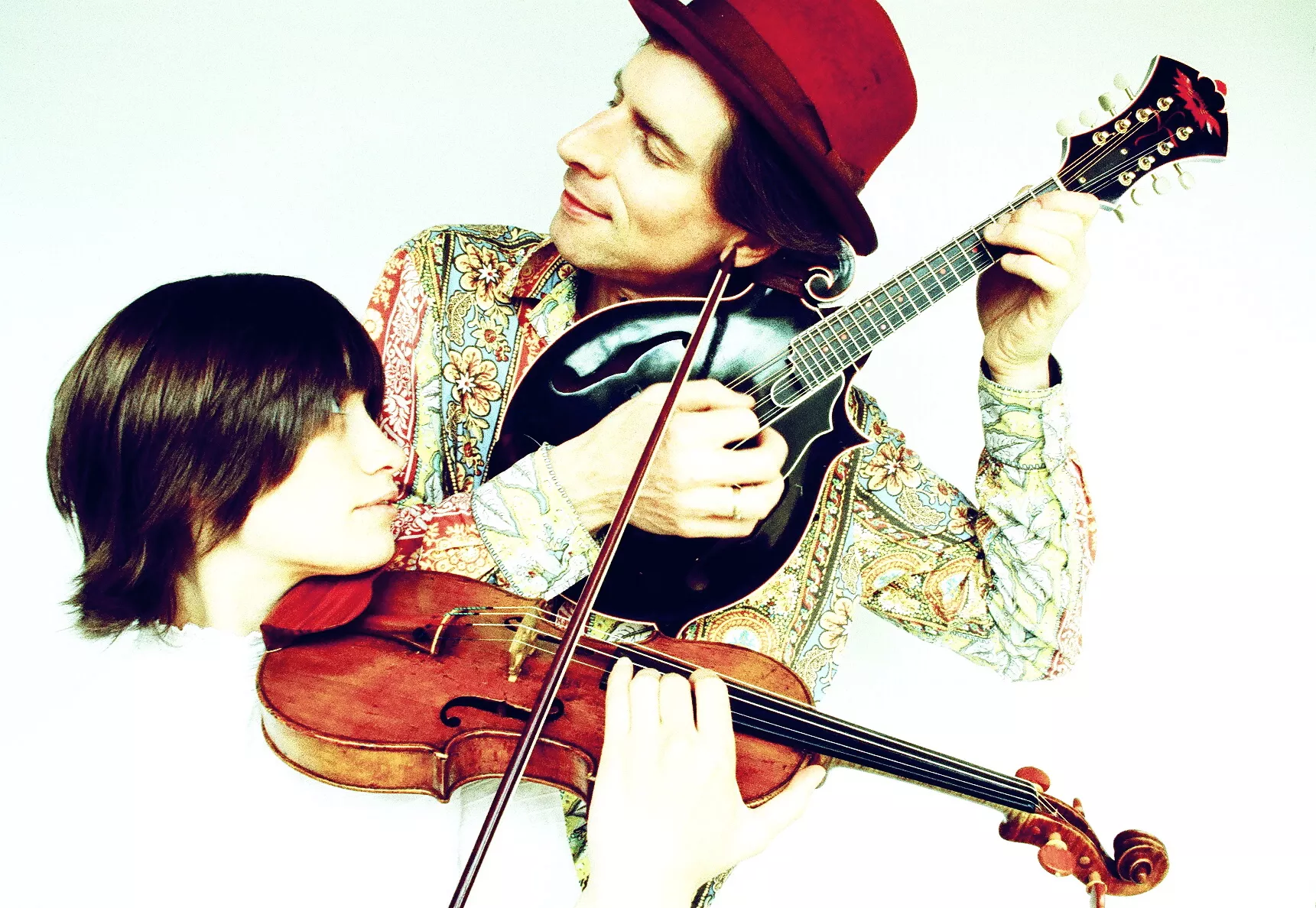 There are a couple of vegetable dishes we've been making in our household lately starting with garlic and lots of ginger cooked in butter with thin sliced onions, cumin and mustard seeds, a mixture that's known in India and Pakistan as tarka, or taarka -- very tasty. David Tiller and his wife Enion Pelta-Tiller borrowed the word to name their band, Taarka, playing tasty acoustic music they describe as "indie gypsy chamber folk."
A little history: In the early '90s, mandolinist/guitarist David Tiller joined forces with songwriter/guitarist Nathan Moore and bassist Aimee Curl to form the indie folk/rock combo ThaMuseMeant. When that band took a break in 2000, Tiller headed for New York City. That's where he met Enion Pelta, fiddler for the stringband Brooklyn Browngrass. His mandolin and her fiddle fit together perfectly, everything clicked and the couple ended up moving to Portland, getting married and starting a new band, Taarka. Enion also joined ThaMuseMeant, although that band spends a lot of time on hold while Moore explores solo projects and/or plays with his other band, Surprise Me Mr. Davis. At this point, David and Enion call new acoustic epicenter Colorado their headquarters for a shifting line-up of Taarka, always with fiddle and mando (or David's tenor guitar) at the core weaving together intricate melody lines. The current West Coast tour includes Troy Robey on bass and Grant Gordy on guitar. The vagabond troubadours return to Humboldt for two shows: Thursday they're at Beginnings Octagon in SoHum, Friday at Humboldt Brews. Check the merch table for a new album, their fifth, Adventures in Vagabondia, officially due out later this year, but available at shows.
Another traveling couple, Quintron and Miss Pussycat, bring unique music to The Shanty Monday night. In New Orleans' 9th Ward, they run a basement music club, The Spellcaster Lodge, where the centerpiece is Quintron's Hammond organ/Fender Rhodes synth built into the front end of a classic car. He uses it to play a mutant form of voodoo soul-jazz, keeping time with a hi-hat cymbal and an ingenious device he built called The Drum Buddy that involves flashing lights and a spinning chamber. (Check YouTube for the awesome infomercial.) Miss Pussycat supplies occasional vocals, but she's mainly a puppeteer telling tales of a Happy Tree that sends secret messages from the center of the Earth. Mr. Q and Miss P are on the road with Dent May, a one-man band from Mississippi. While he started out on ukulele, May's recent work involves synthesizers, drum machines and Beach Boys-esque vocal harmonies (looped), creating sweet, twisted pop music he describes as like a "wedding reception band on acid." Opening the show is Eureka's own Mister Moonbeam, whose loopy alt. twang should fit right in.
Operation Water Dragon, the version of SambAmore expanded with a horn section, is back from its West Coast tour with Yogoman and ready to record a live album Saturday night at the Arcata Playhouse. The show also marks the debut of guitarist Greg Camphuis' mega-funk band Motherlode. Wear your dancing shoes.
Speaking of dancing, Missing Links' dynamic duo Matt n' Adam are partying at Humboldt Brews Thursday with King Maxwell and special guest Mr. Ian Pope making vinyl explorations into "Afrobeat Airwaves." (Where's Afrobeat expert Mantease?)
More vinyl Friday night at the Jambalaya: Another DJ Red show, this time with DJ Zephyr and Gabriel Groom playing old school hip hop and classic party jams.
Grant Farm is another of those Boulder, Colo., bands mixing rootsy rock with jamgrass. Champion flatpicker Tyler Grant used to play guitar with Drew Emmitt from Leftover Salmon, as did drummer Chris Misner (he was in L.S. too). Add Sean Foley on keyboards and funky bass player Adrian Engfer and you have a twangy new take on Rocky Mountain rock 'n' roll. The band returns to Arcata ("home away from home") for a Saturday night show at HumBrews.
Saturday is also a big tribute night with Silver Hammer doing Beatles covers at the Jambalaya while House of Floyd brings lasers and Pink-F tunes to the Sapphire Palace.
Local reggae singer Prince Winston is a SoCal boy from the Inland Empire, but sounds like he's a Rasta from Kingston. He rolls out his new album, Power of the Trinity, Thursday at the Ocean Grove with help from Ras Melbourne and The Survival Band; Abba Roots Hi Fi at the turntables.
Placebo is keeping the all ages shows coming to Ink Annex: Thursday it's metal mayhem with San Francisco death metal band Apocryphon, black metal by Chronaexus and Minenwerfer plus locals Miasmic. Tuesday, July 3, Placebo goes international with the German surf punk combo Modern Pets, Portland's P.R.O.B.L.E.M.S. (jam punk) and local hardcore punks Aleister Christ.
The members of Patchwork Family met late last year when the police were busting up the Occupy Portland encampment. "Justin 165" and "Jane Doe 18" tried to stop the cops from taking in resident sign language interpreter Justin James Bridges, injured in the melee, but he was hauled off in an ambulance. Justin and Jane tracked him to a hospital the next day and volunteered their home for his recovery. That's when they discovered a mutual interest in music: Justin 165 plays bass, Jane guitar and washboard, and Justin James sings and writes songs, and once he'd healed, plays guitar. Add a drummer and a woman called Mermaid on flute and harmonica, and you have a rag-tag protest band with a jammy sound (members count Dylan and the Dead among their influences). The band has been on the road behind a CD, Beyond Eviction, full of songs expressing what it calls "a passion for personal freedom, self-actualization and compassion for the fate of humanity." Last stop on the tour is a Friday night show at the Lil' Red Lion, right down the street from the Occupy Eureka protest, then it's back to PDX, where the struggle continues.
Wednesday is the Fourth-o-July, which of course means party time as we celebrate our independence with fireworks and the like. (Details on the pyrotechnics in our Calendar.) Per tradition, the Fourth also means a bunch of bands play in the street. The Arcata Chamber's Fourth of July Jubilee includes music by Gin and Guitar Stan, Jenny Simpson, The McKinleyville Community Choir, Cadillac Ranch and Asha Nan with Shoshanna and her Ya Habibi Dance Company shaking bellies somewhere along the line.
Eureka Main Street's Fourth of July Festival has two stages: The Gazebo Stage starts up at 10 a.m. with The Dixieland Gators followed by Shoshanna and company, Doug Fir and the 2X4s, Humboldt Brass Quintet and The John David Young Trio (in that order). The Second and C Stage starts at 10:30 a.m. with Riding Double, then Fathom, Eel River and Enceledus.
Also on the Fourth, around 4 p.m. at the Ink Annex, Deadwood Entertainment and Manabu Farms join with the band Clouds on Mountain to bring you "Food For Freedom," an event to "help the less fortunate families in our community." Admission is $4 worth of non-perishable food (or cash).
The Fourth of July Dance out at the Mattole Grange in Petrolia that evening is a benefit for the Petrolia VFD with music by The Compost Mountain Boys, The P-town Freaks (presumably from Petrolia) and the amazing Petrolia-born jazz violinist Jenny Scheinman.
Remember Mary Jane: The Contest (best new brand name for Humboldt pot)? Well, we have our winners: Gerald Hooker's "Humbuds" won him tickets to Dell'Arte's Mary Jane: The Musical (continuing its run this weekend and next). Runners up included Jacques for "Humboldt Dream," George Kush for "HumGrown," Barrett Kelly for "Humtasty Smooth," Jeff B. for "Safety Meeting 101" and Timmy for "Los(t) Toast." Thanks to our expert judges: Joan Schirle, aka Mary Jane, MJ cast member Janessa Johnsrude (Chanterelle La Plaza Dancer), pot writer Sharon Letts, Mr. Garth-Culti-Vader (aka Original Dankster) and the Journal staff.
Here's to independence. Let freedom ring!